Service with City Year prepared me for challenges, adventure and joy in the Peace Corps
It was the Spring of 2013 and I had just accepted the offer to serve as an AmeriCorps member with City Year Philadelphia.
I was 23, a recent graduate from Temple University, and had little understanding about what it meant to be a part of a national service program or to serve "a cause greater than oneself."
I was about to learn a lot—about our education system, what it means to engage with a community and how to be a servant-leader. Some of it I loved, some of it made me want to pull my hair out, and all of it challenged me and forced me to grow. Above all, two years of service planning large-scale events and working alongside people who were very different from me at City Year gave me the skills and confidence to accept an offer to serve in the Peace Corps as a Youth Development Volunteer in Peru.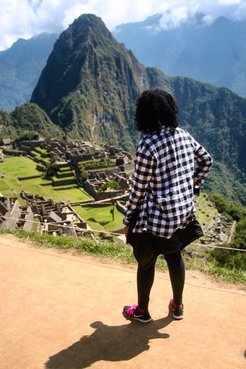 They say Peace Corps is the toughest job you'll ever love and serving for 27 months in another country is undoubtedly a formidable task. When I reflect upon all the ways in which I was able to prepare myself for life and work in the Peace Corps and beyond, I know that my two years as a City Year AmeriCorps member equipped me with the tools and experiences to be successful in a remote town near the Amazon in South America and in my life today.
Unlike my service with City Year in a city I knew well, when I first arrived in Peru, I was wholly outside of my comfort zone. I spoke no Spanish and had little knowledge of Peruvian culture. In those early months, I came home each day with a headache because I wasn't used to the strain of trying to process the world in another language. I gradually learned simple things, like how to greet people, and more nuanced social customs, such as exercising proper decorum in a Peruvian classroom.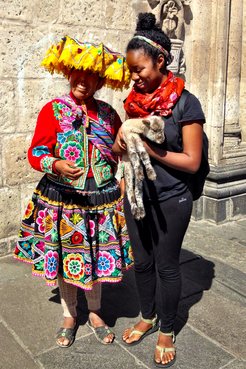 Every sight, smell and interaction in my world was new and different. But because of my role at City Year planning community engagement events, operating under pressure and collaborating with colleagues who had different backgrounds and workstyles than mine, I already understood what it was like to be a fish out of water, learning to survive on land. If I was patient enough to learn how to plan a large-scale service day for 500 Comcast NBCUniversal employees at a Philadelphia school from start to finish, then, I reasoned, I could learn the Spanish language. If I could put my nerves aside, stand in front of a crowd and speak at a City Year community service event, then I could muster up the confidence to stand in front of a room of Peruvian students to lead a lesson on building self-esteem.
City Year also instilled in me a sense of individual responsibility for and pride in my work as an AmeriCorps member who was focused on designing and executing high-quality volunteer events for our corporate sponsors and other partners. Unlike the majority of City Year AmeriCorps members who serve full-time in public schools, my Civic Engagement team oversaw a wide range of engagement activities, such as school and community park beautification projects that engaged the private sector and helped to raise money, which directly benefitted the schools and students we served. My team trusted and supported me as I led on recruitment efforts for our largest event, Martin Luther King Day of Service, which engages more than 1,000 community members across Philadelphia. Leadership opportunities like these enabled me to cultivate relationships in Peru and hold informational meetings with local parents, students and teachers during my time in the Peace Corps.
Lastly, and perhaps most importantly, City Year taught me resiliency. It allowed me to find deep value, even joy, in the most challenging aspects of service and helped me stay committed to the work.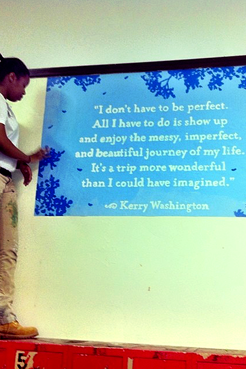 Serving in the Peace Corps—though well worth the effort—was emotionally and mentally taxing. Unlike Philadelphia, where I had gone to college and felt comfortable, I was the only African-American in the region of Peru where I lived and worked, and at times, I felt exceedingly lonely. When I walked through the town market, people would often stare or follow me—not out of rudeness, but rather curiosity. Still, I had to confront daily challenges to my identity that were alienating and at times, exasperating.
Living in a fish bowl weighed heavily on me, but recognizing the need for a growth mindset—the same skills that City Year AmeriCorps members work to nurture in the students they serve—allowed me to persevere and work through it. At City Year, I had learned how to handle long days and challenging situations. The events that my City Year team and I planned were complex and myriad things could go wrong—from groups of 30 or 40 volunteers showing up unexpectedly to running out of paint and supplies. My team and I worked together to troubleshoot, manage our stress and even find the humor in each situation while still ensuring that the volunteers had a seamless experience and that we were all contributing to the mission of City Year.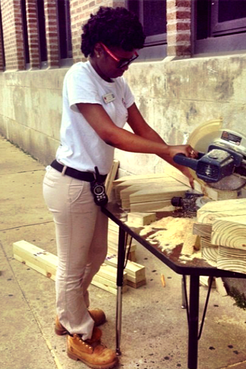 Through all of these experiences, though, I grew. I learned about the hard work it takes to find common ground with people from different backgrounds, cultures and mindsets and the feeling of empowerment that comes with tackling a challenge that seems insurmountable. Through both City Year and Peace Corps, I've cultivated caring friendships and I have amazing stories that will last me a lifetime. I spent two years learning about my community in Philadelphia and two more living in a little-known corner of Peru. I grew into adulthood through serving others and now I'm back, building a career in the nonprofit sector. I am forever grateful.
Now when people say, "Some days are hard, but all days are worth it," I know that this statement is real and true. Giving a year or more of service through City Year and other national service programs requires tremendous effort, but those willing to answer the call will receive so much in return.
This post originally appeared on the City Year blog.