In Search of a Different Career Path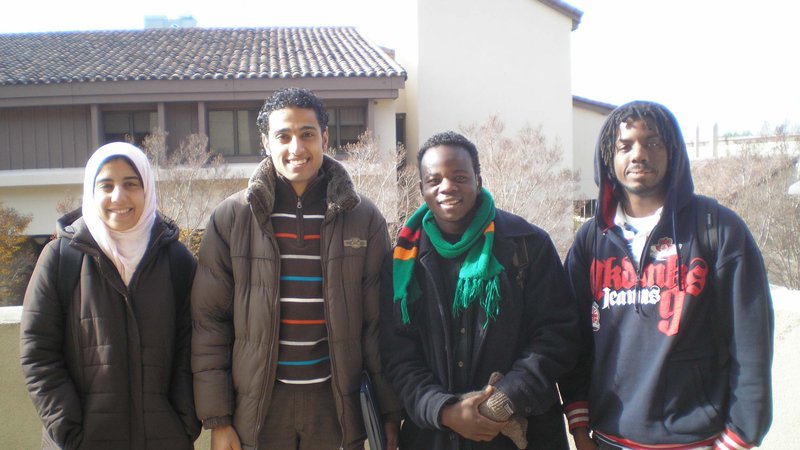 Sept. 28, 2017
Meeting a deaf Peace Corps Volunteer convinced Francis Phiri, a young deaf man from Zambia, that international exchange was a possibility for him too.
Sitting in class with deaf peers and a teacher signing in American Sign Language, I realized how fortunate I was to be at Ohlone College in Fremont, California.
There, I studied English and Math, made friends with deaf international and American students, learned from signing instructors, and played on the college soccer team. What would I have done had I not come to the United States? When I finished high school in Zambia, I likely would have lived with a friend and tried finding odd jobs to get by.
The only post-secondary education opportunity for most deaf people in Zambia is to attend a teacher training college. It is a two-year program with tuition fees that I and most deaf Zambians find difficult to afford.

Even if we could, the college isn't fully accessible to Zambians who rely on sign language for communication. Their instructors don't sign, and sign language interpreters are few in numbers and lacking in advanced skills. Those deaf students who attend the college miss much of the spoken information, and need to rely on written notes from their fellow classmates to pass the courses. After training, the deaf graduates get a certificate to teach at any government-sponsored school for the deaf.

I didn't want to follow that path and I believed that a college education in the United States would give me the opportunity to do something different and learn the skills I desired.

I wanted to be able return to my home country and advocate for a better quality of life for the deaf community in Zambia, including expanded options for post-secondary education and jobs. 

My first few months at an American college quickly expanded my mind. There was a population of about 200 deaf and hard of hearing students on the campus, a large group of hearing students learning American Sign Language and Interpreting in a training program, and a school in Fremont educating around 500 deaf students at the primary and secondary levels. This gave me an excellent network to meet deaf people of all ages and learn from them.

What was my path to get to this point? I was born hearing in the capital city of Lusaka in Zambia, and at age 12, an illness left me deaf.  After some time struggling in a regular school, I was transferred to a school for the deaf.  It was where I began to learn Zambian Sign Language, which is similar to American Sign Language.  Since there are very few high school programs for the deaf, I was sent to Munali Secondary School in Lusaka.

One day during my Grade 12 year at school, a deaf white man showed up. His name was Frank Lester, and he turned out to be a Peace Corps Volunteer that was assigned to teach English and HIV/AIDS & Life Skills to deaf high school students. 

I was so excited to meet a deaf American who traveled outside of his country and was committed to helping and teaching other deaf people.

I approached Frank to introduce myself, and we immediately became friends.  During the rest of my Grade 12 year, he taught me in a classroom with 50 fellow students, and tutored me in a small group and on my own to help me improve my studying skills.

Three months before I completed high school, Frank proposed a plan to take me to the United States to study. Without pausing to think, I immediately accepted. From that time on, I began a long journey across the globe to start my new life. We began with getting my first passport, followed by a student visa and other paperwork.

To show my appreciation, I took him to have meals and visits with my relatives and friends in Lusaka. This was a very enriching cultural exchange for us.

In Fremont, Frank helped me adjust to a new world of educational and cultural experiences. I was amazed at how well educated my fellow deaf American students were, and I wanted to be like them. I was also impressed by the capability of deaf people who teach at the college, and the sign language skills of hearing college instructors who teach deaf students.

I wanted to see the same situation in Zambia and other African countries in the future. Deaf Zambians do not need to live with restricted dreams and depend on only odd jobs – coming to the United States has shown me what is possible.

Republished with permission from Mobility International USA.