Saying Yes to the Unknown
Working with the enthusiastic and loving teachers in Georgia reminded me why I became an educator.
Lesson plan, teach, grade, read, write, repeat. Routines can be healthy and comforting until they swallow you whole. In early 2019, I was in the throes of finishing my master's degree and teaching my 9th and 12th grade students in the Bronx. Every second of my waking life was spoken for. In stolen moments, I took a deep breath, rested on the window sill of my apartment, and imagined other possibilities for myself. What I couldn't have imagined, during those window sill reveries, was the life I would be leading one short year later.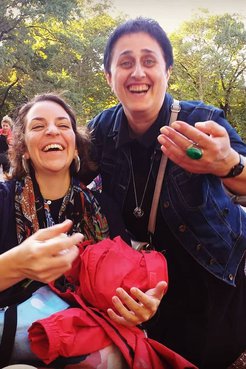 For some of the reasons mentioned above, saying "yes" to serving as a Peace Corps Response Volunteer was a no-brainer. I was desperate for a new … anything. My decision was, of course, much more nuanced and calculated than that. My prior two years of service in the Philippines had been some of the most profound and joyful of my life. And this time around, I thought to myself, I had so much more to offer the people that I would be serving.
What I was really saying "yes" to when I accepted my invitation to Georgia was the unknown. I did not know then that I would be living in a small town, circled by mountains, bisected by a rushing river, and watched over by a castle on a rocky outcrop. I did not know then that a family of six would open their home and hearts to me. I did not know then that I would be drinking homemade wine with my neighbors and sharing freshly picked persimmons, pears, plums, apples, and grapes. And finally, I did not know then that I would be assigned to a school where I would meet inspiring teachers who restored my faith in education.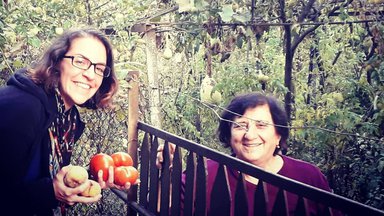 After finding out the name of my community, I ran across a post from the British ambassador to Georgia. I did a double take when I saw that he was writing about a teacher with the same name as the woman listed as my counterpart. Long story short, the British ambassador's "#Georgianhero" was, in fact, my counterpart, and she quickly became my hero as well. Together, we experimented with movement-based readings of literature, cooking as language instruction, project-based learning, research-based units on feminism, and everything in between. Where teaching had gradually eroded into a regimented duty, in Georgia it flowered into creativity, playfulness, and the joy of taking risks. Working with the enthusiastic and loving teachers there reminded me of why I chose this profession.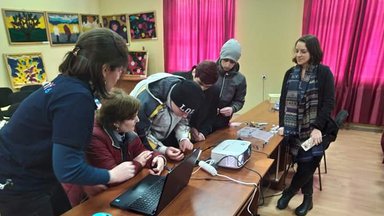 Not only was I able to put my knowledge and creativity to good use, but true to the Peace Corps experience, I was also challenged to take on an entirely new skillset. I never would have guessed that I would be working with physics educators from around Georgia and the science team at my school to establish a community robotics center. We applied for a Small Project Assistance grant and received funding to purchase materials and equipment for a center that will eventually enable children throughout the municipality to learn coding, engineering, and development of artificial intelligence. It was humbling and thrilling to witness the generosity of spirit among Georgian educators and students as they shared their robotics expertise with us. As a team, we embarked on an adventure into unfamiliar territory, and along the way, visited a village school in the mountains and a renowned center for teacher's professional development in Tbilisi. In both places, we were greeted with warmth, excitement, and a sincere desire to collaborate to enhance STEM education in Georgia.
Now that my service has ended, I am trying to figure out what could possibly follow such a purposeful and life-affirming experience. I have no idea where I'll be or what I'll be doing a year from now, and in spite of the many reasons there are to feel daunted, I am enlivened by this. If there is one life lesson that my two Peace Corps experiences have taught me, it is to say yes to the unknown.