RPCV William Abbott shares his experience supporting Afghans new to the U.S.
January 15 was my first time back at Fort Pickett, Virginia, since the recent change in COVID-19 protocols in response to Omicron variant. Fort Pickett, about 60 miles southwest of Richmond, has a mix of Americans from all over the country who are here to support Operation Allies Welcome. I arrived on base as normal and proceeded to the COVID-19 testing location, where I took a rapid antigen test. Any person interacting with the Afghan guests must now be tested daily.
After receiving a negative test 15 minutes later, I headed over to the computer lab to meet with my contact for the day. The computer lab is surrounded by Afghan residential housing and is a popular building for the guests. There is an incredible range of experiences of those who walk into the classroom on a daily basis. One may encounter a teenager who has experience coding, and sitting next to them may be an Afghan guest from a rural village who has never touched a computer.
Today, I help set up the equipment, distribute laptops, ensure Afghan guests are able to connect to the internet, and talk with them to learn what brings them into the computer lab. Many speak some English, but there is always at least one individual, often another guest, with strong enough English speaking skills to serve as a translator when needed.
The first to arrive are teenagers working on learning Python, a computer programming language. One of the computer lab teachers is knowledgeable about coding and has assigned them homework.
As others filter in throughout the morning, I meet with another guest who is working on behalf of a group of former Afghan air force pilots. Many of these former pilots would like to work in the U.S. aviation sector as pilots, maintenance technicians, or in other related jobs. They have spent the past few days trying to get information on U.S. certifications and regulations governing the transferring of any credentials. We worked to identify the proper government body that regulates this process.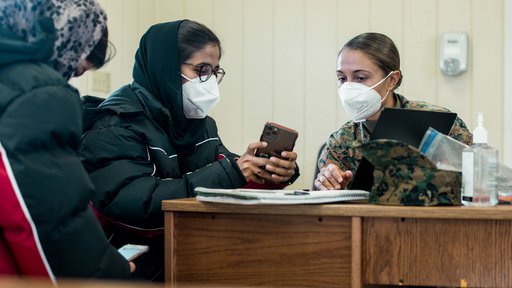 After lunch, I spend time with an Afghan guest who studied at the American University in Kabul before the government collapsed. She made it to the U.S. with her family and is aspiring to continue her education. I worked with her to create a resume. We talked through her various experiences and highlighted her successes. Having spent time working on resumes with a number of guests, I've seen how important it is for them to have that one-on-one interaction. Most Afghans are not familiar with the resume-writing process and, like many of us, need tips on how to package personal and professional experiences so they attract the attention of potential employers.
All the Afghan guests I met had incredible stories to share. After volunteering at Fort Pickett over the past few months, I still find it difficult to describe the experience. I am continuously amazed at the optimism I encounter among the Afghan guests, given the experiences they have overcome.
Sometimes, I leave the base with a bit of trepidation because I know the biggest challenges the guests face may be ahead of them. I remember my experience when I first arrived as a Peace Corps Volunteer in China in 2017. The community came together to support me. I can only wish that our new Afghan neighbors will receive the same love and support from their adoptive communities here in the U.S.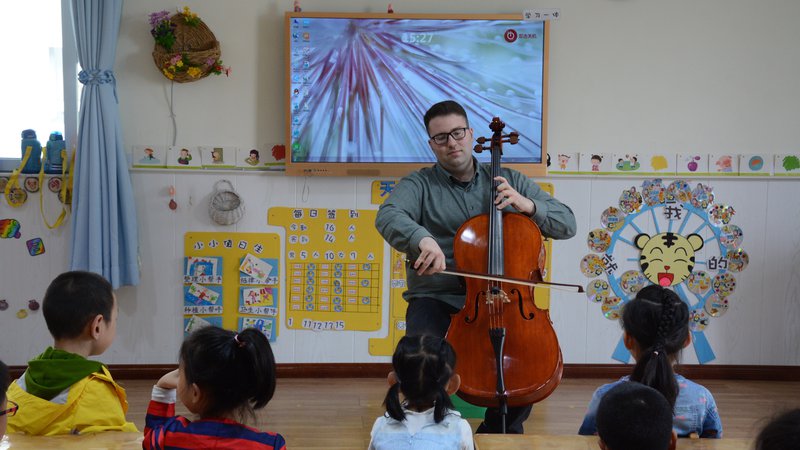 As I pack up my bag and begin to leave for the day, I see a small group of Afghan children playing soccer in the street. They spot me and two boys run up to the car. One presses his face against the window to say hello. I wave back, and they chuckle and hurriedly continue their game. With operations at Fort Pickett coming to a close in the next few weeks, a new chapter will open for these boys and everyone else supporting Operation Allies Welcome. The next chapter will be a complex and challenging one, but from the resilience I've witnessed, I am optimistic about what's to come.
Editor's note: On February 1, 2022, the last group of Afghan guests temporarily housed at Fort Pickett as part of Operation Allies Welcome departed the base. The operation was supported by more than 3,000 Volunteers from the Peace Corps, USAID, the State Department, the Department of Homeland Security, the Department of Defense, and numerous nonprofit organizations. As of February 2, the United States has welcomed more than 76,000 Afghans to the United States through Operation Allies Welcome, providing them with support and assistance as they begin their new lives in America.