Like RPCV Father, Like RPCV Daughter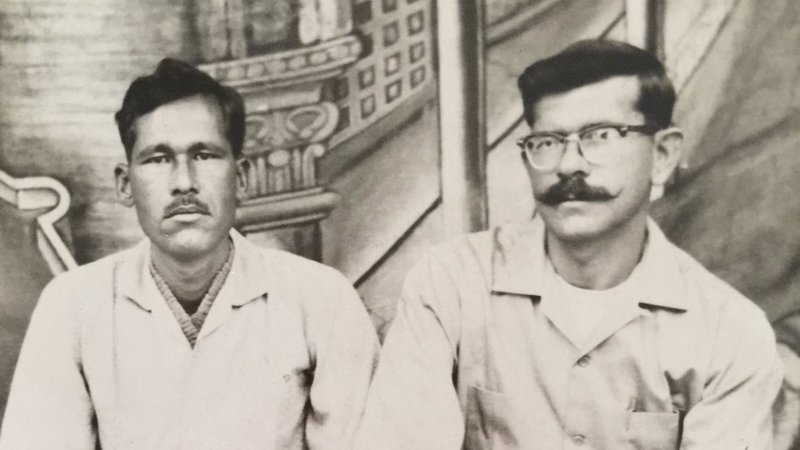 June 18, 2020
My father's story is one of those that defy the adage "the apple doesn't fall far from the tree." He fell off his family tree in a small town in Michigan and then rolled. He rolled into the Navy at 17.
Not yet legal, he couldn't join without his mother's permission, and she cried as she signed the forms. He had little else, not even a high-school diploma—just a pair of aunts who inspired him to travel, and an innate curiosity about the world beyond what he'd always known.
I'll cut to the chase. My father never went back to that small town. He tells it this way; "A couple of old salt sailors saw I was smart. They used to lock me in the ship's fire-tower with piles of books and threaten not to let me out until I'd read them." After three years at sea and a taste of the vastness of the world, my father got his GED and went to college on the GI Bill. In 1961, when he heard John Kennedy's famous speech introducing the Peace Corps, his interest was piqued.
My father was sent to Rajasthan, India in 1963. He remembers stepping off an Indian train in the middle of the flat desert just as the sky was melting from hot, high sun into the pinks and golds and nasturtium oranges of sunset. He felt he'd landed on a completely new and stunning planet. When I was growing up, he held my brother and I enraptured with stories of teaching the communities in his district to raise and eat chickens; of riding a motorcycle through dust storms, and of watching camel races with the thakur of Nawalgarh.
My father served two years as a Volunteer, but then stayed in India. He took a Peace Corps staff position at the Northern regional office. My mother met him there. She served in the Peace Corps in the Philippines and traveled home though India. During her stay, she met some Volunteers, one of whom was my father. The rest is history. Six weeks later they were married in a church in Bombay; he, sweating in a dark suit; she; wrapped in a crimson sari. They loved the world as much as they loved each other. Immediately, they were bound by curiosity and a craving for sights and sounds and tastes of the unknown—these things were their marital hand fasting. In the other each found someone who strode into a future with foreign dirt on their soles, and foreign words on their tongues. Passports as necessary as food.
The story goes on to include my brother and me, and our unusual childhood spent ping-ponging across sub-Saharan Africa. Both my parents dedicated their careers to international development, and both inspired me to apply to the Peace Corps in 1992, the year I finished college. It was something about my father's stories, though, that made me fascinated with the Indian subcontinent. Peace Corps wasn't in India anymore by the time I applied, and I told myself—and my recruiter—that I'd happily serve anywhere at all. But, when I got that phone call inviting me to serve in Nepal, it felt like a circle closing, like destiny.
Of course, my parents came to visit. They stayed in Nepal for a month. It was summertime and monsoon season and many of the classic mountain vistas were obscured by haze. We flew north from Kathmandu to Jomsom, a town that lies on the Tibetan plateau at 12,000 feet. Flying there, in a ten-passenger Cessna, the Annapurna Himalayas suddenly appear. You find yourself looking out the window at a massive wall of black rock and blue-green glaciers. You have to twist your neck and look way, way up to see the peaks above you, shining in the thin air. It's at once the most terrifying and exhilarating experience.

We landed in Jomsom and trekked north for two days up to Muktinath, an ancient Hindu temple nestled in the high Himals. My father practiced his rusty Hindi on a barefoot sadhu (holy man) on the final leg of his walking pilgrimage to the temple. The sadhu asked us, "Yeh rastha Muktinath heh?" My father pointed to path, then pointed north, "Yeh rastha!" The sadhu smiled a blood red smile—a lifetime of betel chewing—and told my father he was happily surprised an "Angrazi" (English speaker) could speak Hindi, too.

After reaching the Thorong La pass and visiting the temple, we turned around and headed south where the village I lived in, Pula Bhirmuni, lay a week's walk down the Kali Gandaki valley. We trekked through monsoon rain and heat that drove us to stand, fully clothed, under path-side waterfalls. We avoided leeches, but late one night, in a trekking lodge just north of Tatopani, we woke to my father cursing and flailing—a rat had fallen from the wooden beam above his bed, landed on his head, and scrabbled in his hair before leaping off into the darkness. We spent three days in my village. My parents slept on handwoven bamboo mats and woke to the sounds of roosters crowing and my Nepali family preparing for the day. After a lifetime of being fascinated by their Peace Corps stories, letting them live mine with me was surreal. My father talked about how Nepal, and my village high in the Annapurna foothills, though completely different from his village in India in so many ways, reminded him of his time there. The shared lingual family (Nepali and Hindi both stem from Sanskrit) and the Hindu culture brought back memories of his Peace Corps time that he'd forgotten—long lost smells and sounds.
From Nepal my parents headed south to India, where they visited my father's old Peace Corps site. Thirty years after his service ended, his community still remembered him and his chicken projects. He reconnected with people and places he never knew he'd see again. As for me, I echoed my father's life in some ways—the curiosity about the world, the love of salty Scandinavian licorice, and an undying craving for rice and lentils born from our separate yet similar Peace Corps years. My father fell from his family tree and rolled far enough that I didn't have to go far at all. He pulled the world around me, brought it in and gave it to me like a gift. I'll always be grateful. Happy Father's Day to all the inspiring fathers out there.