Returned Volunteers help small-time global artists enter large-scale markets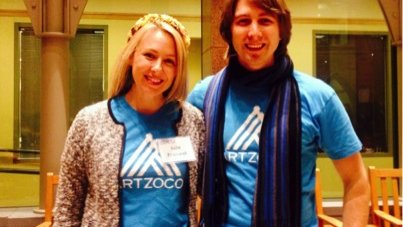 Feb. 23, 2015
Vince Hartman knows that international artists have quality products and the business instincts to flourish.
The problem? They don't always have viable forums to make a profit.

To help small-scale artists reach broader selling markets, Hartman, who served in Peru from 2008 to 2010, and returned Volunteer Julie Frieswyk, who returned from service in Moldova in December 2013, founded ArtZoco, an e-commerce platform for burgeoning global artisans in remote locations.
The website functions as a personal online market for roughly 120 registered artisans, showcasing handmade jewelry, clothing, wood work and toys. Users can create a store profile, add a customized shop banner and delve into more quirky, personal aspects like their favorite food and song.
"If you are not large enough to go to Ten Thousand Villages but you still have a small business and produce those products, it's really hard to know an avenue to sell," Hartman, who was a small business Volunteer during his service, said. "We want people who are good on the domestic scene and have really strong products. The goal is to appeal more to the artisan who doesn't feel as ready to go international."
Artists have direct access to sales revenue through prepaid credit cards that function at any ATM. The company also sends text updates on sales and invoices so sellers can monitor online requests on-the-go.
ArtZoco has confirmed sellers in Moldova and Peru, with artists registered in Nicaragua, Panama and Ukraine awaiting confirmation, Hartman said. The website offers 13 additional country options for prospective sellers, representing nations in South America, Central America and the Caribbean.
Hartman said the diverse language and country options make ArtZoco more accessible and less daunting to global sellers than alternative online trade platforms. Users can set up their profiles in English, Romanian, Russian and Spanish.
"Even in the remotest areas, [artisans'] children can get access to the internet," Hartman said. "The issue is really that websites are American-focused initially, so they're not accessible to artisans because they're not in their language and within their culture."
The company has prospered in Peru, where Hartman's Volunteer service ties equipped him to understand the culture and needs of the nation's artisans.
To address both business and technology queries of novice sellers, the company has on-site staff in Peru and Moldova trained to tackle seller questions and concerns in person.
"I think a lot of countries don't have this sort of homegrown [information technology] theme. There's not this support of tech companies within these communities, so artisans might be hesitant and jaded in a sense because they're not used to a small business startup internet mentality, it's not a focus in the developing world," Hartman said.
The company is exploring linking its artisans' accounts to Etsy to broaden the potential customer base.
The move might also better appeal to American consumers wary of security and validity measures from an unfamiliar company, Hartman explained.
"We don't view [Etsy] as competition, we view them as a marketplace for artisans to continue to sell. There's a sense of security for American shoppers," Hartman said. "We want to establish community and credibility."
The business acumen Hartman honed as a Volunteer has aided the company's progress, but the day-to-day cultural experiences of his time in Peru shaped his approach to broadening opportunities for worldwide artists, he said.
"I could not have done this without the Peace Corps. It's all really cultural," Hartman said.