Returned Volunteer and Senegal native's friendship flourishes 40 years later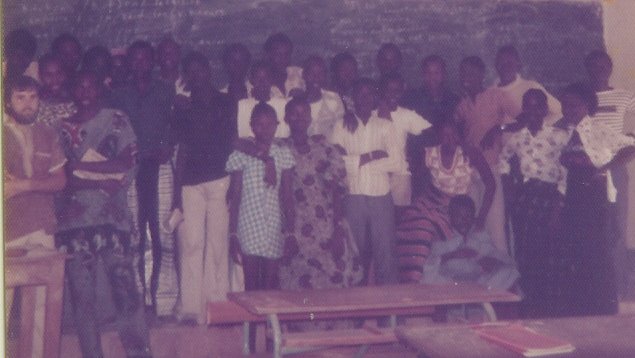 Feb. 24, 2016
When Hamidou Sakhanokho stares at the degrees that hang on the walls of his office at the U.S. Department of Agriculture, he thinks about his quest to the United States, his home village of Tourimé, Senegal, and the obstacles he has overcome. But one name always comes to mind as he reflects on his journey to success: returned Peace Corps Volunteer Tony Ends.
"Besides my parents and siblings, my English teacher, Tony, is the person who influenced me the most," said Sakhanokho, 55, a research plant molecular geneticist at the U.S. Department of Agriculture in Poplarville, Miss. "By American standards, Tony was by no means a rich person, and yet he was willing to send a plane ticket to a former student in Senegal and help educate him in the U.S. Thanks to his help, I was able to get an excellent education and subsequently a good job."

Ends, now 61, worked as a journalist for 14 years after completing his Peace Corps service in 1977. Now, he resides in Brodhead, Wis., where he and his wife run a farm. As an English teacher, Ends was more than just a young American seeking adventure in a new culture – he was an advocate for his students. When his Peace Corps service ended, Ends resolved to financially support Sakhanokho so that he could further his education and receive his college degree.
"Hamidou has helped me salvage a sense that my work and effort was not for nothing," Ends said. "When I saw more than half my students did not advance to the next grade level, after two years of very hard work together, not because they were incapable, not because they were lazy or unwilling to learn, but simply because there were not enough places in classes at the next level of schooling, I was sorrowful."
Sakhanokho, who was only 14 at the time Ends was in Senegal, went to school 130 miles away from the small village where his family and loved ones lived. Ends remembers venturing out to Sakhanokho's village on one occasion, taking a train and a bush taxi and then enduring a long walk through a rough terrain. At the time, Sakhanokho's family was making $200 a year.
When Ends returned to the U.S. to pursue his master's degree in journalism at Marquette University, he sent money to Sakhanokho to cover his cost of tuition.
That help allowed Sakhanokho to do what few could in Senegal at the time: graduate from college. But even after his success within Senegal's education system, if Sakhanokho was going to advance further and obtain a good job, he would need an advanced international degree.
Ends was determined to help him further. So he created a scholarship fund for Sakhanokho to attend college in the U.S., and Sakhanokho moved in with Ends and his wife to receive his associate's degree at Blue Ridge Community College in Flat Rock, N.C.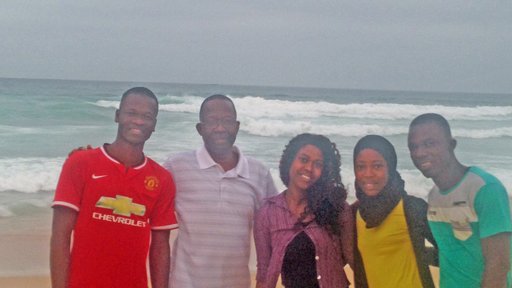 From there, Sakhanokho flourished, pursuing his bachelor's degree in agribusiness at Berea College in Kentucky and his master's degree at Auburn University in Alabama. By 2001, Sakhanokho had his Ph.D. in molecular biology from Alabama A&M University. Today, he has written and co-written more than 80 publications and is approaching retirement with the U.S. Department of Agriculture in the Agricultural Research Service at the Southern Horticultural Laboratory.
"As the brightest student in the school, and yet one of those with the least personal means, Hamidou lacked anyone who would help him advance by merit – or influence," Ends said. "He was strong, respectful. He stood out."
After receiving his international degrees, Sakhanokho made it a mission to give back to his village, affording others the opportunities that he had been granted. Sakhanokho remembered there being only one classroom for all of the primary education grade levels when he was in school. This meant that classes were overcrowded and seats were limited. Students who couldn't find a spot in class were faced with two options: to travel to schools in distant villages, as Sakhanokho did, or simply not go to school.
Sakhanokho and his community worked to establish six classrooms for primary education, a health care center and even a high school within his village. Now, for the first time, almost 100 percent of boys and girls in Tourimé are in school.
Years later, Ends is still remembered throughout the villages for the impact he made in the classroom. Even after 40 years and thousands of miles separating the two, Sakhanokho and Ends still consider one another family.
"Whenever I speak with some of my former classmates, Tony's name almost always comes up, which is a testimony to the respect and admiration these former students had for him because they knew how deeply he cared about them," Sakhanokho said.