Returned Peace Corps Volunteers continue to show up for one another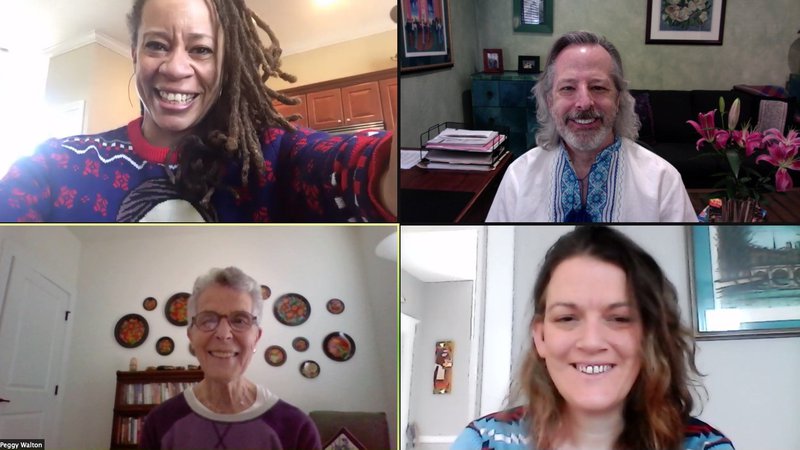 Feb. 18, 2021
When Volunteers around the world were evacuated last year due to COVID-19, the Returned Peace Corps Volunteers (RPCV) Alliance for Ukraine, quickly mobilized to provide support to those who found themselves returning abruptly from their service in the Eastern European country.
When Peace Corps Volunteers return to the United States after their service, many stay connected to their host countries. Some travel to visit their old host families, others donate to host country causes, and many choose to join affiliate groups made up of other returned Volunteers.
In the interview below, we chatted with five members of one such group, RPCV Alliance for Ukraine, which organized an Evacuation Mentorship Program aimed at providing support and mentorship for the Volunteers who were evacuated in the early days of COVID-19. This small but mighty group of returned Volunteers—Catherine Anadu, Peggy Walton, Patrick Kelley, Jeffrey Janis, and Sarah Nagy—who have still never met in person, managed to mobilize over 100 returned Volunteers to provide support for the newly evacuated cohorts. The mentorship program was successful in matching every evacuated Volunteer who expressed interest in having a mentor—proving that the Peace Corps community is stronger than ever.
What is the RPCV Alliance for Ukraine?
PATRICK: Founded in 2018, the Returned Peace Corps Volunteers Alliance for Ukraine (RPCV-AUA) works to empower an international network of people, agencies, and organizations dedicated to fostering a self-determined and globally-connected Ukraine by enacting the shared values of the Peace Corps community. Our organization's strategic goals are inspired by and rooted in our three pillars: community, information, and impact.
The Returned Peace Corps Volunteers (RPCVs) Alliance for Ukraine is a common platform for Ukraine RPCVs and other community allies to assemble and access resources to advance programs and projects highlighting and celebrating Ukraine both at home and abroad.
Why are you a part of the RPCV Alliance for Ukraine?
CATHERINE: I believe in the potential of our organization. RPCVs currently have a choice of over 170 affiliates to engage with, but this one made sense for me as someone who had served in Ukraine.
JEFFREY: Becoming a Peace Corps Volunteer midcareer had a major impact on my life. I am still very close to my Ukrainian host family and have been back to visit them six times. I see the alliance as one of the ways to fulfill the Third Goal of Peace Corps, which is about sharing your host country with fellow Americans.
The RPCV Alliance for Ukraine launched its Evacuation Mentorship Program (EMP) in mid-March due to the COVID-19 pandemic. In your eyes, what is the purpose of the Evacuation Mentorship Program?
SARAH: One very special part of being a member of the Peace Corps community is how shared our big-picture experiences are, even though our experiences in country were unique. We all have embarrassing stories where we said the wrong thing in a meeting and we know what it's like to try to get by in a culture where the language spoken is not your first or primary language. When you have an event that's very painful, like a sudden evacuation, it's important to be able to connect with that community. We have a great network of Volunteers who come from a variety of career sectors and have this vast wealth of knowledge that they have been more than happy to share and support other RPCVs.
JEFFREY: I work at UCLA as a Peace Corps Campus Recruiter. It broke my heart to speak with so many students who were so abruptly evacuated. So many of them felt alone and confused. I saw the need to support these Volunteers and the Evacuation Mentorship Program (EMP) was the perfect way to do it—the program offered everything from helping them with their job search, to providing them a space to share their experience with someone understanding who can relate to what they are going through.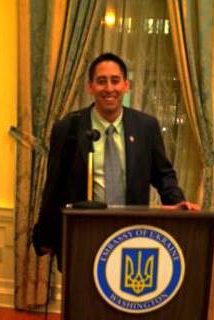 What is the biggest impact you have seen come out of the EMP?
PEGGY: In the end, there were 47 pairs of mentors and mentees in the EMP. If nothing else, the team created an avenue of connection for the recently evacuated Volunteers to use as they saw fit. [Our surveys showed that] most felt that they benefited from this relationship. In other words, the mentees felt acknowledged on some level as they began to put their lives together in the United States.
CATHERINE: We were sensitive to the idea that people's emotions would be in various phases, as we were all engaged in this global pandemic—both abroad and in the U.S. I was excited to see that around 90 percent of our matched pairs had their expectations met with the program, and that we had an abundance of Ukraine RPCVs volunteer to become mentors.
SARAH: We had so many people who were ready to help and support that it ended up surpassing the number of evacuated Volunteers who were in need of a mentor. This speaks to the amazing power of the Peace Corps Ukraine community. I am hopeful that we can continue to be very proactive in serving the many unique needs of different Peace Corps Volunteer communities, including Black, LGBTQ+, and older Volunteers with our next mentorship program.
The COVID-19 evacuation was not the first time Peace Corps Ukraine Volunteers faced a countrywide evacuation. How do you think that experience helped the previous cohorts of returned Ukraine Volunteers support those who were forced home in March?
PATRICK: As a Volunteer who was evacuated from my Response post in 2014, I think it helped me to be able to relate to what was happening to this group. I felt like I could talk about something, and listen to their experiences, in a way that they could know I understood.
PEGGY: I could absolutely empathize with the feelings expressed by some of the evacuated Volunteers: I was brought back to my own evacuation experience in 2014, and those memories served as a motivator to help those who returned in March. I felt called to work with [the RPCV Alliance for Ukraine] team to create a valuable path for reintegration into U.S. society.
SARAH: Those of us who successfully finished our service without an evacuation will never know what that feels like. The shared pain is often helpful as you are newly processing those emotions.
What is your hope for the future of the Evacuation Mentorship Program?
CATHERINE: This program was a way to find more fellow RPCVs who served in Ukraine and add to our "family." The Peace Corps is about to celebrate 30 years of partnering with Ukraine, so ultimately the alliance would like to have as many of the 3,400 of us who served there to join the celebration and amplify the partnership here in the United States.
SARAH: [I also] hope we can become very intentional about how we are supporting Black and other minority Volunteers in their service and also beyond their service. It's important to recognize that even the process of coming home may look very different for each individual depending on their background. Job and housing prospects may vary and recognizing that those differences exist can help us be intentional about the ways that we are supporting those Volunteers.
What advice or words of support would you give any Volunteer who has had to return home unexpectedly?
PATRICK: You will be able to move on, eventually. Time will see to that. But share the experience you had with others, and don't let the sensation you felt in serving simply dissipate as that time passes. You have experienced trauma and it is OK to not be OK.
JEFFREY: It's important that they know that they are not alone and there are many resources available through the National Peace Corps Association (NPCA) and its affiliate groups to support them. Volunteers are resilient and know how to create solutions—often in a vacuum. The ability to lean on and support other RPCVs is a lesson most RPCVs have already learned during service.