First-Gen Q&A: Serving in Moldova
This is a part of a series of Q&As with returned Peace Corps Volunteers who identify as first-generation college students and/or new Americans. Learn how they navigated the challenges of the decision-making process and service abroad!
Zin Mar (Alicia) Nyein served as an English teacher in Moldova from 2016-2018. She identifies as a new American and first-generation college student.
"I emigrated to the U.S. at a time when there was a lot of political turmoil in my native country, Burma (now called Myanmar). I came with my mom and sister at the age of six. Encountering a completely new culture and language at a young age was very stressful for me. For the first several years I felt like an outsider and didn't talk or participate much at school. It took me a long time to figure out my identity and find a good balance between my two cultures."
What inspired you to apply to Peace Corps?
A friend from church had served as a Peace Corps Volunteer in El Salvador, and I saw how it had impacted her. I looked up to her, and hearing about her experience made me eager to join. I also felt that service would give me an opportunity to grow. Finally, as someone who has experienced the challenges of integrating into a new culture as well as the benefits of community development, I had a desire to give back. I felt I could make a meaningful impact as a Peace Corps Volunteer in a developing country.
Did you face any challenges in pursuing your goal of becoming a Volunteer?
The biggest challenge was saving enough money. Six months after graduating from college, I had to start repaying my loans. I knew Peace Corps would suspend the payments once service began, but I was concerned about interest rates increasing during my time abroad. I was able to find work and save money, and my family was able to offer some assistance during my second year when my funds were running low.
What were your biggest challenges during service, and how did you overcome them?
Learning the language was difficult. I learned formal Romanian during pre-service training, but I ended up in a village where everyone spoke slang and Romanian-Russian, which made it harder to communicate and integrate. I also wasn't able to find a language tutor because of how isolated my village was.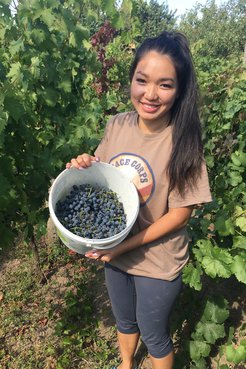 How did your family view your Peace Corps service? How did you keep in touch during service?
They were very supportive, and luckily I had phone and WiFi service almost everywhere in my host country. .
How has Peace Corps service benefited you?
During service, I was able to postpone loan repayment, and after I came back I used non-competitive eligibility (NCE) in order to get my current job with U.S. Citizenship and Immigration Services. I also may use the Coverdell Program in the future in order to attend grad school.
In general, I appreciate having a broader understanding of a different part of the world.
What type of support did you receive while overseas?
I received a lot of support from my Peace Corps cohort and from people in the committees I joined while serving. I became a part of a Peace Corps anti-trafficking group in Moldova, which was a great cause and gave me a bigger sense of community.
Any advice for first-generation Volunteers like yourself?
Be flexible and open to the opportunities that lie ahead. It's about the journey. Take it in slowly and always remember your purpose when times get rough during service.
Read more about Alicia's Peace Corps service.