Resolve to be the first: Q&A with a first-generation college student who served in Cambodia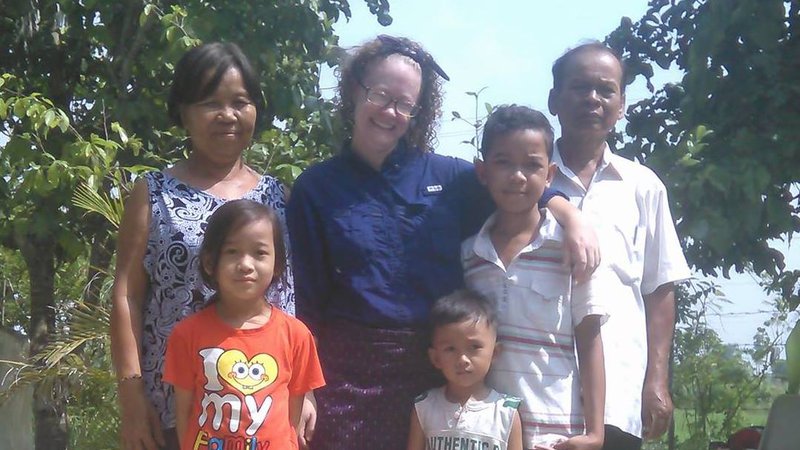 Jan. 13, 2020
This is the second in a series of Q&As with returned Peace Corps Volunteers who identify as first-generation college students and/or new Americans. Learn how they navigated the challenges of the decision-making process and service abroad.
Sarai Richter served as a health Volunteer in Cambodia from 2015-2017.
"I was raised in a close-knit conservative Christian community and lived by strict religious rules. I grew up with a lack of amenities; we washed our clothes by hand, grew much of our own food and did not have much technology. I'm also a first-generation college student."
How did you first learn about Peace Corps?
I learned about the Peace Corps through a public service announcement on the radio, "Life is calling. How far will you go?" and from reading the encyclopedia.
What inspired you to apply to Peace Corps?
I remember one particular piece in the encyclopedia about a Peace Corps Volunteer and her service in Colombia. I also wanted to learn more about the human experience. Nelson Mandela says, "We are only human together," and I thought that Peace Corps would help me learn more about this idea.
Did you face any challenges in pursuing your goal of becoming a Volunteer?
I was a foster kid and did not have a traditional childhood. I was adopted and raised by a conservative Christian family. I grew up underprivileged, low income and underrepresented. I was home schooled through a religious education program, so it took me longer to catch up with my peers in college, most of whom had a typical Western education. It also took me a long time to complete my education without any family support.
I am the first generation to go to college in my family, but before my Peace Corps service I was only able to acquire an associate's degree. I had more than enough credit hours to get a bachelor's, but had not taken the right classes and couldn't afford to continue at that point.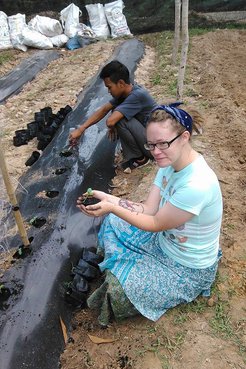 What were your biggest challenges during Peace Corps service?
I had an easier time during service than most of my peers, as I had lived without electricity and had to wash my clothes by hand as a youth. The constant gauging by neighbors, families being overly protective, and the community playing a role in everything you did was a normal part of my life as a child. As a Volunteer I felt like I was reliving my childhood, only in a community that did not speak my language and that had different customs and beliefs. My experience living in everyday America was harder for me than life in the Peace Corps.
What type of support did you receive while overseas?
I mostly received support from peers who were religious (although I am not). Many of them found it difficult to explain to members of their churches why they chose Peace Corps instead of a mission trip. Sometimes other Peace Corps Volunteers found it difficult to relate to them when they discovered that the religious Volunteers did not drink or had different convictions. Volunteers prepare themselves for encountering different traditions and beliefs while living in another country, but when Americans are asked to understand differences in their own culture, sometimes there can be a disconnect.
What benefits has Peace Corps brought to your life?
Generally, getting the opportunity to learn more about the world and the possibility of getting a higher degree after completion are two benefits. Professionally, I gained technical writing and grant management skills through my participation in Peace Corps Cambodia's grant writing and editing team.
However, the biggest benefit I experienced was the relationship I built with my community during service.