A reflection on serving in Myanmar at 60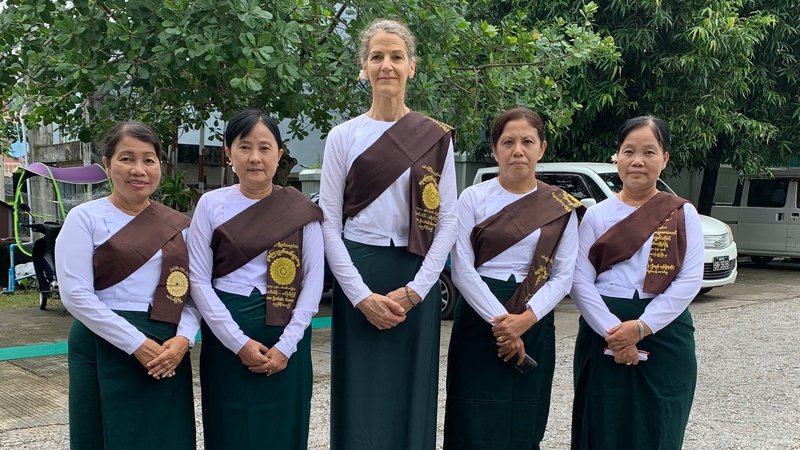 May 25, 2020
At the end of the chaos that was evacuation, in the peaceful and alarmingly quiet days of shutdown, I think often of where I was 2 months ago. And though I know I'm in the right place now—at home in Ohio—I yearn for the heat, liveliness, and fabulously caring community of my life in Myanmar.
I'd wanted to join the Peace Corps in my early 20's but lacked a college degree. By the time I'd earned a BA I was focused on other parts of my life – writing and publishing poetry and getting myself to grad school (MS in library science) in order to make a living.
And I did just that, happily working as an academic librarian for almost 30 years. I moved to a college town in Ohio for a job after a life on "the coasts," got married, had a kid, and somehow continued to write.
Then a couple of years back I began to feel restless. I felt uninspired at work and was looking for new challenges. Our son was off to college, and my husband had retired a year earlier, but I wasn't yet ready to join him in retirement. At 60, and in good health, I was looking for something not only new but that might satisfy a desire to contribute in a meaningful way to the wider world. I found myself thinking: Hmmm, the Peace Corps. The Peace Corps! Full circle. Why not?
My husband and I discussed the idea of applying as a couple, but ultimately this was my dream and not his. He was happy to stay back and hold down the home front.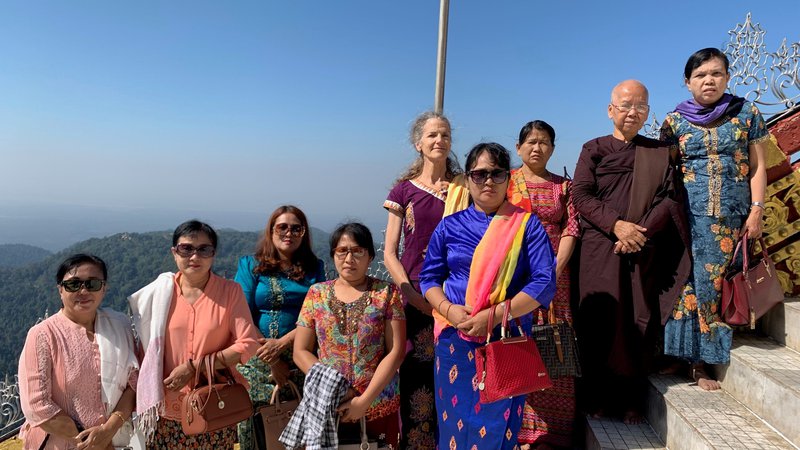 I chose Myanmar because I'd never been to a Southeast Asian country—or any Asian country, for that matter. I was intrigued by the country's history, it's climate, it's ethnic, religious, and geographic diversity, and its recent moves toward more democratic structures politically. I read about the classic Myanmar breakfast of mohinga (a divine fish soup) and about the amazing fruits readily available…and I was sold.
I retired from my job in December and flew off to Yangon in January 2019. Along with the rest of my MM4 cohort, I was able to serve for 14 months before being evacuated due to the coronavirus. I worked alongside Myanmar teachers—co-planning and co-teaching English classes—in a public K-12 school at a gorgeous, crowded, fantastic, complicated city near the Andaman Sea.
I found that my "later in life" service, and my experience as a librarian, prepared me for Peace Corps service in a myriad of ways. I drew heavily on the people skills I'd developed over many years in public service but also drew on my general experiences as a parent and community member. I'd become better, as I aged, at going with the flow. The ability to take a step back, take things in stride—day by day, hour by hour, even minute by minute—was incredibly helpful for life in Myanmar. I think that being confident in myself and my world view allowed me an ease in looking outward—seeing and absorbing everything I could about this truly complex and interesting country I was living in.
The major challenge I faced in my year in Myanmar was language acquisition. I'd read that older folks generally had a harder time learning new languages—but of course decided I'd be the exception to the rule. Well, nope. Burmese (also known simply as Myanmar) is a tonal language with a thousand wrong ways to pronounce a word and just a single right way. Building on the initial language training provided by Peace Corps, once at my site I found a wonderful language tutor to work with. But still—it was just. darned. difficult.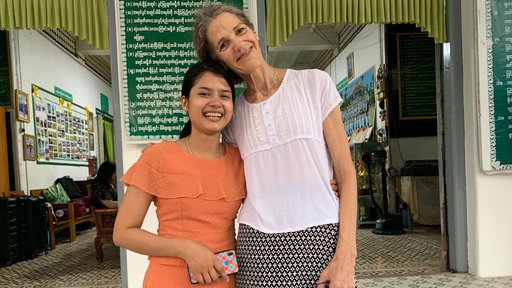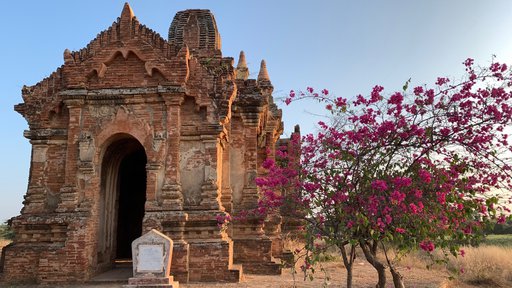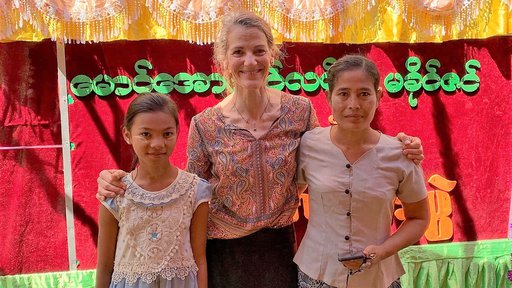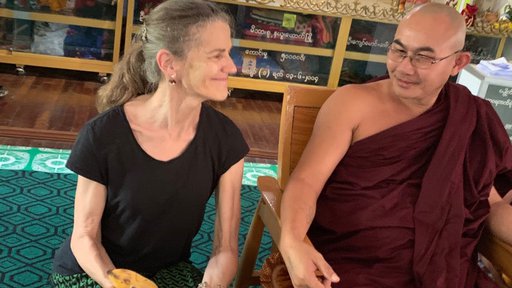 Happily though, my "slow language" wasn't the game stopper I'd become worried it might be. An incredible and generous community—of fellow teachers, students, neighbors and acquaintances—made the language gap far less problematic than I would've thought. I did of course learn the basics, and body language/gestures went a long way when my words and phrases ran out.
And (if there were a non-cliched way to say this, I'd do it) a smile IS worth a thousand words. Or several hundred, at the least.
Although my service in Myanmar was sadly cut short by the evacuation, I'm in regular touch with many of the amazing folks who were a part of my community there. The people I got to know, ate with, laughed with, taught with, walked with. I have regular video chats with my primary counterpart teacher. She helps me with my Myanmar, I help her with her English. We compare our worlds—opposites in many ways now (hot there, cold here, etc.), but the same where it counts.
I expect I'll be processing my Peace Corps experience for quite some time. After six weeks at home I've just started delving into the raw material of the writing I did while there and am excited about how that work might develop.
My language tutor last week let me know she'll be getting married next year, and she'd like me and my husband to be at her wedding. If there is any way that we can swing it, we will.