Reflection: How Peace Corps changed my life
Now that I am back in the United States, reconnecting with my friends and family and adjusting to the realities of American life, many people ask me with fascination and respect, "So what exactly did you do down there?"

It's a good question. Many Americans do not have a real understanding of the mission undertaken by the more than 7,200 current Peace Corps Volunteers serving in 65 countries around the world.

To answer them, I reflect back on my service, an incredible, personal, exhausting, challenging, breathtaking, life-changing and maddening ride through life in the Surinamese rainforest.

The most accurate response (which I rarely provide) is that I gained far more than I ever sacrificed.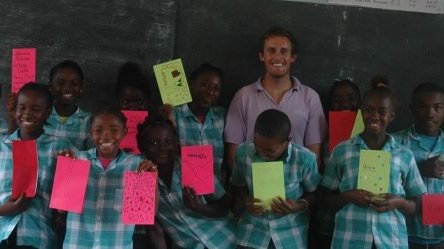 While discovering a special corner of the world different from our own and establishing close relationships with people who approach life from a different point of view, I came to understand the differences and similarities between life in the Surinamese rain forest and the United States. Learning about the customs and values to which Saramaccans adhere, especially those that greatly diverge from their counterparts in America, provoked me to examine my own actions and values and even my mission in life.
Who do I want to be? How have I deceived myself and others? Where have my actions diverged from my values? How do I want to be perceived? What changes will I commit to making in my actions, attitude and perceptions? To which meaningful cause do I want to commit my professional career? These are the essential questions that I contemplated.
I realized that I had never really thought about what I wanted my purpose in life to be. And if I did, I had never written it down.
So I started there, as if creating a personal constitution. While still in Ligorio, I wrote: "My mission in life is to live with integrity and character and to inspire positive change in myself and in the lives of those in my communities around the world." Writing this down helped me to set my moral compass and define my values and goals as a person — the son, brother and friend that I am, as well as the husband, father and leader that I want to be some day.
Looking back, my Peace Corps experience has permeated every nook and cranny of my life. It has changed the lens through which I view the world and my role in it. It changed what I care about and how I think about language, culture and money. It changed how I approach my relationship with myself and with others, how I approach every individual I meet and how I empathize with people — outsiders, in particular.
It changed how I will, one day, raise my children and what values I will try to teach them. It taught me what I am capable of, alone and in a group, and refreshed my aspiration to reach my fullest potential. It gave me a new group of close friends both throughout the United States and in the Surinamese rainforest, the inspiration to become a teacher and an undying love of mangos.
Why, and how, did my Peace Corps experience inspire such monumental change in me?
Life in Ligorio is simpler, more elemental. While financially, many Saramaccans live below the poverty line, their lives are also rich. In Ligorio, I learned to embrace the outdoors, take care of the basics and be conscious of the local community, culture and environment.
Since coming home, it's been a struggle to incorporate those priorities and that simplicity in my life here. I crave that kind of life but our culture makes it difficult.
On the day I was scheduled to depart from Ligorio, I was hit by the most difficult challenge of my entire Peace Corps experience, humbling all of the obstacles I had faced in the past: saying goodbye for the last time to the Saramaccans who had treated me as if I were one of their own. Not a bone in my body wanted to leave.
As the plane climbed over the green canopy of pristine rainforest and I waved to the crowd that had gathered at the jungle airstrip to see me off, I realized that my Peace Corps experience had redefined for me what it means to be a man. In Ligorio, I had learned what type of man I wanted to be and had started down that path.
To me, the essence of what it means to be a man emanates from the heart. It was about my capacity to love and to be loved. The questions I now ask myself are all about relationships. "What kind of village member was I? What kind of neighbor? What kind of role model? What kind of teacher? What kind of friend? Who did I love, and who did I allow to love me?"
At the end of my service, I wanted to leave a legacy, to know that I made a difference. All of that depended on the effort that I was willing to commit to Ligorio and its people, my belief in my responsibility to give back and the challenge to identify my unique cause in life. I surfaced from this deep introspection with a greater understanding of myself and committed to work hard to align my actions with my values.
I can't say that I gave it 110 percent every day. Some days, I napped in my hammock and read a book for the entire day. I made mistakes. I aggravated people, and people aggravated me. But that was the amazing rollercoaster of my life in Ligorio and of life in general. In the end, I can look myself in the mirror and congratulate myself on a life well lived in Ligorio, but that's between me and me.