Quality keeping: Beekeeping in Comoros
Beekeeping projects are ideal for international development programs because they're gender-inclusive, require no land ownership and have a low investment cost and encouraging short-term rewards.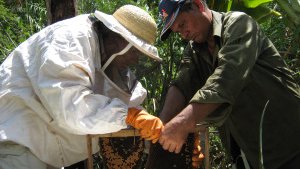 I was introduced to beekeeping during my first Peace Corps service (Paraguay 2007-09), and eight years later I found myself half a world away in Peace Corps Response Comoros, working with beekeepers again.
In 2007, an association of beekeepers in Itacurubi del Rosario, Paraguay, welcomed me as their new technical assistant on my first tour with Peace Corps. Prior to my arrival, the association received a large grant from an international organization, which they used to purchase equipment and distribute beekeeping equipment, but the corresponding technical training was inadequate for proper beehive management.
Two men of the 10 association members set up and maintained beehives, while the others stored the equipment that rotted over the years. Throughout my two-year Peace Corps service, the two active beekeepers taught me crude beekeeping basics and I helped them make minor changes, including how to avoid unnecessarily aggravating the angry Africanized bees and how to make beeswax candles.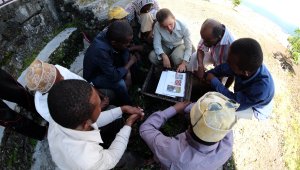 My role was to assess needs and figure out how to help them do better what they already did, as is the case for many Peace Corps Volunteers. Together we tried to encourage others to use the equipment they received and set up a few beehives.

After returning home to Wisconsin, I decided I wanted to keep bees for honey production. Kicking Bear Apiaries LLC became my side project on evenings and weekends while working at another job, and later completing a master's degree. Running my beekeeping business for three years launched me into another Peace Corps tour.

In March 2015 I arrived in Comoros, an island nation between Africa and Madagascar, as a Peace Corps Response Volunteer to teach beekeeping skills for a United Nations Development Programme project.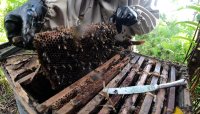 This Peace Corps Response group was the first to return to Comoros after Peace Corps left in 1995, paving the way for 18 new two-year Peace Corps Volunteers who will teach English at high schools on all three islands. Since my communication was limited to French (the local language is Shingazidja) and I only had eight months to work, I drew on a train-the-trainers model and taught one core group in French. In July 2015 we completed the first phase of a train-the-trainers course: eight men and women from four villages participated in an eight-day workshop to become beekeeping trainers. 
In the second phase of the project, August 2015, the trainers are teaching the class in their communities, thereby spreading the information in Shingazidja. This initiative created local experts with knowledge and skills to continue educating other community members to improve livelihoods and biodiversity conservation in the forest around Karthala Volcano and across the islands.