From Puerto Rico to Peace Corps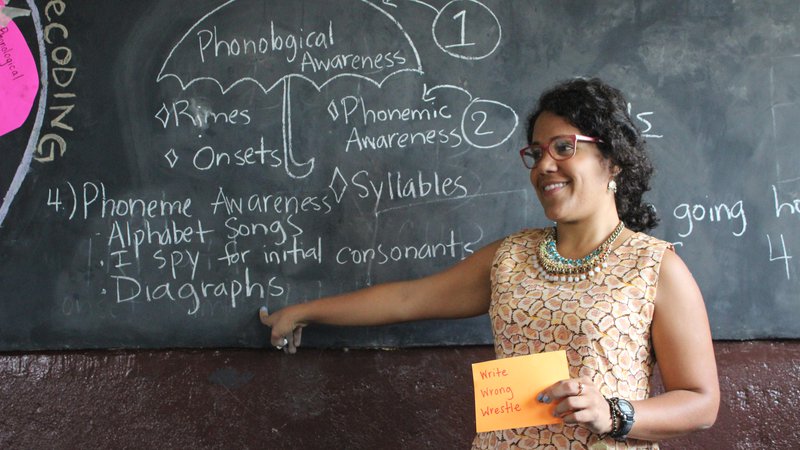 Sept. 30, 2020
Peace Corps service offers the chance to work and live abroad to all Americans, but not all Americans come to their service with similar backgrounds.
Jomara Laboy Rivera grew up in Puerto Rico, a Caribbean island that is currently an unincorporated U.S. territory. Jomara served in Cameroon from 2015 until 2018 and currently works in the Peace Corps' Office of Programming and Training.
In honor of Hispanic Heritage Month, we sat down with Jomara to discuss her experience and journey as a Puerto Rican Peace Corps Volunteer.
What made you decide to serve in the Peace Corps?
After I finished my undergrad in Puerto Rico and an internship with National Geographic in Washington D.C., I went on to work in Puerto Rico tutoring high-need students but felt I needed to learn and experience more before I could give my best to the world.
I decided that it would be ideal to do my master's in education to complement my undergraduate degree in environmental science and communications. I started searching for where and how to do my master's when I stumbled upon the Peace Corps Masters International website. I quickly looked for a university that offered Science Education and the only one that came up was Michigan Technological University, so I applied without much doubt. I have always enjoyed traveling and getting to know different cultures, and it was no question that Peace Corps was for me.
As someone who grew up in Puerto Rico, how exposed were you to Peace Corps before you left for service?
Before applying for my master's degree in Michigan, my knowledge of Peace Corps was limited since, unfortunately, in Puerto Rico it is not common to hear about the option to serve with the organization. I eventually met a couple during my travels abroad who were returned Peace Corps Volunteers, and the stories they shared really impressed me. While in undergrad in Puerto Rico, I also had a professor who had served in the Peace Corps, and he was one of the people that encouraged me to apply.
Did you face any challenges or obstacles in your decision to join the Peace Corps?
Not really, my family has always been supportive of my decisions. My mom even came to visit me during my service in Cameroon.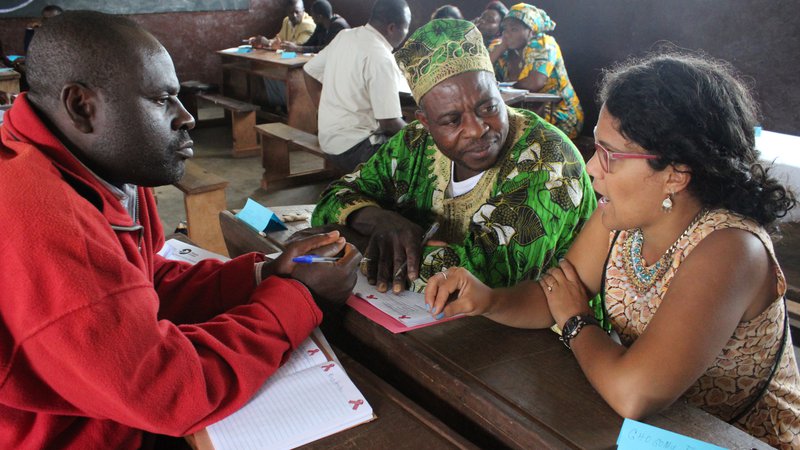 When you arrived to Cameroon for your service, what was it like to be in a training group with people who had grown up in the United States?
I sometimes joked that I had more cultural differences with the other Peace Corps Volunteers from the United States than with the Cameroonians. But all jokes aside, it was comforting to have a support group available that may know and understand from where you come. Being in the training group with people from the United States was a reminder that we were all helping each other face new challenges and adapt to new circumstances. I developed strong friendships from the experience.
What kinds of things did you work on as a Volunteer in Cameroon?
I was posted as a full-time teacher in the northwest region of Cameroon. I taught mathematics, biology and citizenship to the equivalent of seventh and eighth graders. Each class had an average of 65 students. I also was in charge of the science clubs, where we did hands-on experiments, talked about menstrual health, and learned how to make soap.
Another focus of my service was to help increase literacy rates among students. To do this, my Cameroonian counterparts and I created a Math Teachers Committee that assisted in developing a book for math teachers. This book includes student-centered activities and stories that integrate math and literacy. The math book called "Math Book: One More Story" was used as part of my master's thesis research in four different schools in the area to see if its use impacted the students' achievement or interest in math and literacy.
Other projects my counterparts and I did were develop teachers' literacy workshops, facilitate a literacy camp for students, and create The Traveling Library—two bags full of culturally appropriate books to be used by all of the Peace Corps education Volunteers in Cameroon.
In addition to working in my school and community, I was very active in Peace Corps trainings and Volunteer support. During my three years of service, I was a member on the social media committee, which is in charge of creating content for Cameroon's social media pages. I also helped to train new Peace Corps trainees in literacy and student-friendly schools during their Pre-Service Training (PST) and In-Service Training (IST).
What was your greatest challenge during service?
The biggest challenge I experienced during my service was the consolidation of Volunteers due to political unrest that led to my evacuation from my village. [My village] was my home for more than two years, and it was really hard to leave behind my friends, family, and even my dog, Menguante. I learned from the evacuation that love and friendship will endure any struggle and distance.
I also learned how changes are good. I didn't expect all the opportunities and new experiences that awaited me in my new position in the capital of Cameroon, which is where I was placed after my evacuation. I was able to collaborate with the other Peace Corps sectors such as agriculture and health, and I learned many more skills that continue to help me in my professional career.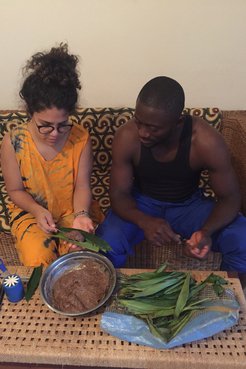 What was your proudest moment during service?
In my first year I participated in the Peace Corps Week video challenge. The theme that year was Highlighting Happiness. I created a video about how the people in my community are always happy and smiling no matter the difficulties they face.
My video won third place, and when I told my community they were so proud of me. My neighbor has a small boutique with a TV where she played the video constantly. Everyone would come to see each other, and they would not get tired of seeing it. Even my students in my school, as a reward, would ask me to play the video after class over and over. It made me happy to see how joyful it made them to see themselves or their friends in the video. Seeing my community members proud of me couldn't have made me happier.
Were you ever able to share your Puerto Rican heritage with your community in Cameroon? If so, how?
I remember my host family in Cameroon would call me "métisse" (mixed) and ask me why I looked different from the other Volunteers. I would explain that I was Puerto Rican and even though we are part of the USA, we have a different history: we come from a mixture of the indigenous Tainos, Africans, and Europeans.
It was eye opening for me to see how much culture Puerto Ricans share with the Cameroonian culture. We would bond over the similarities in our food, music, and dancing. More profoundly, we could see how, even though we grew up many miles apart, we had similarities around hospitality and family values. As the Cameroonian saying goes: we are one, we are together.
What did you do after you completed your service?
I traveled back to Puerto Rico where I got married to Nelson, who I met in Cameroon. He was the geography teacher at the school where I did my service. During our time in Puerto Rico, I worked at the learning company Pearson, and then in 2019 we moved to Washington, D.C. for my job at Peace Corps headquarters. I am one of the education program specialists in charge of math, science, and childhood literacy.
Why do you think it is important for other Latin/Hispanic individuals to be a part of the Peace Corps?
By having Latin/Hispanic Volunteers we can share with the world how Americans come in all colors, shapes, and sizes. We need more Latin/Hispanic representation in the Peace Corps because that could showcase the current realities of the United States and highlight how Hispanics are themselves a diverse group with fascinating cultural differences and similarities. Having Latin/Hispanic Volunteers can be an enriching experience for the Peace Corps as an agency, the Volunteers, and the served communities.
I will add that being a Volunteer opens many doors and provides a perspective that it is hard to replicate in any other experience. Therefore, encouraging more Latin/Hispanic individuals to join the Peace Corps will allow for them to have opportunities that they may not be able to have otherwise.
What advice would you give to other Puerto Ricans who do not live in the continental U.S. but are thinking about applying to the Peace Corps?
Take a chance and just do it! Don't be afraid of trying something new that may be out of your comfort zone. In addition to having a transformational experience, you will have the opportunity to be an ambassador of Puerto Rico in a place where the Island of the Enchantment or its culture may not necessarily be well known. Peace Corps will change your life, giving it a new perspective and meaning.
For example, I learned living in Cameroon that the essential things in life can't be bought. You may hear the phrase as a cliché, but you won't believe it until you experience it. Cameroonians taught me that the right mindset, family, friends, and food can be enough for a really content life. Besides learning new things, you may also get the opportunity to share some Puerto Rican wisdom with other Volunteers as well as with the community you serve.