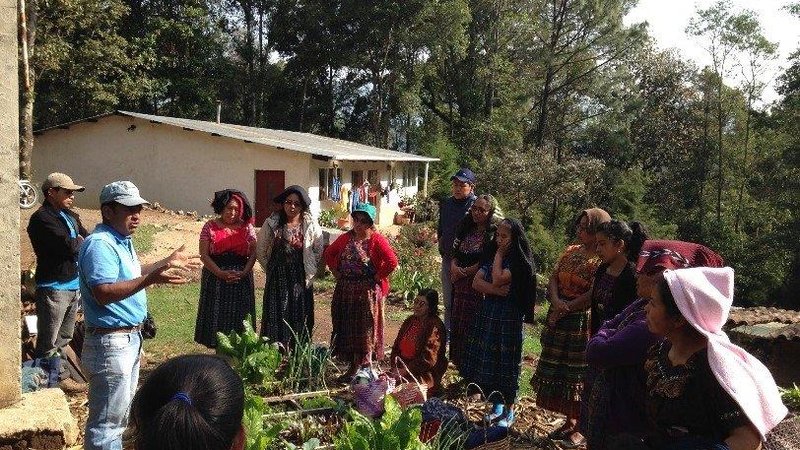 Sept. 15, 2017
Guatemala is a land of contrasts. 
Despite lush, green landscapes where innumerable varieties of fruits and vegetables can be cultivated, in much of the country more than half of children under five suffer from chronic hunger. The effects of chronic hunger on children in this age bracket are particularly debilitating and can cause irreversible cognitive damage. 
The seriousness of this issue and its prevalence in Guatemala were two motivating factors in my decision to volunteer for Peace Corps Response and work on a food security project in the Western Highlands. Since arriving in Guatemala, I have sought to better understand how so many children can be malnourished amid such agricultural abundance.
The community I live in experiences a dry season every year that lasts almost seven months. Few people have access to rivers or springs for irrigation which makes it difficult to grow crops year-round. Consequently, most families in my community rely on corn, beans and herbs grown in the rainy season and leave agricultural lands fallow for the remainder of the year. In other words, when water is plentiful, a handful of calorie-dense crops are cultivated while other nutrient rich foods must be purchased in local markets. 
Shortly after arriving in my site, I conducted a series of diagnostic activities to learn about dietary habits in the community. In the groups I surveyed, I found that carbohydrates form a large part of the daily caloric intake, followed by proteins such as eggs, beans and chicken, while fruits and vegetables make up the smallest share of consumption. The vegetables consumed tend to be high in starch with limited nutritional value. 
Subsequent interviews and personal observations have led me to believe that low levels of vegetable consumption stem from problems of access, availability and/or lack of information. In this case, lack of access results from one or more the following constraints: physical distance to the nearest market, insufficient economic resources to purchase food, limited transportation options and other factors that inhibit mobility such as old age or poor health. 
Due to the seasonal nature of crops, market availability is also an issue and fresh vegetables can be difficult to find or are prohibitively expensive in certain times of the year. 
Finally, households in many rural areas simply don't have nutritional information on the food they consume and are therefore unlikely to consider nutrient content when making purchases.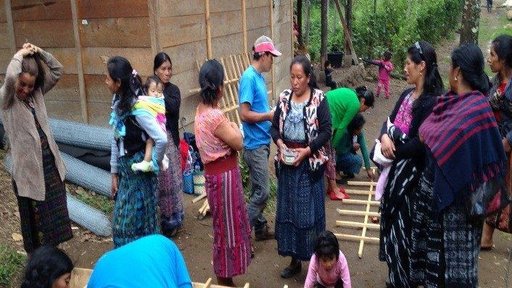 I work with a team of rural extension agents under the Ministry of Agriculture. One of our primary goals is to increase household nutrition and food security in rural communities. Four months ago, my counterparts and I discovered an intervention that could potentially address nutrition problems related to access, availability and lack of information. 
In early May, a former co-worker introduced me to the director of a non-governmental organization that operates in a nearby town. Their program involves bringing small groups to their model farm where they provide training on gardening and nutrition. During the training sessions, they demonstrate a unique raised bed gardening system that is easy to manage and doesn't require much water. After receiving training, the participants are given a garden of their own garden and a variety of seedlings. The organization continues to support participants by monitoring progress in the gardens and helping them replace the plants they harvest. 
The director told us he would like to expand the program but needed help identifying groups and conducting follow-up visits after the gardens are installed. My colleagues and I assured him that we could help.
The first step was to identify groups that were interested in traveling to another municipality for a nine-hour training session. We began by conducting resource and needs assessments with our existing community groups to determine which were best suited for the project. 
Next, we had to organize transportation for anywhere from 15 to 25 participants. For this, we reached out to the municipal government and requested funding for a bus service to transport participants to and from the model farm. The mayor's office agreed to help us on the condition that we keep detailed records and post photos of the training sessions. 
On the first trip, we brought an animated group of 19 women who listened attentively during the training, despite being under the hot sun for most of the day. Two weeks later, when we arrived to install the gardens, their enthusiasm was contagious as smiling middle-aged women carried 100-pound bags of peat moss up steep hills. 
As promised, my colleagues and I began monitoring progress shortly after installation and it was soon clear that the group had absorbed the lessons from the training session. A month after receiving the gardens, most of the seedlings were growing well and the gardens remained free of weeds and pests. 
The mayor, the office of women's affairs and the city council have since showed an interest in our work and we have completed projects in 11 different communities. To build on this progress, my colleagues and I are developing a learning center that will feature four model gardens and will allow community groups to receive training without having to travel. 
As of today, thanks to the support of the municipal government and our non-governmental organization associate, more than 150 families have received gardens in my municipality. 
I am under no illusion that small family gardens will solve the nutrition problems faced by rural households in Guatemala. However, our project offers an encouraging example of a model where community members can take initiative and help themselves. Furthermore, it showcases the positive results of a collaborative effort between a non-governmental organization, the Ministry of Agriculture and local government officials. 
With each garden we install, another family has a source of nutrient rich vegetables a few steps from their kitchen door marking progress towards the final goal – a day when all children in Guatemala have the vitamins and nutrients they need to grow learn, play and be happy.