Planting the hills green with hope: Combating climate change and caste discrimination in Nepal
In a sweltering training hall, Sarita wanders among rows of women bent over the colorful kurtas that she is teaching them to sew.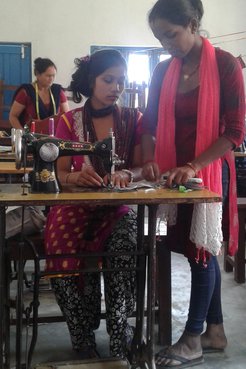 Sarita's voice, calm and confident from years of singing ballads from the stage, carries instructions over the constant clicking of the sewing machines. A tailor by trade, these skills, as well as her caste, have been handed down to her through generations.
Sarita is Dalit, the lowest caste in Nepal. Even as Nepal modernizes and jettisons traditions such as the caste system, which was outlawed in 2001, Dalits continue to be marginalized and subjected to rules such as not being allowed to touch the food or water of people from higher castes in many areas.
Sarita's father taught her to sew, and he also taught her to unravel the seams of segregation and to stitch her own story. Hearing her father's accounts of discrimination as a Dalit, Sarita developed a passion to push back against the binding ties of caste and gender roles.
Seeing her curiosity in the environment, Sarita's father also encouraged her studies when she was young. While Sarita's family supported her dream of pursuing higher education in the natural sciences, their tailoring business didn't generate enough income to send her to college. Instead, she followed her talent for singing and songwriting, with aspirations to reach a national stage. Evidence of her achievements—ribbons and awards for singing at large events—are plastered on the cool mud walls of her house. The memory of one of these performances brings a smile to Sarita's face; it was there where she met her husband, and where her life shifted from the stage to his family's home.
Mother, tailor, social activist, singer, farmer. The fabric of Sarita's life is woven from many threads, but her dedication to conserving the environment runs through it like a blue life-giving river.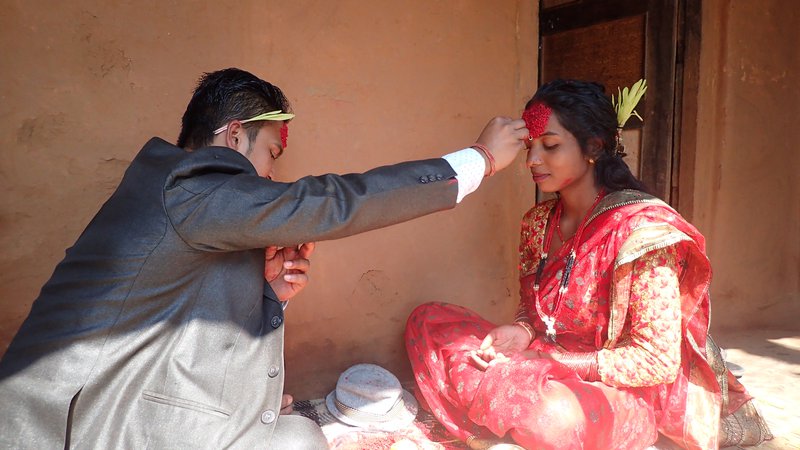 I met Sarita just before she gave birth to her son, at the age of 20. She and her husband's family live in the rural village in Nepal where I was placed as a Peace Corps Volunteer. We shared our concerns about the drastic changes in weather patterns, which were causing crops to wilt and streams to run dry in her area. We also shared the belief that education is a powerful tool in restoring natural resources. Struck by her resiliency and commitment to making social and environmental change, I quickly became her friend, and we resolved to work together to address these environmental problems.
We began partnering with SeedTree, an American non-governmental organization, to implement a two-year agroforestry project with the local women's group. SeedTree provided Sarita with training and textbooks to conduct environmental education classes, as well as valuable tree seeds to start a community nursery.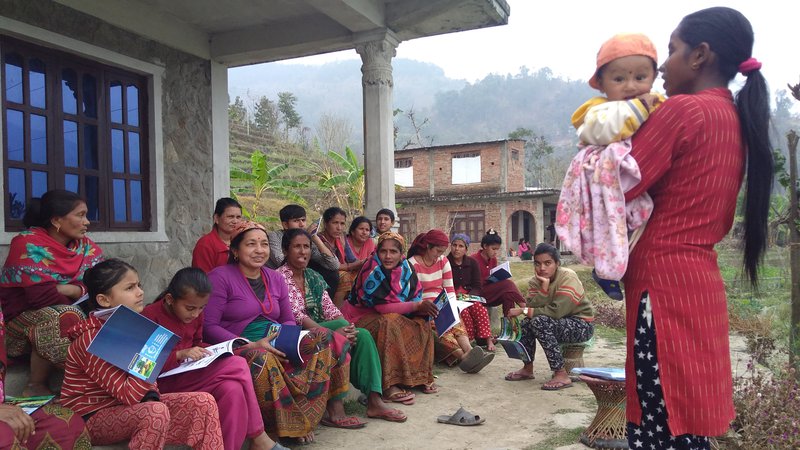 A gifted teacher and leader, Sarita teaches weekly ecology, climate change, and conservation classes to mostly high-caste women. With her baby son on her hip and a textbook in her hand, she explains complex topics of climate change, challenging widespread perceptions that she is a second-class citizen. Every word that she passionately reads aloud is an act of rebellion and accomplishment, as Dalit women have the lowest literacy rates in Nepal, according to the Feminist Dalit Organization.
One warm spring morning, the women's group came together to build the nursery, planting thousands of seeds that SeedTree provided. When the trees became large enough, the women planted them in abandoned fields, along river banks, and around the community's water source. In a bitter irony, Sarita will never be able to offer these women a cool drink of water from the very spring she has worked so hard to protect because of caste prejudice.
During one afternoon reprieve from the monsoon rains, Sarita and I dug through thin soil to plant lapsi, a beautiful fruiting tree whose timber could one day help pay for her son's college education. She planted each lapsi sapling to fight climate change, and to help secure her son's future. Pausing to look up at the parched villages high in the surrounding hills, she said, "I want to walk these ridges and bring the SeedTree program to every one of those communities. I want to teach young Dalits their history and give them the tools to restore their natural resources. It is my role to help the world by replanting trees on this deforested land." Then we turned back to our work: planting the hills green with hope.