Planting batar after the rain
Until yesterday we had gone almost a month without a drop of udan.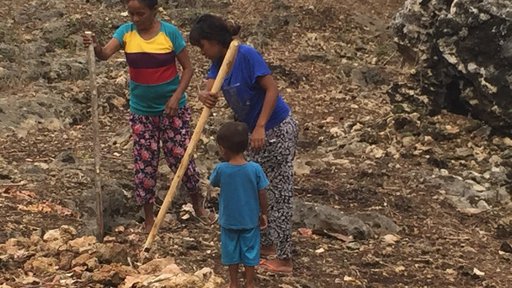 The earth, the dry wheat-brown molik patches that are barren of trees or grass or vegetation, billowed dust clouds whenever the breeze blew, the anin hu.
Yesterday the udan came. An angry storm complete with grumpy thunder and flashbulb lightening rolled into our village, waving dark clouds like flags announcing its arrival. As quickly as the huge sloppy raindrops pelted the ground did the earth gulp them greedily and when she had her fill, only then did the basins of her collarbones collect water.
This morning all evidence of any rain had been erased, wiped clean like a squeegee on a shower floor. That is, until the rain came again. And it did – at the same time and in the same fashion.
"Zelha! Ha'u presiza ita-nia ajuda!"
My Apa, standing a few meters away from where I was sitting on my cousin's veranda, was dressed in his usual uniform of black sneakers, no socks, long black shorts that fell to about mid-calf and a black button-up, short-sleeved T-shirt. Around his face he wore a light green surgical mask; he had been cutting rods of iron and steel from which to make katanas.

He explained,

"Udan mai, kuda batar! Ema barak ba kraik ona. Ita presiza aprende cultura Timor! Ita atu ba aprende no ajuda!"
As it turns out, in Timor, people plant corn (batar) after a heavy rain and I was to learn how to do this and help out.
As I stood on the patch of land that they call a garden, a young woman explained the process of planting batar.
From a bucket of dried batar, select 2 black kernels and 4 yellow ones.

Find a hole that another person has already dug with an aisuak (spear).

Toss all 6 kernels into the hole.

Cover them up with dirt using your foot only. You cannot use your hands.

And in this way I roamed the to'os, a bucket of batar hanging from my left hand, six kernels at the ready in my right, head and eyes turned toward the ground in search of small mouths of earth agape in want of some seeds to swallow.