Planning for tourism in paradise
As the tourism and marketing advisor for the Comoros National Office of Tourism, I find it surprisingly difficult to write about tourism… particularly in Comoros, where there is currently none.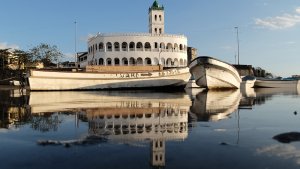 In some ways, I feel like I'm starting with a blank slate, with an asterisk. Comoros is many things: it's a tropical island nation with beautiful beaches, a healthy coral reef and protected marine park, pristine rain forests, unique commercial agriculture (ylang ylang, vanilla, cloves, coffee) and a mixed culture considered very safe by both locals and foreigners.

Many of the other countries in this region have thriving tourism industries, which should make it easier for Comoros. But something is missing.
Comoros is not entirely a blank slate for tourism. The struggle for a stable government since independence has left the country suffering from crumbling infrastructure, buildings and roads, as well as a lack of garbage collection (meaning people in villages and cities throw their waste everywhere). As a Muslim country, Comoros has incredible friendly and peaceful residents; however, both locals and visitors alike are restricted from exposing too much skin, meaning a tourist interested in a beach vacation of sunning and swimming would be advised to visit elsewhere.
When I first arrived in Comoros, I immediately started to look at what was available for tourists – how we could find our niche in the market and what we had that others don't. Ecotourism is often talked about as an alternative to the all-inclusive/beach resort/package vacations many people are used to; to me, ecotourism is not just about the environment but about the people living in a country as well.
Since I've been here, I've talked to many people interested in bringing back the tourism Comoros had in the early 1990s, when a large, foreign-owned beach resort attracted thousands of tourists annually. People come to me with ideas for "standard" ecotourism projects, like building a bungalow and restaurant near the ocean.
But whenever I ask someone who wants to build a bungalow how many tourists they've had in the past year, the answer is always the same: None. And when I ask how much money they have, the answer is the same: None. So when considering how best to use minimal resources most effectively, I recommend that people not build bungalows or restaurants... yet. Putting all their money (or borrowing family money) to build something that will likely have no visitors will just waste that money.
My plan for tourism in Comoros was to start at the beginning: identify tourist attractions, prepare attractions/communities for tourists, promote Comoros internationally. In my mind all of these things could be done at the same time, and there has been a lot of community interest. To accomplish this, I have been working between a few offices and associations in Comoros, like the Comoros National Office of Tourism, Les Amis de Tourisme Communitaire and the Peace Corps.
One major goal is to get the name out, and do it in a way that makes people want to visit. Because Comoros is relatively unknown internationally, I started a new website for the tourism office, a one-stop-shop for information about Comoros. We're also advertising in one of the local newspapers and on the most popular radio station to get businesses to stop by the tourism office and give their information for inclusion on the website.
Another project I'm working on simultaneously is a community-based tourism association, which is constructing several small incinerators in a number of villages managed by youth. The youth will be able to make a little money from fellow community members by collecting trash from houses. They will also have the opportunity to participate in a traditional crafts workshop and learn to make crafts and souvenirs specifically to sell to tourists.
Peace Corps Volunteers – the first group here in 19 years – have agreed to help promote tourism in their villages. I asked all the new Volunteers to write descriptions of the interesting attractions in their region, places to go, how much an experience might cost, who to contact, how to get there, etc. I will eventually compile all that information on the website and hopefully have one of the most up-to-date and comprehensive travel guides ever written for Comoros. I understand that this is ambitious, but given the small size of Comoros and the number of Volunteers, I think it's possible.
My dream outcome for Comoros is that tourists start to come... slowly. That they stay at hotels and, with local guides, drive around to different villages to see historical, natural and cultural sites. I hope villagers sell them handmade souvenirs, guide them on nature walks and sell basic food and drink (things that don't take much infrastructure to prepare). I also want to encourage villages to work together setting up entry fees to attractions, using the money for maintenance and development within their communities. I hope the government, cities and villages begin to properly collect and dispose of their waste and maintain their roads. After a few years, if the flow of tourists becomes enough to support community bungalows, then that would be a good time to build them, ideally following international ecotourism standards.
None of this will happen quickly, but I believe that Comorians are capable of working together to get back on track and making this a place that tourists would love to visit.