Peace Corps Response—A Nimble, Multifaceted Side of the Peace Corps
The beauty of Peace Corps Response is its ability to adapt and adjust relatively quickly to new realities.
When most people think of the Peace Corps, they think of long-term assignments of two years. They think of Americans with broad skill sets, trained and posted to communities in which they'll embed themselves—watching and learning at first, participating in their primary job, whether it be teaching or working with communities—and taking it slowly and deliberately.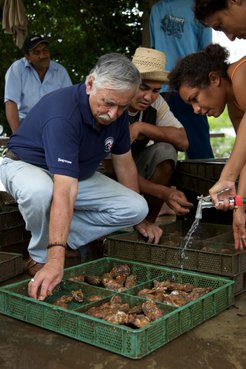 Peace Corps Response requires commitment to community, and to the idea of working to address specific issues while embedded within the population, but takes a shorter, more specific approach. Stemming from the Crisis Corps, a short-term assistance program signed into life by President Clinton in 1996, Peace Corps Response sends experienced, skilled Volunteers to global communities for shorter-term, high-impact assignments. At first, as Crisis Corps, only people who had successfully completed full assignments as Peace Corps Volunteers were accepted. The rationale was that Returned Peace Corps Volunteers had been trained in cultural sensitivity already and were up to the challenge of living and working in developing areas—perhaps without the luxury of electricity, running water, or the other comforts of an American home. As the program evolved, though, and global needs changed, Crisis Corps became less about addressing the aftermath of actual crises, and more about addressing immediate, unique challenges from our host country partners.
In 2007, Crisis Corps officially became Peace Corps Response, a change that allowed the program to broaden its scope and to continue to meet the specific, critical needs of the host countries where Volunteers serve. Peace Corps Response continued to expand with the launch of the Advancing Health Professionals program in 2019 to improve health outcomes on a societal level. To date, more than 3,000 Volunteers have served as Peace Corps Response Volunteers in 83 countries.
At 24 years old this month, there are no Volunteers currently in the field—all were evacuated in March due to COVID-19. However, Peace Corps Response staff overseas remain hard at work, and sharing their stories is one way we can celebrate the 24th anniversary of this unique and necessary program.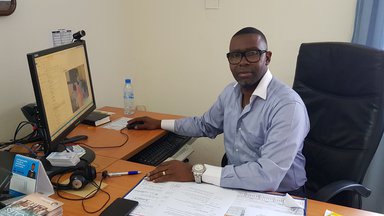 Emmanuel Mussah, the Peace Corps Response coordinator in the Republic of Guinea, has been with the program for about two years. In his mind, Peace Corps Response is a critical answer to development needs that aren't always appropriately addressed by other organizations. "Peace Corps Response has given me a different perspective about development. Coming from the NGO and Development world, working both in Guinea and Sierra Leone with powerful international organizations such as CDC, WHO and the likes as partners, I have come to appreciate more of Peace Corps Response as a global development partner. The posting of highly qualified and experienced professionals as volunteers into different countries to strengthen the capacities of various organizations and institutions…cannot be over emphasized." He goes on to say that, "These are the development practices that will last a lifetime and these capacities developed will transfer knowledge acquired to many more generations to come."
He notes that, "this should be the objective of development organizations and institutions in developing countries. With little and very limited resources, Peace Corps Response is actively working to ensure that knowledge and skills are transferred to people in the developing countries enabling them to contribute tremendously to the socio-economic development of their countries." The importance of skills-transfer on these levels cannot be understated. As Mussah says, "One of the greatest challenges for developing countries is affording the services of professionals in specific areas. Peace Corps Response is meeting most of these needs in Guinea." In this sense, the shorter-term nature of Peace Corps Response is a critical factor—most mid-to-late-career professionals can't leave their jobs, homes, and families for the 27-months that Peace Corps requires (generally two years plus three months of training). They can, however, undertake the three months to one-year commitment Peace Corps Response allows.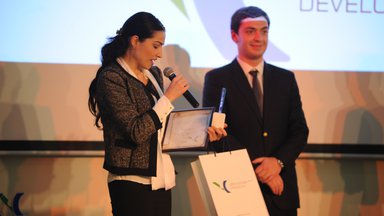 In Georgia, Tamunia Chincharauli, the Peace Corps Response program manager, echoes Mussah, "…this program offers quick and effective response to specific needs and brings in targeted skills…it offers [flexibility] in responding to the needs of local communities and Government of Georgia. This flexibility and the experience brought by Volunteers have helped us to shape and work on unique and strategically important directions in country." In Georgia, some Peace Corps Response Volunteers work in concert with Peace Corps Volunteers. "Peace Corps Response Volunteers have been complementing the work of two-year Volunteers, bringing field level expertise, specialized skill-sets and strong added value to programs, projects, activities, and ideas of their counterparts."
Paola Cabero, the Peace Corps Response coordinator in Mexico, highlights the level of technical skills Peace Corps Response Volunteers bring. "Peace Corps Response Volunteers are assigned to public research centers under the umbrella of Mexico's National Council for Science and Technology, and to public universities specializing in STEM degree programs. Peace Corps Response Volunteers in Mexico help enhance organizational development and strengthen technical capacities at these institutions, which are located in large cities (research centers) or medium-sized towns and small cities (universities). Usually, their counterparts and co-workers are scientists, engineers, research professors, teachers, or administrators." This kind of assignment—not unusual for Peace Corps Response Volunteers—is a huge opportunity for experienced professionals wanting to get experience in international development, or just wanting to give back to underserved communities.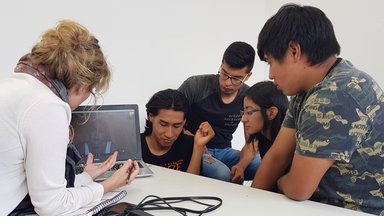 Before the evacuation, the Peace Corps Response team and the local partner organizations in Mexico were expecting a new cohort to fill brand new positions in social responsibility for science and technology, project management, information management, and business development. Cabero says the program will re-open recruitment for those positions. "We will also open positions for university English co-teachers and teacher trainers to support our English for Academic and Technical Purposes (ETAP) program," she says. "And we are working on developing a new position—visiting STEM professor and graduate student mentor—for which we expect to have a group of eight Peace Corps Response Volunteers arrive in late summer of 2021."
Though Peace Corps Response is celebrating this 24th anniversary with no Volunteers in the field, staff overseas is looking forward to welcoming them back as soon as it's safe. "I look forward to our biweekly check ins with Volunteers." Chincharauli says. "Hearing their stories about small or big successes, or just stories about how they are building relationships and engaging in various social activities with their colleagues, host family members, community members… has been [a] highlight of my work." Like the Peace Corps, Peace Corps Response is, at its core, about people. In Guinea, Mussah says he looks forward to Volunteers returning to "the family [like] and friendly atmosphere that is created by all staff both at headquarters and all the other posts with Response Programs. I also enjoy the fact that what we do is contributing greatly to the development of people's life."
It's not entirely clear when Peace Corps Response Volunteers will be called back to the field, but there are new positions—in multiple countries and in multiple disciplines—posted on the Peace Corps Response website. It's okay that the specifics are still a little cloudy. What's important is that the program itself is strong and viable and doing excellent work. That's the beauty of this nimble arm of Peace Corps. As Cabero says, "One thing in life is certain, and that is change. The beauty of Peace Corps Response is its ability to adapt and adjust relatively quickly to new realities. The times we are living right now require us to adapt, be flexible, and be creative." It's almost the perfect motto for Peace Corps Response.