Peace Corps recruiter shares her experience as a Volunteer in Panama
Chanel Jimenez served as an Education volunteer in an urban community in Panama from 2019 to 2020. She supported English teachers at a local high school and a nearby university and co-facilitated leadership and life-skills workshops for elementary, high school, and university students.
Today, she is a recruiter with the Peace Corps and sat down for an interview with us to discuss her service and what applicants can expect when they apply to serve as a Volunteer.
What motivated you to join the Peace Corps?
I wanted to see the world, gain professional skills, and make an impact. My parents are Mexican immigrants, and making it in the U.S. has always been their goal. Still, I wanted to travel outside of my bubble in the United States to experience cultures other than my own.
I was attracted to the Peace Corps because it is a government agency that provided me with the training and support to become a successful Volunteer and an asset in a community abroad. Finally, the Peace Corps' mission of promoting peace and friendship emphasized community involvement, so I knew it was the right choice for me.
Describe your Peace Corps service.
I served as an Education volunteer in an urban community. I was involved in many projects and developed connections with teachers and community leaders. Some of my proudest moments were when students would have their "aha!" moment in an English class I co-taught for a semester. It's not always easy to know how you are influencing students, but it was always fun and rewarding to work with them and provide a new perspective.
In my free time, I got to know community members and teachers. I started to tutor one 8-year-old boy and became friends with the entire family. The grandmother often invited me to their neighbors' pool parties and family trips to the provincial capital. One time during the Christmas season, we went to the store and then walked around a nearby park decorated with Christmas lights and had ice cream at a local shop.
I remember that day so fondly and vividly. I still talk to this Panamanian family often.
What was your biggest takeaway from your time in Panama?
Relationships measure success, and the relationships I cultivated helped me integrate into my community and have impactful projects.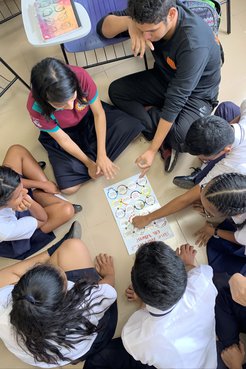 What can someone expect when joining the Peace Corps?
Expect the unexpected. Life and work in your community will be different than what you anticipated. Make sure you are ready and willing to learn much about yourself and sometimes be uncomfortable. Personal growth and challenges are a part of life, but they are magnified when you are in the Peace Corps.
What does the application process look like?
Browse the website and look at current openings. The application is online and only takes about an hour to complete if you have your resume and motivation statement ready. Connect with a recruiter who can guide and coach you through the process.
What was the biggest surprise?
Projects can take many different shapes, so being flexible is a beneficial skill. For example, sometimes, the project would take a bit longer than I anticipated. My peers from service reminded me that flexibility was my biggest asset, which resulted in a healthier work environment.
What are the benefits during and after service?
During service, volunteers have a monthly living stipend, medical and dental insurance, professional skills development, and language and culture training. After service, Volunteers have a hiring preference for federal jobs and are eligible for graduate school scholarships. They also receive around $10,000 after completing service to help them transition back to life in the United States.
What advice would you give to someone interested in joining the Peace Corps?
Sometimes it's scary to leave our home and family. But, when we try something new and grow and develop, we can return with more skills and tools to support our families and communities.
---