From Peace Corps Peru to the frontlines of the COVID-19 pandemic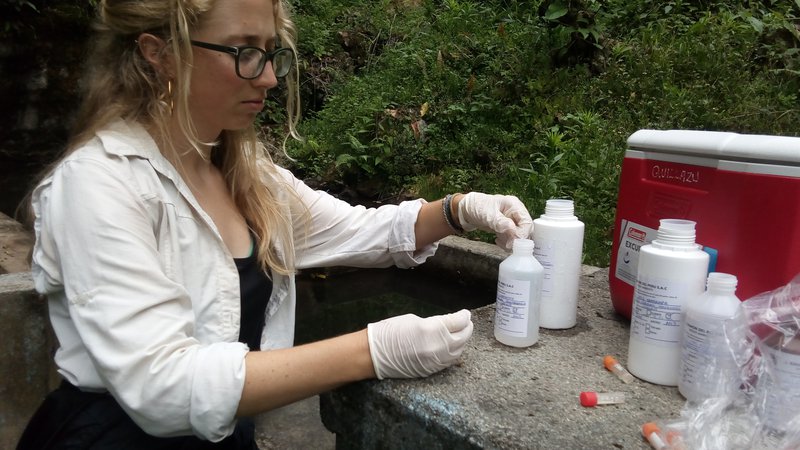 Aug. 9, 2021
Audra Bass, who was among the the thousands of Peace Corps Volunteers evacuated in March 2020, returned to the U.S. determined to help her community during the COVID-19 pandemic.
As a Health Volunteer in Peru, Audra learned Spanish and worked on issues of waterborne disease, safe drinking water, sanitation, and hygiene. When the COVID-19 pandemic forced the Peace Corps to evacuate all of its Volunteers in March 2020, Audra returned home to Winston-Salem, North Carolina. She quickly became aware of the area's urgent public-health needs.
"I was sent home from Peru a couple of months before I hit my two-year mark," she said. "The world was in lockdown, and I felt stuck and frustrated, but I wanted to contribute and I needed a job. The local health department was severely in need of assistance. My county was among the worst hit in the nation at the time, and they had to hire case investigators."
In June 2020, Audra was hired as a disease-intervention specialist, a role that made her responsible for detecting and responding to infectious-disease clusters of coronavirus. She and her team called people who tested positive, and identified others who came into contact with infected people. They also monitored infected people daily to ensure their health had not deteriorated and recommended ways to manage symptoms accordingly.
"I speak basic Spanish, and the health department needed Spanish speakers. I was speaking Spanish eight hours a day during the work week. It was heartbreaking and frustrating, as I was working directly with COVID-19 patients, and some cases were severe," she said.
Audra spent weeks locating organizations and individuals who could support the Spanish-speaking population in her county, building relationships in the community to address urgent public health needs. She found a church and worked with its members to arrange delivery of food and essentials to those who were ill.
After completing her work with the health department, Audra began graduate studies at the Rollins School of Public Health at Emory University in Atlanta. She was accepted as part of the Paul D. Coverdell Fellows program, which offers financial assistance to returned Peace Corps Volunteers. Influenced by her water and sanitation projects in Peru, Bass is now working toward a master's degree in global environmental health.
"While I was in Peru serving as a Peace Corps Volunteer, I had a defining moment regarding my career path. I was very fortunate to get into quite an amazing program," she said. "Emory has an excellent environmental health department in the School of Public Health. It worked out beautifully."
In addition to her studies, Audra is working as a graduate research assistant and co-producing the framework for a toolkit on water, sanitation, and hygiene (WASH). She co-manages academic resources on the topic. Although the pandemic gave her experience in managing disease outbreaks, Audra's ultimate career goal is to work in the field of safeguarding waterways and water systems from contamination by commercial businesses.
"I want to keep industries in check, before something egregious happens. I want to be a part of the community that ensures accountability takes place," she said.