Peace Corps lessons in unlikely places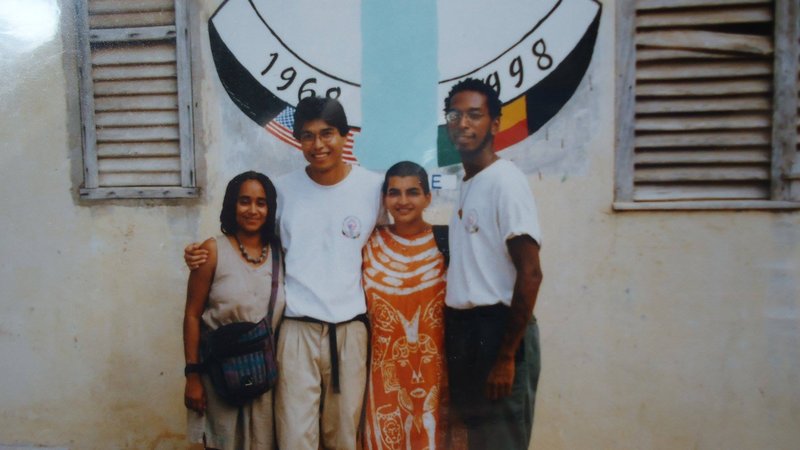 Aug. 13, 2018
I remember sitting on a wooden stool near my rural home. 
Two metal basins lay before me, filled with hot, sudsy water and tepid rinse water. I held a block of soap the size of a softball, scrubbing my khaki shorts and enduring the sun's scrutiny on my neck. Laundry was never something I ruminated over; I wanted to do it quickly. But that wasn't acceptable in my host community. It was an affront to my neighbors to rush through a chore. This was blasphemy – like putting pineapple on a pizza!
"Tu ne fais pas ça, bien." [You aren't doing that well.] I looked up to see five girls between the ages of 10 and 13 scrutinizing my washing skills. They were students of a girls' school near my home, where they learned lessons from mathematics to tailoring. They were apprentices.
"I'm fine," I responded in French. "Thanks for the input, though." And then I continued washing.
"Yeah, you're messing up."
"Why is he in the sun?"
 "Get a sack of detergent, that soap will bleach your clothes."
At a certain point, because the girls weren't gonna leave, I said, "Okay, teach me how." And I learned how to scrub my clothes as close to their approval as possible. This "educated" Volunteer of 24 was getting laundry lessons from little kids.
These lessons weren't restricted to washing clothes. During afternoons, while preparing for my small business development classes, one of the apprentices stopped by.
"Ton plancher est sale [Your floor is dirty]," a girl observed through my screen door.
I regarded the floor; although not immaculate, it was okay. "Thanks, but it'll do for now."
The girl clicked her teeth in dismissiveness and disappeared.
Ten minutes later, the same girl and four of her classmates entered my home and began sweeping my floor with brooms made of bounded twigs. They moved chairs, lifted weaved mats and nudged me to stand as they swept around me.
"You need to sweep better," the kids said.
I sighed, "Okay, show me how." The girls gave me a broom and we swept until my floor met their standards. 
This education wasn't just restricted to the students. My neighbor was a teacher at this school and his wife often scrutinized my shopping when I'd come home on my bike with groceries in my satchel.
"Corey, you must show me what you bought," the teacher's wife would say.
I'd approach, opening a plastic bag of eggs.
"Huh – how much did you pay?"
I'd tell her the price, which I don't remember now, but basically any price I provided was always too expensive because I paid the foreigner price.
"You must buy your eggs from me; I'll provide a better price."
To be fair, her eggs were affordable. And whenever my neighbor admonished my shopping decisions, her husband (the teacher) would be sitting next to her, grading papers.
I'd give him a look and he'd glance at me as if to say, "Dude, you're not gonna win. Trust me."
His wife instructed me how much to pay for powdered milk, how much to pay for flour, where to purchase roadside beans and rice and God help you if you mentioned chicken for dinner.
"Corey, what are you doing?"
I was getting on my bike. "Oh, I'm gonna go to the marché [market] to buy a cooked chicken."
Her wheels were turning. "Buy a chicken from me: it'll taste better, be fresher and cheaper."
I couldn't argue against that. I had a homemade Dutch oven that could roast chicken well. I was just used to buying completed dinners. I wasn't a "home-cooked meals" kinda Volunteer at that point. However, learning how to properly cook, au village, didn't take long.
My neighbor selected, killed and cleaned a superb bird, which I was able to cook – at a cheaper price. I also learned the "juice test": if the juice from the bird was pinkish, then the chicken wasn't ready, but if the juices were clear, then it's fully cooked. From then on, whenever I wanted to cook a chicken, I'd consult her. And I gained culinary independence.
One day, my Peace Corps post-mate and I decided to host Thanksgiving. About 20 Volunteers throughout my host community confirmed their availability to attend. My post-mate and I purchased turkeys and rabbits a few towns over, and another Volunteer lent me her rotisserie spit forks and stakes.
Mind you now, I'd never hosted Thanksgiving and my home had insufficient space to feed 20-plus Volunteers for dinner. A grand task lay ahead. 
The schoolgirls and my neighbors helped me again: providing chairs and tables, helping me clean and even preparing the live turkeys and rabbits. It was a cinematic montage! And although compensation wasn't asked, my neighbors were paid for their kindness and help towards the effort. And they came to dinner as well.
They taught me so much. Yeah, during my two-and-a-half months of training, I learned how to haggle and how to cook and take care of myself in general. But as we all know, there's a difference between training and living at one's post. I learned how it's okay to be wrong, just as long as you learn how to learn from others. 
Humility. It's healthy.