Peace Corps Guinea's special sauce
Between my time as a Volunteer in Senegal and the fact that the bulk of my career in agriculture and natural resource management has been based in West Africa, I've spent most of my adult life — and raised my children — in Senegal and The Gambia. At some point during my time here, I learned that the Fouta Djallon Highlands in Guinea were the watershed for the major rivers in West Africa. My years in Senegal and The Gambia were spent at sea level in what amounted to, basically, a desert, so the Fouta, as most called it, became something of a fascination to me.
The Fouta is legendary for its vast mountains and cascading waterfalls that feed the rivers which, eventually, flow into the mighty Niger River, the Senegal River, and the River Gambia. All originating in Guinea, these rivers provide water, food, and resources to millions. Still, after all my years in the area and my interest in the Fouta, I'd never visited Guinea.
That changed in 2019 when I was offered a new job as the country director for Peace Corps there. I felt confident in taking the job. I was familiar with the region's culture and people. I had met so many ambitious, hard-working, kind, and intelligent Guineans in Senegal and The Gambia that I already had a positive impression of the place. I looked forward to taking up my new position in Conakry, getting to know the local staff, counterparts, partners, and, of course, the Volunteers.
I arrived in Conakry during a week of relative calm. Before I could catch my breath and settle in, though, several crises and challenges came in rapid succession; political unrest ahead of the Guinean 2020 Presidential election; Volunteers experiencing family issues back home; and, ultimately, the COVID-19-related evacuation of all Volunteers. The realization that the wellbeing of more than 150 Volunteers and 40 staff were now my responsibility was overwhelming at times, but I managed to steady myself each morning, ready to face whatever was thrown at me. My team assured me that the political violence was cyclical in Guinea and that, in their experience, the protests would eventually quiet down.
It all added up to a stressful start to my tenure as country director but, amid the stressful events, I noticed something. Out of the blue, but always when I seemed to feel most stressed, I'd receive an email or text from another country director—"du courage" (be strong) they'd say, and then they'd go on to talk about how much they loved Guinea and understood the challenges Peace Corps Guinea was facing. Eventually, it occurred to me that all these kind, well-wishing colleagues had personal connections to Guinea—many had served here as Peace Corps Volunteers or as Peace Corps Guinea staff.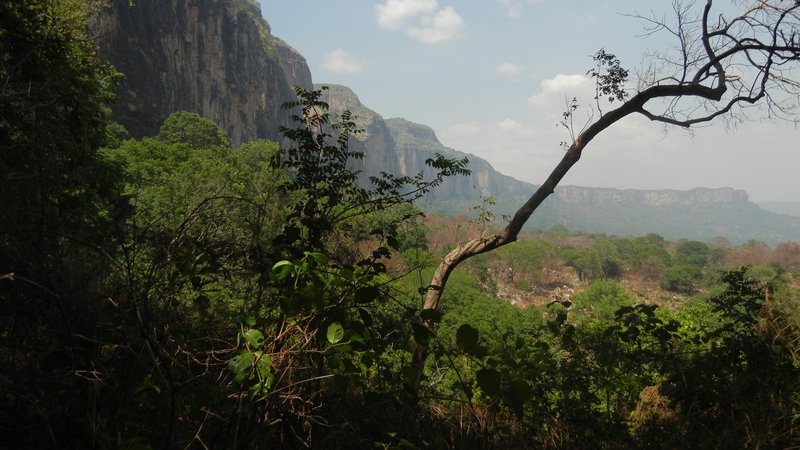 Eventually, I counted five returned Peace Corps Volunteers who served in Guinea and went on to serve as country directors, and one still plays a key leadership role at Peace Corps headquarters. Between them, these six people have served as country directors to Cameroon, Benin, Uganda, South Africa, The Gambia, Albania, Senegal, Madagascar, and Guinea. It was evident from their words that they loved Guinea—that the place held a special space in their hearts. I was grateful for their support because they knew what I was going through and they cared about the Peace Corps Guinea staff and Volunteers. I felt honored to join their company. But the fact that they had Guinea in common made me think. Was it a coincidence?
I wondered what it was about Guinea that ultimately produced so many country directors — people who felt a lifelong commitment to the Peace Corps mission. I thought of the Fouta. I still hadn't been there — all the stressful events that occurred in the short time since my arrival had made traveling to other parts of the country difficult. But the water that flows from the Fouta Djallon feeds the soil, feeds a population of millions in West Africa and, ultimately, spills into the Gulf of Guinea and the vast ocean beyond. Did the impact of Guinean culture work the same way? Did it flow through its RPCVs and the staff who worked in this beautiful country? Did it imbue them with that X-factor that made them commit to Peace Corps for years and years after their service? I wanted to learn more about how Guinea grabbed hold of them, shaped their world outlook, influenced their leadership and management styles, and continued to be so deeply special to them.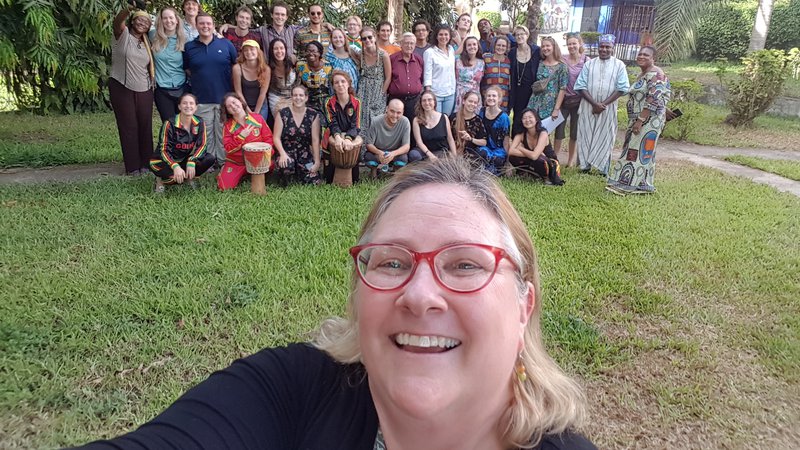 We share it
When I arrived in Senegal as a Peace Corps Volunteer, one of the first Wolof sayings I learned was Lou nexx, du doy – "you can't get enough of a good thing." My host family made a paper globe with this saying written on it. When I arrived, it was hanging in my hut, a decoration intended to spruce up my small, millet stalk home. It always made me feel welcome and positive. Later, I learned that this welcoming spirit was a part of the national motto in Senegal — "Teranga," or hospitality. This was how I learned that language and culture are, essentially, two sides of the same coin.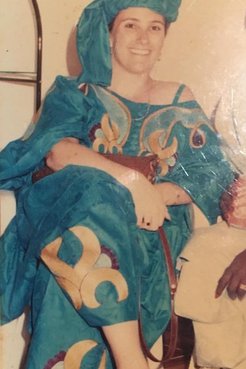 At some point, when you're learning a foreign language, there is an incredible realization that the culture is buried deep within the words — the way a concept is conveyed says so much about the culture itself. Wolof is the dominant language in Senegal and is widely spoken in The Gambia. When I learned Wolof, I was always struck that the response to "thank you" (Jerre jeff) is Niokobok – which, directly translated means, "we share it." So instead of saying "you're welcome," as if you had done something special or gone out of your way to help someone, the language captures the concept that sharing is a core principle of the culture. It says, "of course I would do something for you or give you some of my bread, because in reality, 'we share it."
Because I know that language is grounded in culture, it made sense, I thought, to ask the colleagues who'd spent time in Guinea if the language was the element that infused them with their shared sense of service and commitment. If the language was the human equivalent of the water in the rivers, born of the special geography of the highlands and full of life-giving Guinean spirit that tumbles and pours across so much of West Africa. While I couldn't find evidence of the influence of language on the careers of these Guinea RPCVs-turned-CDs-and-staff, I did begin to understand the influence of Guinea on them.
Move through the fear
"My time in Guinea taught me that I can do anything." Danielle Monty-Mara told me. She was an Education Volunteer in Guinea from 1998-2000 and is now the country director in Cameroon.
"Guinea is where I realized that most of life is a matter of making a decision and following through with action," she said. "I came from a small town in Kansas, where I dreamed of becoming a citizen of the world, and where I had a 'dream book' in which I pasted cut-out photos of all the places and things in the world I wanted to visit, to touch, to smell, to experience. I got a lot of eye-rolling in response to talking about my big dreams. Even those who wanted to encourage me couldn't give concrete advice about how I could actually pursue these dreams.
"When I set off for the University of Kansas, my doubts were as big as those dreams. Before applying to Peace Corps and becoming a Volunteer I often asked myself, 'do I really have what it takes?' and, 'am I really tough enough?' Once I started my service in Guinea, I realized that most of life boils down to moving through one's fears, because eliminating them altogether is impossible."
Moving through one's fears. Another way of illustrating the importance of risk-taking; or a simpler way of saying what Scottish mountaineer W.H. Murray said: "Whatever you can do, or dream you can do, begin it. Boldness has genius, power, and magic in it."
Danielle used her time in Guinea as evidence of her boldness and willingness to push beyond the expectations set for her. Her time in Guinea clearly set her on the path to an inspiring, and inspired, life.
Offer something, even if you think you have nothing to share
The country director in Benin, Marguerite Roy, served in Guinea from 1990-1992 as a Community Economic Development Volunteer. When I asked what she thought of the fact that Guinea seems to have set more than its fair share of former Volunteers onto a path of dedicated service, she shared her favorite memory from her time as a Volunteer there.
"I remember doing a project at the Tabossy Primary School. They had no bathroom facilities there, so I applied for small project assistance (SPA) funds and built traditional toilets — two for the girls, two for the boys, and two for the teachers. After the inauguration and at the opening of school the next year, I accompanied the prefet (regional political representative) and the governor to the opening. When the primary school director asked the first-grade kids if they knew either the prefet or the governor, they responded in unison 'NO!' But when he asked them if they knew me, they all said 'YES! She's the lady who built our toilets!'"
Roy went on to describe how her Volunteer service impacted her post-Volunteer life. "From my service in Guinea, I learned that I am very resourceful and have a strong desire to serve and improve the lives of others. In addition to my full-time job as head of a revolving loan fund committee where we worked with people wanting to start or grow their businesses, I spent my free time applying for funds and doing secondary projects like building sanitary facilities, building classrooms, putting electricity in classrooms for evening tutoring, building a medical post, etc. There was such a great need, and the money was available, so it was hard to say 'no' to worthwhile projects. It was a truly rewarding experience and really helped me integrate into the community. I also loved cooking with the women—preparing food for baptisms, weddings and the like. They joked that I was not capable of learning how to cook like them…that's all it took for me to do just the opposite! I went home knowing how to cook my favorite sauces – leaf and peanut sauce.
"I went into the Peace Corps wanting to serve and to gain international experience. Following my Peace Corps service, I went from working in the private sector, to working with an international nongovernmental organization (NGO), and then with the United Nations. I never looked back and have been studying and working internationally ever since. I really love the Guineans. They taught me how to be a more gracious host and to always offer guests and those in need something—even if you think you have nothing to share."
That same theme of sharing emerged in Marguerite's experience — sharing, even when you think you have nothing. It is a willingness to share, not because there is an expectation of something in return, but because it is part of the nourishing tradition that flows through the culture.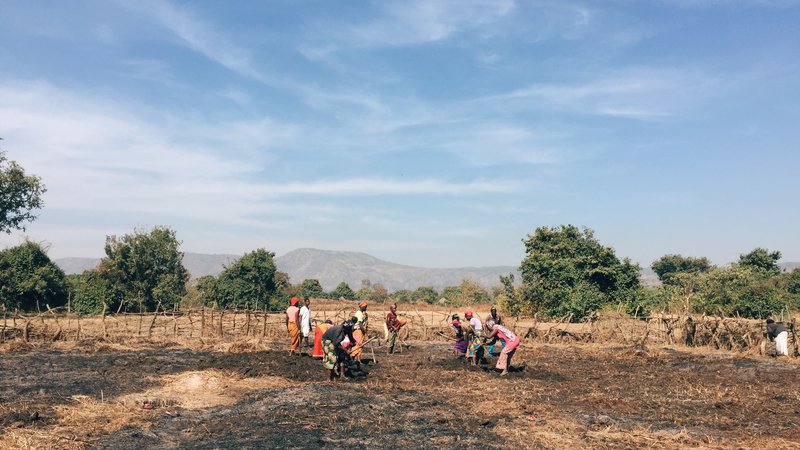 Little by little, the bird builds its nest
"'Petit à petit, l'oiseau fait son nid, little by little, the bird builds its nest.'" James Ham told me this was his favorite saying. "It was my motivator all through training, service, and life. I had some challenges, but it kept me moving forward. I always pictured a bird building a nest, every strand of grass added was important, so just keep building." Ham served in Guinea as an Education Volunteer from 1996-1998. Since then, he's been country director in Cameroon, Uganda, and South Africa.
"The day I arrived at my site in Koba, located in Western Guinea. Mr. Camara, the local elder, was the first person to welcome me," Ham said. "He would later become like a father to me. Although he had a large extended family of his own, there was nothing he would not do for me. He insisted that I eat at his house every day. Whenever I didn't show up at his home, he would send a serving of rice and sauce to my house.
"In Guinea, I met some genuine people. Leaders who exemplified servant leadership. Leaders who were caring, committed, and outgoing. There was nothing they would not do for their community and the Peace Corps program they valued. This was true of the Peace Corps leadership there, too. The country director, Kathy Tilford, and deputy country director, Mr. Thiam, provided our program with great leadership. They personified the beauty of soft diplomacy. Mr. Thiam, the host country Peace Corps leader, and Ms. Tilford, the American Peace Corps leader, worked together to make the Peace Corps' mission impactful in Guinea. I learned a lot from their example. One's success could not exist without the other. Their collaborative leadership impacted my decision to pursue a career in leadership in international development."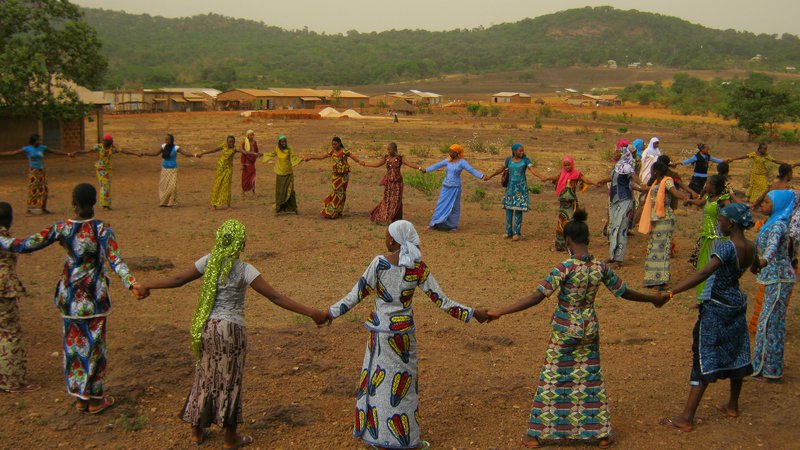 Wontanara! or nous sommes ensemble – we are together
The last person I asked was Julie Burns, who served as a Volunteer in Zaire from 1988-1991, but was country director Guinea from 2014-2016. She's also been country director in South Africa, was the Africa Region Chief of Operations from 2018-2019 and is an advisor to the acting Peace Corps Director.
"My best memory from serving in Guinea as country director was the minutes before we'd sit down for an all-staff meeting. In those minutes before it began, the banter flying back and forth between the local staff was uproarious and so good-natured. I'd sit there, watching and listening. Somehow, I felt part of it even though I was just an observer in that moment. Once, a visitor from Washington asked me, 'When do you get down to work?' I told her that this is part of the work, it sets the stage for the day and makes us feel joyful to be engaged in the effort together."
Julie went on to point out that, "Guinea is a place where multiple religions, cultures, and linguistic groups meet. There is conflict to be sure, but less than one might expect with such a mix. The Guinean identity runs deep, maybe even deeper than individual group identities, which fosters a rich social cohesion. Guineans are super proud of their culture despite all the challenges and divisions, and I think this is something they can teach a lot of other countries. It certainly impressed upon me the power of a deep collective culture, as well as light ways of dissipating tension. My favorite saying 'Wontanara! or nous sommes ensemble – we are together, 'sums up this sense of social cohesion." I relish the practicality and forthrightness of African cultures, and, wow, the laughter . . . I miss it so much."
It's clear that the people I spoke to, the ones who offered me support and understanding during my first chaotic weeks, and up to this day, as country director in Guinea, were all deeply affected by the place. Ultimately, I didn't put my finger on any one thing about Guinea that may have infused them each with the life-long desire to serve, but maybe it doesn't matter. Not everything is explainable, quantifiable, or open to examination. Some things just are. Like the rivers born in Guinea's highlands that sustain so many in West Africa, or the way birds build nests, one strand of grass or stick at a time. Ultimately, what mattered to me was the support I felt from my colleagues as I found my way in my new job. We are together. That's Peace Corps way—in Guinea and everywhere else. We are together.