From artisans in the forest to online sales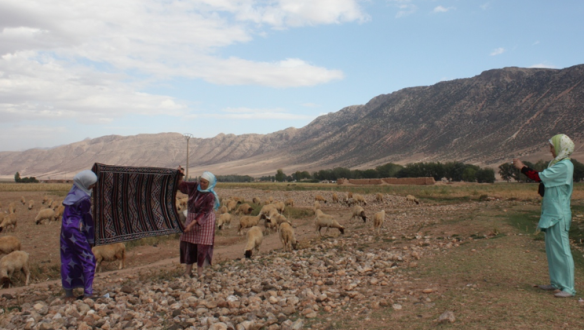 Dec. 18, 2013
Serving a community is more than fixing a problem. 
This is something Dan Driscoll (Morocco, 2008-10) took to heart during his time as a Peace Corps Volunteer. Serving as an environmental educator, Dan was introduced to a group of woodcarvers that would change his life and lead to the founding of Anou, an organization that empowers artisans across Morocco.
Early in his service, Dan met the woodcarvers, who had a shop in the idyllic Ait Bougamez valley of Morocco. But changes in local laws called the woodshops legitimacy into question and made it much harder to access raw materials. Capital for the business began to dwindle rapidly. 

Dan knew there had to be a solution, and began searching for a way to legalize the woodshop. After several months, Dan brought the Ministry of Forests and the woodcarvers together at the negotiation table. The Ministry agreed to legalize the woodshop as long as the carvers planted a tree for every item sold. But even with their "fair-trade" wages, the carvers could not afford the cost of planting these trees, once again threatening the business.
Like many artisans, this isolated community relied on middlemen to export their carvings. Dan recognized that through online platforms like Etsy and Ebay, the woodcarvers could sell their goods independently and bring more profit back to the community. Dan helped establish the woodcarvers online, and several months later, they carvers were successfully selling their products. Profits rose, and the woodcarvers began funding their own development programs – and planting trees.
However after this initial success, Dan noticed a new problem: lack of sustainability. Websites like eBay and Etsy, familiar to a Volunteer, can be a barrier to artisans in developing nations. The layouts are complicated; payments are hard to finalize; language barriers creep into business operations. Plus the lack of constant connectivity in the valley limited the responsiveness of the carvers to audiences that demand a speedy response. Dan knew there must be a way to simplify online selling to meet the needs of the woodcarvers and hundreds of other artisan groups across Morocco.
Instead of simply presenting a solution, Dan learned as part of his Peace Corps experience that the most sustainable way to solve problems is to find innovative ways to empower those affected by the problem to solve it themselves: The only acceptable solution would have to be locally led, locally funded and locally owned.
When Dan's service concluded, instead of finding a job in environmental policy, he found himself back in Morocco with the goal of working with the artisans to develop a platform that they could manage completely by themselves. Along with Brahim El Mansouri, the head carver from Ait Bougamez, and Tom Counsell, a current Peace Corps Volunteer with a talent for software, Dan helped found Anou, a mobile-online platform that allows artisans to sell their work independently and directly to customers.
Anou is designed to be cutting-edge, culturally-adaptive and language-free, overcoming many of the obstacles communities face. Artisans can learn how to use it in minutes on any device, and with enhanced mobile tools, even the most isolated villages can manage vital aspects of their online store. Anou integrates with Etsy and eBay, providing artisans throughout Morocco with access to the world's largest online marketplaces.
The growth Anou has experienced has been artisan led: Top-performing artisans on Anou have now become trainers and are teaching new artisans how to use it. By the end of 2013, in line with the Peace Corps' teachings on sustainable development, Anou will be fully managed by the artisans themselves.
The success of Anou demonstrates how Peace Corps Volunteers – who define their service by focusing on community needs, innovation and sustainability – have the potential to impact not only the communities they serve, but entire industries.