Passion for global health brings couple to Tanzania
Olivia had just finished working in Kenya and Jason had just returned from India when they met as juniors in college where she was studying nursing and he was preparing for medical school. 
Passion for global health drew the two together and this month they are headed to Tanzania as part of the fourth class of Global Health Service Partnership Volunteers. We recently spoke with them about their dedication to teaching and training and their expectations for their upcoming year of service.
What inspired each of you to follow your respective careers?
Olivia: I decided during college that I wanted to go into midwifery. I was learning about social injustices and inequality and I wanted to find a career to address that in a tangible way. I found I could do that through working in women's health. I also had a strong interest in global health. So, right after I finished undergrad, I volunteered at a clinic in rural Ghana for four months, which was a challenging experience for me. But I was part of a program that I really felt passionate about, called Kekeli, where we taught women to be community health promoters. It was very inspiring to see people create change in these very small but tangible ways. When I returned to the states, I applied to midwifery school and completed my training at San Diego State University. At the same time Jason and I decided to start a small non-profit called the Rural Health Collaborative, where similarly to Kekeli, we train women to be community health promoters. So, we've been doing that for five years now. Today, I do full-scope midwifery at a private practice in Portland.
Jason: In some ways I feel like choosing a career in medicine was my destiny and something I stumbled into at the same time. I think I told my parents when I was five that I wanted to be a doctor but it was also something that seemed like an incredible opportunity to be around people and engage with them in meaningful ways while having a career that I love. I went to college and was on a track towards medicine the entire time. When I got into medical school in San Diego, I originally thought I wanted to be an emergency room doctor because I liked the schedule and the opportunity to do things outside of work. But then I felt I wasn't going to be able to have an impact on the health care system and that I wasn't going to have lasting and meaningful relationships with people, both patients and colleagues. I also found myself enjoying every single thing that I tried in medical school and decided that going into primary care would probably be the best way to develop those relationships and to really be a part of the solution about how to provide access to care for people. Today, I am finishing up my residency in primary care at Oregon Health & Science University in one of the areas of the country where family medicine is really valued and providing full spectrum care in a way that is relevant and meaningful to patients and their families. I've found that it is an incredibly challenging career but I love being able to go to work and actually help people who are in a very difficult time of their lives. I couldn't imagine doing anything else.
What drew you to global health?
Olivia: When I was 20 I was very interested in international health and driven towards this idea of helping people. Now I feel that I have grown as a person and as a healthcare provider, I see so much more of a role to help and support women everywhere. I feel I do really valuable work in private practice. Yet we know that there is this huge inequality with access to resources. And now I get an opportunity to help the workforce through teaching and training.
Tell us more about your organization, Rural Health Collaborative.
Olivia: At the time that I was working in Ghana, Jason decided to conduct his research project for medical school in Akatsi, a town very close to where I was working. After I returned from Ghana, Jason went over to conduct a community health needs assessment.  Jason had considered starting a clinic in Akatsi, but after both of our experiences, we realized that there actually were already several clinics in the area, but people weren't able to access them or they weren't accessing them in time. So we both became much more interested in the idea of training people in the community to better utilize the resources that were already in place.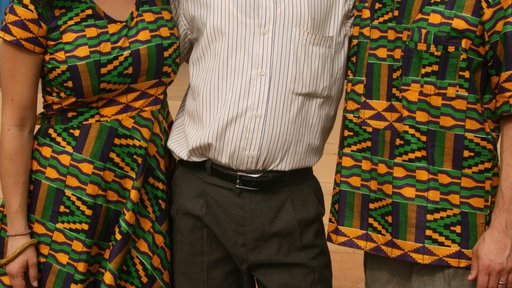 Jason: I think a lot of it came out of being engaged and being open to meeting people where they're at, regardless of whether that's in the States or overseas. Olivia made herself available to this rural community in Ghana and I went with sort of an open mind as to how we could engage with people in Akatsi. Out of both of those experiences we started to understand what the needs were, to develop relationships, and understand that folks living in Ghana wanted help.
We were changed through that process, and now we have been able to form this collaboration with some local people and a local organization to provide assistance in a way that's been really meaningful for everybody involved. It has grown from training 15 women in the first training, I think it was actually 20 but there was some attrition, to now where it's grown to 30 women in 30 different communities with plans to train 15 more later this year. We have a staff of three part-time employees in Ghana and we travel there as an organization twice a year to do trainings and to visit the communities where the women are working. We are just taking it one day at a time, one year at a time, and slowly trying to put something in place that empowers women to make change in their own communities without actually prescribing how that might happen, and at the same time, hopefully ultimately, helping these communities be healthier.
Have you had other experiences in global health besides Rural Health Collaborative?

Jason: When I was in college I went to India for ten weeks where I spent time working in a hospital in the middle of Maharashtra.  That was an incredibly impactful experience in my life as I realized that there were people around the world who were really different from me and at the same time were exactly the same. That brought the world closer to me and it made me feel more connected with what was going on around the world. I think it was also an important experience being in a clinical setting because we were engaged with a lot of nurses who were our age and were struggling with the challenges of working in a setting with limited resources and it inspired me to work to make things better.
Olivia: I volunteered with Midwives for Haiti a couple years ago. I also went to Kenya in college where we did some training on HIV/AIDS. And similar to Jason's trip, it was a very eye-opening experience to see how different people live and what their needs are.
What inspired you to apply for GHSP?
Olivia:  It had been on our radar since we lived in Boston in 2012 and first learned about it.
We felt that if we got accepted, how could we not do this since it is such a great pairing of what our skills are and what the need is. Now we get to pack up all our stuff, move abroad, and engage in a really meaningful way that will be incredibly different from what my day-to-day life is right now. Being more exposed to international health experiences has been both inspiring and disheartening, but the model of training people and increasing the workforce made me want to be a part of GHSP.
Jason: I think we also see it as a big adventure. There is nothing like moving to Tanzania for a year after buying a house here in the States and just beginning to establish a more "normal" life. We are seeing it as an opportunity to kind of throw a little bit of conventional wisdom out the window and chart a new course for a year.
Olivia: I think it's definitely connected to the same ideals that we've each carried for a long time about living in the world intentionally and meaningfully and not being stuck in the 9 to 5.
What are your expectations or your anticipations for your year in Tanzania?
Olivia: I really have very little idea what it is going to be like. I hope by the end of it to have forged a lot of relationships. I am looking forward to connecting with my colleagues in Tanzania about what it means to be a midwife.  I am also looking forward to teaching and training subjects and topics regardless of what books or resources are available.
Jason: I'm excited to join GHSP because it's going to be a chance for me to do more medical education and I love teaching. I have loved teaching medical students and residents as I've gone through all the stages in my own education, and I'm really looking forward to engaging with students that will one day be leading the health systems in the countries where they live. It's different from our work with Rural Health Collaborative, which I am excited for.
But I am also a bit anxious about navigating a culture that's completely different and not only for a two-week vacation, but for a whole year. At the same time, I'm also really looking forward to that. Its part of the adventure of it. I imagine landing in Washington, D.C. for orientation and then realizing "Wow, this is what we're doing". You obviously sign up knowing that we're doing this, but it really is going to be a big shift starting on day one.
Olivia: Yeah, people always are asking, "How does it feel you're moving to Africa in a month?" and my answer is, "I don't know how it feels." It's such a huge thing that it's kind of hard for me to even comprehend, so I feel like we're still just kind of living in the day-to-day working to wrap up our life here.
This story first appeared on Seed Global Health's blog.