Over 10 years of hosting Peace Corps Day
As a returned Peace Corps Volunteer (RPCV), the idea of holding a Peace Corps Day at my school sounded very appealing.
In my early years of teaching in California, I wanted to share my experiences in Cote d'Ivoire as a Peace Corps Volunteer with my students because it was a chance to give them something to aspire to in the future. In the beginning, it was just me sharing with my classes but later on, I caught wind of other Volunteers having a Peace Corps Day within the community and decided to get more returned Peace Corps Volunteers involved.
I started contacting RPCVs in my area about 10 years ago to see if they would be willing to speak at my school. I felt it was necessary for the same speaker to present in all the classrooms within the same grade in order to have consistency. In my school, that meant we needed seven RPCVs since we have grades kindergarten through sixth. 
This year, on the 13th Annual Peace Corps Day, we had wonderful presenters share their experience in various ways.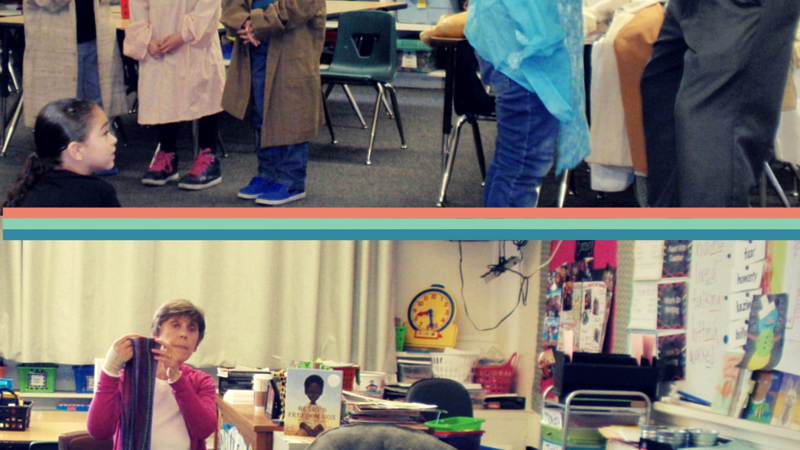 Kindergarten - Mike McKibbin, RPCV India: Mike showed pictures of children, homes, people and transportation in India. Students were able to try on traditional clothing from India, including wedding attire. They loved it! This interactive component is critical for keeping the attention of this young age group. 
First Grade - Mike Cushing, RPCV Togo: Mike showed pictures from his country of service, Togo, and brought in several artifacts, such as a figure of a costumed woman and a drum. He also had shirts for the students to wear, including an outfit for the teacher. He played the drum and taught the kids to dance in a circle around the room. It was very lively and fun! 
Second Grade - Betsey Johnson, RPCV Cote d'Ivoire: Betsey started her talk with a map of the world showing the location of Cote d'Ivoire. She brought in several masks and explained how they were used. She showed a piece of Kente cloth and read a story about the cloth. 
Third Grade - Mary Hammes, RPCV Paraguay and El Salvador: Mary served twice in the Peace Corps and told about both countries. She had a series of pictures to show the daily life of the people in those two countries.
Fourth Grade - Jean Landeen, RPCV Guatemala: Jean was an agriculture Volunteer, so she brought in many fruits from Guatemala including papayas, oranges, bananas and mangoes. She did an activity with the oranges where students had to guess what each orange would be like when it was cut open. Later, she passed pictures of Guatemalan scenes to students in small groups. The pictures were shared and students asked questions about the pictures. 
Fifth Grade - Jeff Adams, RPCV Botswana: Jeff shared pictures and artifacts of animals from the country, including a model of a crocodile teeth, an ostrich egg and several woven baskets. He also stressed the importance of getting a good education and joining the Peace Corps after college. 
Sixth Grade – Russell Slatton,  RPCV Panama: Russell brought in some pictures of Panama. He wore a shirt from the country and brought in a dress to try on. He brought in music and taught students how to do a dance. In the younger grades, the presentations involved trying on clothing from a country, singing a song, learning a dance or playing a game. These students seem very interested in the foods people eat, the clothing they wear, what it is like in the schools, what sports they play and what their homes are like. In the older grades, presentations had information about geography and the types of jobs Volunteers did in country, along with how to join the Peace Corps. Some of these older grades also learned some words from a foreign language, played a game or learned a dance.
Tips for Peace Corps Day success:
Share artifacts towards the end of your talk to prevent distraction.
Ensure a teacher remains in the room to help guide content, keep time and manage children.
Keep presentations to younger students under 40 minutes.
Use machines such as Elmo or SMART Boards to project PowerPoint presentations or photos.
Put up a bulletin board display in the school office area to build anticipation ahead of your event.
If you decide to have a Peace Corps Day every year, it is important to keep track of what grades hear about each country to avoid repeating.
Mail thank you cards from teachers/students to the RPCVs who participated.
Having over 13 years of success, we hope you will choose to do this at a school in your area!
If you would like to be connected with a classroom or community group to speak about your Peace Corps experience, or you would like to host an RPCV to speak to your group or class, join Speakers Match. 
Nancy Ross Sinnwell was a Peace Corps Volunteer in Cote d'Ivoire, West Africa,  from 1969-72. There she taught English as a second language. She served as a teacher in California for many years.
---