Give a man a sweet potato...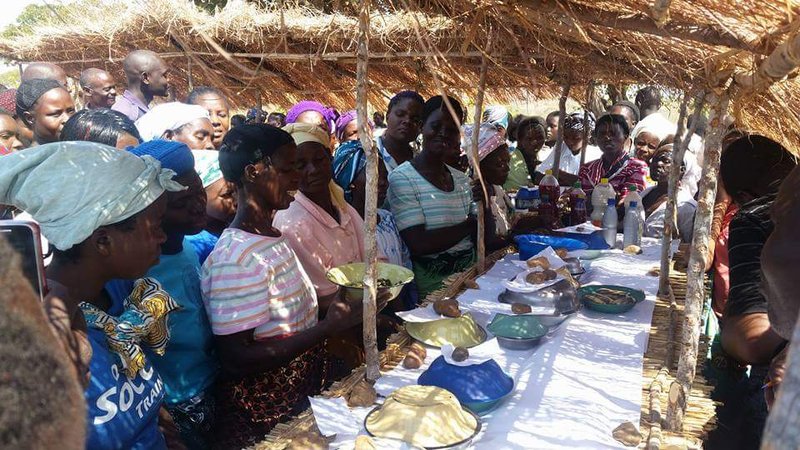 Feb. 3, 2017
Last year, I was able to implement my first big project in Malawi: my orange-fleshed sweet potato project.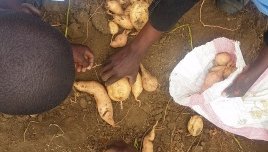 A few months after planting, I went around to a handful of the 600+ sweet potato gardens in my community to help harvest.
The harvests were bountiful, which created a much-needed relief for many families in the Southern Nkhotakota district.
As predicted, the rainy season in 2016 was less than par. Due to the effects of climate change, the stable rains that once made Malawi a fertile and prosperous land for growing the country's staple crop — maize — have drastically changed. In my village, it rained only a handful of times between January and February. Even though the maize was shriveled and dry from lack of rains, it was still growing at the end of February. Unfortunately, much of Malawi was struck by devastating floods during the beginning of March 2016, including my district. A majority of the maize in the district was destroyed, and many farmers were not able to harvest.
The hunger season was already at a high due to the poor rains the previous year, and the hope that kept many people going was the thought of having full bellies from this year's harvest. Since many farmers were not able to harvest, they depended strictly on the charity of others, such as foreign aid food distributions or maybe a neighbor who had farmland in a different district that fared better than Nkhotakota who was willing to share.
Luckily, they had something else they would be able to depend on in the following months, and that was the orange-fleshed sweet potatoes we planted.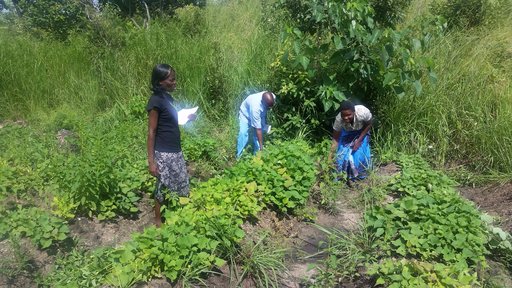 Even though the rain was lacking and not sufficient enough for maize to grow, the sweet potato was able to thrive. At the handful of gardens I visited, we were able to harvest kilogram after kilogram of delicious orange goodness.
The community members were ecstatic. The ample orange-fleshed sweet potato harvest would be enough to provide food security and keep hunger away from their families for the next few months.
And since orange-fleshed sweet potato is a crop that is able to propagate, the leftover vines can be reused and replanted so another round of sweet potatoes can be harvested in three to four months. I was pleasantly surprised to see that many communities had already taken advantage of this promising aspect and started a vine library, so other people who were not involved in the initial distribution of sweet potato vine bundles were able to benefit.
Planting the vines was just the first obstacle in a many-hurdled process. There were a lot different steps we had to take between planting and harvesting to ensure that the communities would fully accept orange-fleshed sweet potato into their everyday diets.
After planting the potatoes, my counterparts and I promoted its use through countless cooking demonstrations that we led throughout the community. We taught Malawians how to dry and mill the sweet potatoes into a fine flour so they could make a more nutritious version of the Malawian staple food nsima. Many were unsure of it at first, thinking their beloved maize nsima was being threatened, but after trying it and learning of its nutritious value, they were willing to let something new into their lives.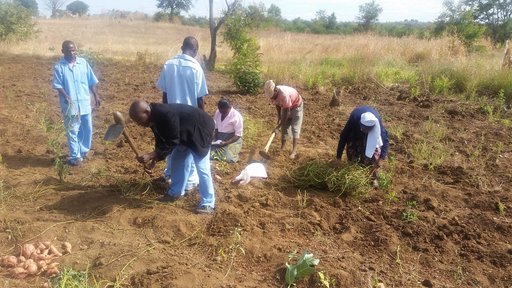 We taught them how to prepare a nutritious porridge called mphala for school children in the morning. Since we purposefully planted many sweet potato gardens near nursery and primary schools for this reason, school caretakers were more than willing to take advantage of this.

We also taught them how to combine the sweet potatoes with other locally available resources to make improved versions of other common Malawian dishes.
During the cooking demos, we made sure to teach community members about the nutrient values of orange-fleshed sweet potatoes. Since the sweet potatoes are orange and fortified with micronutrients, they're packed with a flush variety of vitamins and minerals that many Malawians don't consume on a regular basis, including Vitamin A. 
Vitamin A deficiency is endemic in many developing areas in Sub-Saharan African and is a leading contributor to blindness, disease, stunted growth and premature death in young children and pregnant women. Luckily, just one medium-sized orange-fleshed sweet potato is enough to keep a Vitamin A deficiency at bay for most children. We made sure that expectant mothers, mothers with young children and school caretakers knew this.
One of the things I love about the Peace Corps is that their mission is to create sustainable and lasting change in the countries they're in, not just make quick fixes. They aim to teach and build the capacity of community members so the effects of any projects implemented remain long after the Peace Corps Volunteer is gone.
Even though this project was filled with its ups and downs and took almost an entire year to complete, I think I was able to stay true to the Peace Corps goal of sustainability. It takes a while to introduce something new to a community and have them wholeheartedly accept it, but with patience and perseverance, they can benefit from the results for a lifetime.
I believe there's an old saying that perfectly epitomizes the Peace Corps and my goals in Malawi: "Give a man a sweet potato, and you feed him for a day; teach a man to grow sweet potatoes, and you feed him for a lifetime." (Or it goes something along those lines…)