OpenStreetMap Day at Kennedy School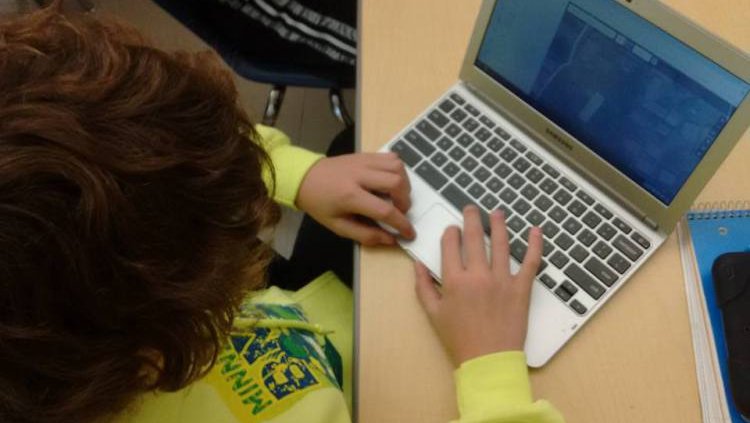 Nov. 23, 2015
"Thank you so much for coming to our class.  I want to keep doing this so I can help people in poor countries."
This yet-to-hit-his-growth-spurt 8th grader in central Minnesota said what I could have only hoped for after I spoke to his class about OpenStreetMap. What started as a spur-of-the-moment request to a social studies teacher turned into a great day spent with former co-workers and the awesome students of Kennedy Community School in St. Joseph, Minnesota.

I began the day in Mrs. Maurer's Language Arts class, telling her students about Peace Corps and showing them pictures of my host family, giant road puddles, and my pit latrine. I then scurried over to Mr. Stuber's class where we all spent the next 45 minutes looking at maps, learning about maps, and making maps.
OpenStreetMap's editing platform, the iD editor, worked beautifully on the SmartBoard, and students were able to follow my lead on their ChromeBooks. After a brief lesson on making map edits – adding buildings, roads, points of interest – the kids were on their own. When time was up, I could barely pull them away from those computers – mapping just got cooler than "Halo"! (Wait, is "Halo" still cool? I may be showing my age here…)
Mr. Stuber, social studies teacher to the stars, was maybe more excited than the kids. "What a great use of technology in the classroom. I'm going to have to tell my high school colleagues about this."
After lunch, we were at it again with a new group of students – and once again, OSM was a huge hit, and Gambia got a bunch more edits. Bell rang, time for the next class, I may have shut a kid's computer closed on him so he wasn't late to gym.  Sorry, bud.
In short, OSM made waves in 7th and 8th grade. Gambia's got a couple tasks up on the Task Manager, and by my last count, we're pretty much doing awesome in the world of map edits. Plus Mr. Stuber said that mapping can count toward his class's required service hours – brilliant!
So thank you to Kennedy, Mr. Stuber, and all you awesome students. You're making the world a better place, and you're helping a lot of people.
And to the 8th grade boy who stopped me in the hallway to pledge his support to all our efforts, thanks, kiddo.  It was my pleasure.