Online agricultural training is reaching more Jamaicans, faster
Rural Agricultural Development Authority's (RADA) Alisha Anderson was an obvious choice for Peace Corps Jamaica when it came to identifying Virtual Service counterparts. Alisha served in various roles during her impressive 22 years at RADA, equipping the agriculturalist with a versatile repertoire that enables her to adapt and overcome challenges with ease.
Alisha collaborated with her fair share of Peace Corps Volunteers prior to participating in Virtual Service. Before being promoted in 2013 to RADA's head office located in Kingston, Jamaica, Alisha facilitated training sessions and conducted farm visits alongside on-the-ground Volunteers in the parishes of St. Andrew, St. Catherine, Manchester, St. Thomas, St. Mary, and Portland. In her current role as technical services coordinator, Alisha is RADA's official point of contact for Peace Corps projects.
Keisha Chung, Peace Corps Jamaica's programming and training specialist, first approached Alisha to discuss RADA's potential involvement in Virtual Service in September 2021.
"The success of the program hinges greatly on the involvement of the partner agency and counterpart. Alisha and her team embraced Kaitlan as another RADA team member from day one. They worked collaboratively to complete and execute the work plan, which had specific tasks, clear timelines and the roles of persons involved," Keisha said. "Alisha is a model counterpart and I am excited to explore other partnership opportunities for Peace Corps' three service models."
If you have the pleasure of meeting Alisha in person, you might be surprised to discover that the positive and self-motivated counterpart is a double amputee. She had to make significant adjustments in life – like working remotely from home – but her commitment to agricultural development is unwavering.
Alisha first joined the organization in 2000 after completing her agricultural studies at Ebony Park HEART Academy in Clarendon. She went on to earn a Bachelor's of Science degree in computing management from the University of Technology and is currently working on a Master's degree in computer-based management information systems from the University of the West Indies. Alisha is passionate about applying what she learns to assist local farmers implement technology to strengthen Jamaica's food security and safety.
Alisha is a model counterpart and I am excited to explore other partnership opportunities for Peace Corps' three service models.

Keisha Chung, Peace Corps Jamaica's Programming and Training Specialist
Since it was first launched in 1990, RADA, Jamaica's chief agricultural extension and rural development agency, has been guided by its vision of achieving national economic growth and agricultural stability. RADA's main objectives are to train its extension personnel through in-service training, develop and implement training for farmers and rural women, as well as collaborate with agencies that are experienced in strengthening rural communities.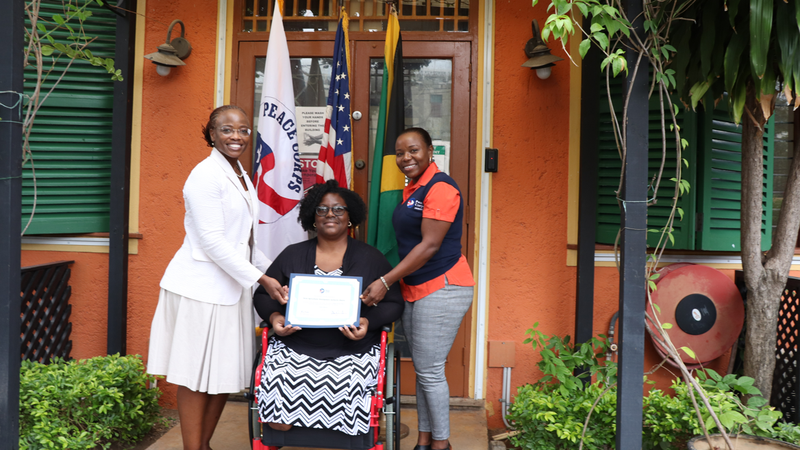 "The farmers' needs have changed significantly because of climate change; farmers struggle to contend with a changing climate. For example, they struggle to keep their farms productive amid dwindling rainfall, a byproduct of climate change," Alisha said.
She also said the challenge is not unique to her country as droughts, floods, and the spread of pests are threatening agricultural production everywhere. While climate change challenges can be expected to change over time, learning effective farm management skills will remain a constant need. Alisha thought that Peace Corps' Virtual Service offered a unique opportunity to address this need, specifically group dynamics.
During the four-month virtual engagement, Kaitlan Mahoney, a RPCV who served in Fiji from 2015 to 2016, virtually met Alisha and the RADA team for 90 minutes on Mondays and Thursdays. Together, they planned trainings that focused on group formation and strengthening to conflict resolution. On Fridays, Kaitlan and the RADA team co-led virtual trainings for RADA's extension staff, who then applied what they learned to offer individualized support to Jamaican farmers. At the end of the engagement, the team held an awards ceremony to celebrate everyone's hard work and growth.
"Alisha, from the start, was an enthusiastic and supportive counterpart. Her energy was a powerful motivator throughout the assignment. Her excitement added a flare to the virtual trainings that kept the participants engaged," Katilan said. "I could not envision the success of this project without her dedication and determination."
Alisha is eager for more Peace Corps, especially in-person Volunteers. She argued that it's easier to relate and connect when you're face to face. "When you're online, you know, sometimes there's a delay in feedback." Despite that, Alisha recognizes the benefits of virtual collaboration and RADA was able to train more of their officers in less time because the virtual trainings significantly reduced the authority's traveling expenses.
Alisha and her RADA teammates are currently planning opportunities to strengthen and expand their partnership with the Peace Corps. "Due to previous collaborations, small rural farm groups have increased their capacity and improved the quality of life of their families," Alisha explained. "Peace Corps has made a valuable impact on the farmers of Jamaica by providing support to individual farmers, groups and schools across the island. The work done at the community level has provided an excellent opportunity for us to learn from each other and develop friendships and new collaborations."
---