One woman's journey from a village in Botswana to a pioneering career in public health
Bakanuki Nfila was an enthusiastic and brave student who once captured a live snake for her science class. She excelled at school, where she learned English and other subjects from Peace Corps Volunteers. Under their tutelage, Nfila built a foundation of academic excellence — unusual for a girl in rural Botswana at the time — that ultimately led to a global career in public health.
Born in the mid-50s, Nfila grew up in a village about 60 miles from Francistown, the country's second largest city.
"My dad attended school until grade 3. He farmed and worked in the mines in South Africa," she said. "My mother raised me and my sister, worked as a housekeeper, and grew millet, peanuts, and beans for us to eat. I helped with the farm a lot. We used a plow as we didn't have tractors."
Nfila wasn't expected to achieve much in school.
"My aunties told me that as long as you can learn how to write your name, you can get married, be a housewife, and bear children. They thought I was a difficult one because I fell in love with education," she said.
But Nfila's mother encouraged her to pursue her dreams.
"My mom told me to continue in school rather than get married," Nfila said. "She always pointed to my cousin, who pursued his education to become Botswana's minister of finance. 'Education is the way to go,' she would say."
Nfila completed elementary school but had a delayed start to middle school because school fees were not affordable. An elementary school teacher intervened on her behalf so she could attend.
"My name was at the top of the list of kids admitted to the school because I was a straight-A student. The head of the school then appointed me as one of two student representatives. We attended teacher meetings and gave the student perspective," she said.
The local secondary school (grades 8 to 10) was in the process of being built when Nfila entered.
"I first met Peace Corps Volunteers in my last year of elementary school," she said. "One day, we walked down to a construction site where Volunteers gave us eucalyptus trees to plant at what would be a new secondary school. I planted mine near the current multipurpose school hall. It's now almost 50 feet high."
The Volunteers helped build the school over the course of a year, including rondavels – round huts made of local materials such as stones and branches – where they later lived.
"At the beginning, the library was a small place, with very few books in it, and the hall where we ate lunch was just a little shelter. We held our plates and ate standing up because we didn't have chairs yet," she said.
Once the basics were in place, Peace Corps Volunteers and other international volunteers began to teach.
"The Peace Corps Volunteers were so friendly," she said. "They were not afraid to ride bicycles and visit us on our farms to see where we lived. They wanted to learn about our culture."
Volunteer Nancy Stevenson was Nfila's English and history teacher.
"Back in the day, there was no electricity or running water, and food was hard to come by. Ms. Stevenson invited students to chat and have coffee and cookies in her rondavel. I can still smell the home-baked cookies to this day. They were so delicious," Nfila said.
"I can't even describe all the ways that she was like my mother. When I first got to secondary school, I was a very good netballer (similar to basketball) but avoided playing when I had my period. Ms. Stevenson introduced me to tampons, and I told other girls. After that, we had fewer absences. It helped us a lot."
Stevenson continued to be a resource for Nfila even after she left the local school.
"After I finished 10th grade I was admitted to a boarding high school," Nfila said. "My mom gave me money to buy sheets, but when I opened the package there were no pillowcases. Ms. Stevenson gave me a pillowcase from her own bed. I used it during high school and nursing school. Then my mom used it. After Mom passed in 2018, I was amazed to find the pillowcase among her belongings."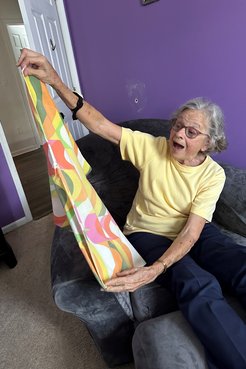 Nfila went on earn a nursing degree in Botswana in 1980, a bachelor's degree in public health in Canada, and a master's degree in public health in Australia. She feels that the education she received from Peace Corps Volunteers enabled her to excel in higher education.
"Learning English from Americans allowed me to read books in English in any subject. The Volunteers inspired students to learn, explore the world, and look forward to each school day," she said.
"While I was a nursing student, I got pregnant and had a baby out of wedlock. Ms. Stevenson didn't judge me. She bought baby clothing and helped me move forward."
Over the years, the two moved around and fell out of touch. But when Nfila's daughter moved to the United States, she helped track down Stevenson, who lives in Pennsylvania, in September 2023.
"She's 77 and in excellent health, She's the same mommy I knew, even though she can't remember some of the small things that happened long ago," Nfila said.
After retiring in 2019, Nfila formed a group with classmates to address what they felt to be the declining quality of their cherished secondary school. They started planning a celebration for the school's 50th anniversary, postponed to September 2023 because of the COVID-19 pandemic. The event turned out to be very special; the two met in Easton, Pennsylvania, where they attended the celebration together, remotely.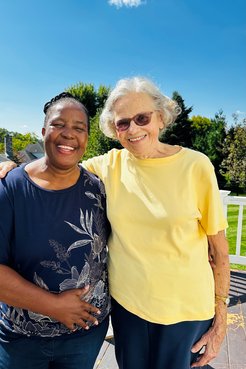 "Our event honored the many teachers who made us who we are today," she said. "I will never forget the contribution that the Peace Corps made to the development of our country. I'm proud to say that I'm part of the first generation of professionals after our country gained independence in 1966."
Nfila's career in clinical and public health includes 34 years as a registered nurse midwife, family nurse practitioner, and district matron. For 15 years, she led the Expanded Program on Immunization for Botswana's Ministry of Health and the World Health Organization.
"We led the way to making health equitable and universal in Botswana. We introduced family planning. We greatly reduced rates of HIV/AIDS. During my tenure, child mortality dropped from 76 to 21 deaths per 1,000 live births in 2011," Nfila said.
"But Botswana does still have challenges. The hospitals and equipment are there, but we don't have specialists to run them. There's not enough skilled manpower."
Nfila feels an enormous debt to her Peace Corps teacher from long ago.
"She did not just teach us to write in English; she gave us life lessons — to be kind, responsible citizens and to believe in ourselves," Nfila said. "The confidence I have to this day was instilled by her. From an ordinary village girl with no pillowcase, I fiercely pursued my career, studied internationally, and ended up working on a global stage."