One week, 10 expectations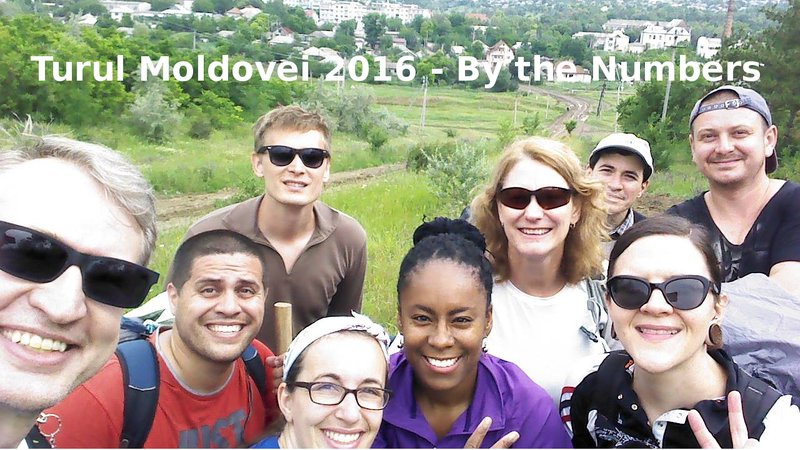 July 18, 2016
This June, seven Peace Corps Volunteers started gathering in Bălți, the third largest city in the Republic of Moldova. 
We were coming together for Turul Moldovei 2016, a planned 150-kilometer walk through the country promoting literacy, libraries and volunteering along the way. Our purpose was to have a meaningful and fun excursion through this beautiful Eastern European country we currently call home. In the week we spent on this trip, we achieved that goal in ways we never expected.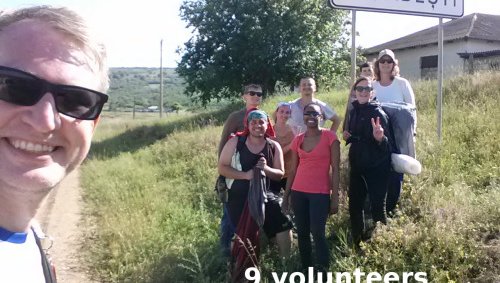 Whether at our sites or on a week-long trip, we always strive to uphold the 10 Core Expectations for Peace Corps Volunteers. Practicing these expectations helped us make it through a challenging and memorable week. Here we've paraphrased the expectations as a way to highlight how they showed up on our adventure.
1. Prepare yourself carefully to finish the commitment. Preparing for a week of walking was not unlike preparing for 27 months of service. We made checklists. We talked with people who've done walking tours before. We participated in a master class on Story Hours put on by Novateca, a national organization working to modernize libraries throughout Moldova and key supporter of the trip. We mapped and re-mapped and re-mapped again our route. We packed and repacked. We prepared expectations for ourselves. Most importantly, we committed ourselves to the purpose of the walk and the grit it takes to achieve it.
2. Commit to making life better while sharing, learning, and adapting skills. None of us are experienced storytellers. We come from a variety of fields and experiences. In preparation and in execution, we stretched into new roles, supporting and encouraging each other in learning. Several of us learned how to lead songs with dances ranging from energetic to ridiculous. Israel and Hillary not only worked on their ability to make reading books interesting for children, but how to do that in a second language by reading a children's book in Romanian. While Israel had been teaching yoga in Romanian for a year, doing it in a cramped library, without mats or sports clothes, required quick thinking to adapt the practice.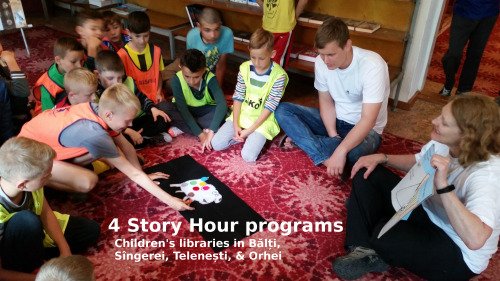 3. Flexibility is the key to effectiveness – especially when it gets hard (because it will get hard). It was a planned 150-kilometer walk. It ended up being a 275-kilometer journey featuring days of downpouring rain, surprise housing cancellations, jam-packed minibuses and searing heat. Our flexibility led us to unexpected cultural exchanges and opportunities. For example, the town of Sîngerei has two libraries – a district-wide library and a city library – with different staff, resources and funding. We walked into the district library thinking we'd arrived where we were expected. We hadn't. Our program was with the city library. Moldova's famous hospitality kicked in to high gear as they welcomed us, helped us find lunch, organized a spontaneous poetry and song performance by local children and gave us a tour before guiding us to the correct library. As a result of our time spent together, the district library director is applying to have a Peace Corps Volunteer next year.

4. Any success is built on a cross-cultural relationship steeped in respect. We came into libraries in a spirit of cooperation and support. The local librarians have great experience and expertise in libraries, working with youth, and promoting access to reading. We partnered with Novateca to support their on-going work in libraries. In choosing to do Story Hour programs, we supported a current initiative of the organization. We didn't assume we knew better about what kind of programming should exist; we assumed we could learn from the local experts and work to promote what they do.
5. I am always responsible and accountable for my behavior & its impact. It would have been easy to get grumpy and rude on our trip: We were often wet and muddy; we were dripping in sweat and fighting off sunburn; always we were tired from (barely) sleeping in unusual places. Had we acted out on those feelings of tiredness or grumpiness, we would represent ourselves, our organizations and our nations poorly.
6. Cooperate. Learn. Respect. Along with learning from the library staff, we learned from our fellow volunteers. The two Moldovans who joined us participated in on-the-ground decision-making, official programming and fun during our free time. While we were trudging along yet another muddy road, Dorin pointed out an alternate route that would save us at least a few minutes of mud. We took it, of course. During a program, Veaceslav talked with staff and worked out a quick solution that made the yoga portion easier. We built cross-cultural friendships over the week that were built on respect, mutuality and fun.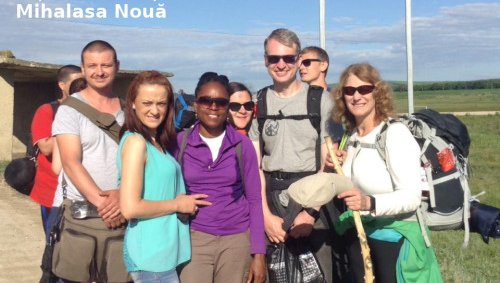 7. Follow all laws and rules. Even one American stands out in Moldova. Now imagine a diverse group of seven of us with backpacks traipsing around. We have a constant spotlight on us simply because we're Americans, as well as Peace Corps Volunteers. Following laws politely kept us safe. Working with Peace Corps staff for months in advance to prepare kept us safe and feeling very supported.
8. Practice safety proactively and constantly. We planned to spend a whole week outside of the communities that know us. We planned to sleep outside a few nights. We planned to go into places and walk along roads we'd never been along. All of these decisions, and more, brought risks. Safety was a key factor for us in all decisions, from where we'd sleep (preferably in houses, far away from villages when sleeping outdoors), how we'd get and use water (bottled water for drinking, well water for cleaning only), what we'd pack (not too much, but a first aid kit between us), how we'd describe ourselves (happily talking about Peace Corps, not describing our planned route in detail), how we'd post about our trip (always with a time delay) and more. Our post's great Safety & Security Manager was a virtual member of our team, regularly in contact and helping with decisions that kept us safe.
9. We are the face of America 24/7. The moment this hits the hardest is usually when someone says that we're the first Americans they've ever met in person. This happened a lot on our trip, especially in the harder to reach villages we visited. We utilized the interest our nationality draws to direct attention to great things. "Came to meet us because we're American? Great! Happy to meet you! Please take some information about Novateca and Peace Corps as well."
10. Be thoughtful and responsible in sharing about our host country. Most of us on the trip live in towns; we visited cities as large as 150,000 people and small villages of less than a thousand during this trip. We passed through rural scenery more beautiful than a painting, energetic suburban neighborhoods and bustling cities. We had surprise performances of traditional songs and modern jazz, poetry and rhythmic gymnastics. The responsibility of representing the beautiful and nuanced variety in Moldovan landscape and culture is a great one.
Turul Moldovei 2016 was a memorable and almost unbelievable opportunity to journey through our host country, to make new friends, to learn and practice new skills and to develop new partnerships. It also gave us a chance to practice and reflect on the 10 core expectations in different ways. We are grateful to all who made it possible, shared the process with us and shared in our cross-cultural exchange during the week and beyond.