One teacher, one student, one family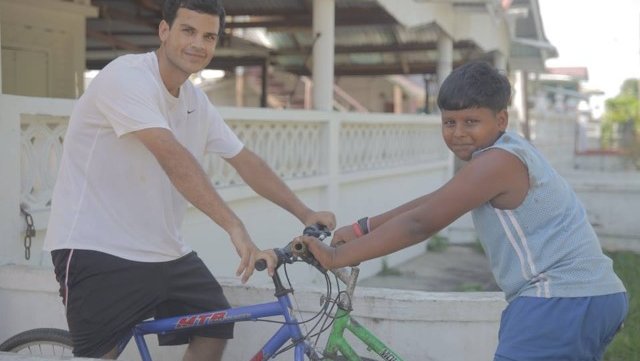 Dec. 14, 2015
My host family and I are very close and I have started to think of them as my family. 
I even catch myself dropping the "host" and referring to them as "family" when conversing with fellow Volunteers and community members. There are three boys: Gavin (13), Javin (11), Elvin (10) and little Caralina (4).
I have offered my free time to tutor the boys; Gavin is in eighth grade, Javin is in sixth and Elvin is in fifth. They are smart and energetic boys but when it comes to homework it seemed that they would rush in their work and then count on me to correct them without touching on past tutoring sessions to help them.
Gavin and Elvin are doing well in school but I worry about Javin, who is in sixth grade and struggling. Sixth grade is a critical grade since they need to pass their exams to be promoted to a secondary school. Javin reminds me a lot of myself at that age, very energetic outside the classroom but not too excited about doing schoolwork. His parents have confided in me their worries about Javin since they want to see him promoted to a good secondary school like Gavin.
I live in a great community where generations of families have grown up knowing each other and everyone looks out for each other's interests, but it is also rampant with gossip; when it comes to exam time, parents focus on other children as well as their own. This can put a lot of pressure on families since they know other families are comparing their children and it can become quite competitive.
My landlord's parents visit occasionally from French Guiana and instead of encouraging Javin, seem to reduce him to tears every time they bring up schoolwork. I felt bad since I would focus my time on all the students at school, not just the three little brothers who live close to me.
I started to work with Javin one-on-one and have noticed a significant improvement. Javin told me he felt nervous working on homework with his brothers since he felt they were "jeering" him if he got an answer incorrect or had trouble reading a passage. Elvin, one year younger, seems to be doing well in school and this has caused animosity between the brothers. I told the brothers and that learning is not a competition and instead it is a game of cooperation. They have to help each other out and not focus on who is doing better than the other. Instead they should think of learning like a team sport in which they are on the same side and that they are only as strong as their weakest link.
This talk seemed to make headway and now I catch all of them helping each other with their homework. Working with Javin one-on-one has helped him with his schoolwork and after speaking with his teacher and my counterpart has also told me that they have noticed more confidence in the classroom as well as a general improvement in his schoolwork.
I will continue to work with the boys individually and my goal with Javin is to help him excel in his exams so he places in the top ten students in sixth grade by graduation time. Gavin received third place, which made his parents and grandparents very happy, and I feel with dedication and patience Javin has the ability to do very well in school, just like his brothers.