One returned Volunteer's journey to raise awareness in his community
Nirav Shah is a man on a mission. As a returned Volunteer who is a member of the Peace Corps public affairs team, Nirav is keen on promoting the agency's message to fellow South Asians.
Thus far, he has interviewed many returned Volunteers who either served in South Asia or have South Asian heritage. He has promoted their stories within his agency and to media outlets nationwide. He wants more people with ties to that region to know about opportunities to volunteer abroad with the Peace Corps.
"It's all about building bridges of peace and friendship, whether it's with your neighbors, family, or friends in different countries," he said. "It's about giving back and making sure that when we leave this place, we leave it better than it was."
After his father passed away, 11-year-old Nirav and his mother left India and moved to Chicago. His mother wanted to live near two of her sisters and was looking for a better life and a culture where she could raise her son more independently.
Eventually, Nirav went on to earn his undergraduate degree from California State University, Long Beach. Later, he also received both an MBA from North Central College in Naperville, Illinois, and a master's degree in public health from Benedictine University, also in Illinois. While pursuing the latter, Nirav completed an internship in public health in Tanzania and Kenya, where he met some Peace Corps Volunteers and became interested in following their path.
"During my internship, I recognized that my passion was in serving the global community in the public health sector. It was a turning point in my life. I wanted to use the talents I developed overseas to serve communities that needed them most," he said.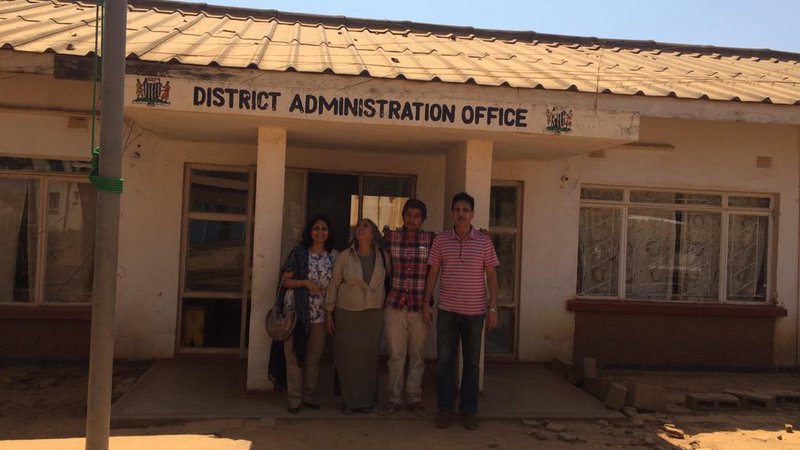 Nirav followed his passion and applied for the Peace Corps, eventually serving as a Health Volunteer in Zambia from 2013 to 2015. Over a period of three months, and with the help of trainers and his community, he learned Chinyanja, one of the local languages in the African nation. Nirav lived with a host family in the Eastern Province and, over his two years of service, worked on health initiatives.
During this time, he was also a coordinator for the Stomp Out Malaria project, which relays preventive health messages to the community. He also implemented a USAID/CDC-led project called SmartCare, an electronic medical record system that provided individuals with a wallet-sized plastic card that gave medical facilities access to their medical history. The card helped ensure continuity and improved quality of care at critical times.
"The whole Peace Corps experience opened me up for challenges and helped me see the world through a different lens," he said.
"For example, people in my Zambian community initially thought I was Muslim because of my brown skin. I was able to explain that I was Indian-American and follow Jainism as my religion. Jains don't eat eggs and meat, so my mother sent me care packages with spices, crackers, beans, and rice every three months or so. My Zambian family took good care of me, making meals with ingredients I gave them."
Nirav kept in touch with his fiancé during service through long-distance phone calls. He would bike to the city to recharge his phone and find working internet connections. At about the midpoint of his service, Nirav took a week off and joined his fiancé in Mumbai, where they were married. As Nirav's service drew to a close, his wife, his mother, and his in-laws visited Zambia, and he took time off to go sightseeing in places like Cape Town, South Africa.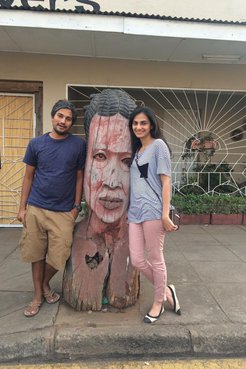 After completing his service and returning to America, Nirav used his noncompetitive eligibility (NCE) to land a job at the Department of Homeland Security. Peace Corps Volunteers are granted NCE hiring status, which makes it easier for federal agencies to hire those who meet minimum qualifications for a specific position. Eventually, he returned to Peace Corps, this time as a federal employee at the Peace Corps headquarters.
"My passion to serve made me come back to Peace Corps. I love this agency, the mission, and the team I work with. I value the opportunity to inspire others to serve abroad, and to be a voice in the South Asian community for this awesome mission," he said.
Besides answering media interviews, Nirav wants to get his global volunteerism message across on a variety of platforms, whether through social media or special events that focus on South Asian audiences. His goal is to inspire American citizens with South Asian heritage to serve and explore volunteer areas they are passionate about. Those 18 and older are eligible for Peace Corps, and there is no upper age limit.
"As an immigrant, I appreciated the opportunity to excel here in the U.S., and I valued the opportunity to give back as a Volunteer in a safe and secure environment. After my time with the Peace Corps, I want to become part of the Commissioned Corps of the U.S. Public Health Services," he said.
Originally published in IndiaCurrents.com