Once upon a time in Cameroon
Through our project, "Once Upon a Time in Cameroon" ("Il était une fois au Cameroun"), my students are adapting classic fairy tales using the regional flora and fauna of Cameroon. It is also a technical challenge: print a book that can not only stand up to the rainy season but can also be read in low light conditions.
Lauren Van Arsdall and her French students at Flintridge Preparatory School in Los Angeles have connected with Peace Corps Volunteer Laura Scales in Cameroon through the World Wise Schools program. Lauren's students are combining Global Studies and STEAM (Science, Technology, Engineering, Arts and Math) to create solar lanterns and durable books for students in Laura's community. Read the first story and second story in this series to learn more about the project.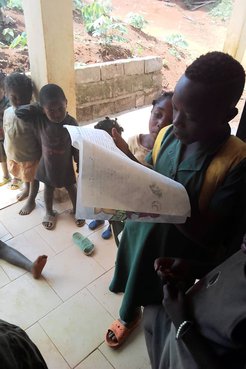 In January, we received word from Laura via WhatsApp that the weatherproof fairy tale book students had designed and written were received. The arrival of the books in the village inspired her to set up a tiny, free library on her doorstep.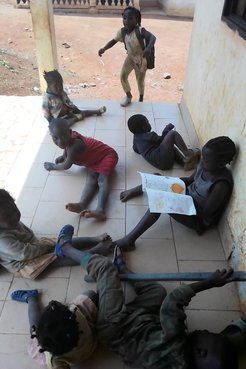 We also sent solar lamps the students had designed and built. Our original goal was to get feedback from Laura and then redesign and improve the lamps. As it turns out, a displaced family needed them and she never had the opportunity to test them and provide feedback.
Given the usefulness of the solar lamps to the villagers and their neighbors, we plan to send more solar lamps and brainstorm ways to maximize their efficiency and reach.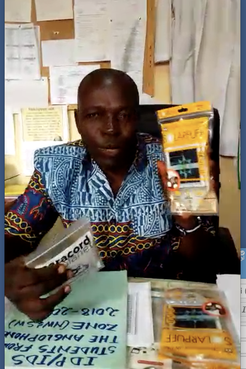 During a project discussion, students expressed some concern that the design process had ended abruptly. This twist actually presented us with an opportunity to reflect on two critical aspects of good engineering. First, sometimes a product is good enough for basic needs and does not need to be redesigned. During an emergency, it is more important that the solar lamps simply function and get the job done. Second, expect the unexpected and adapt. Unlike in the classroom or even a lab, where we can control the conditions for an experiment or demonstration, the real world can be much more unpredictable!
All told, the students felt comforted by the fact the lamps were being put to good use.
The Paul D. Coverdell World Wise Schools program is dedicated to promoting 21st century skills and global competence through stories, activities and classroom resources – all of which are based on Peace Corps Volunteer experiences.
---