On preserving and sharing world cultures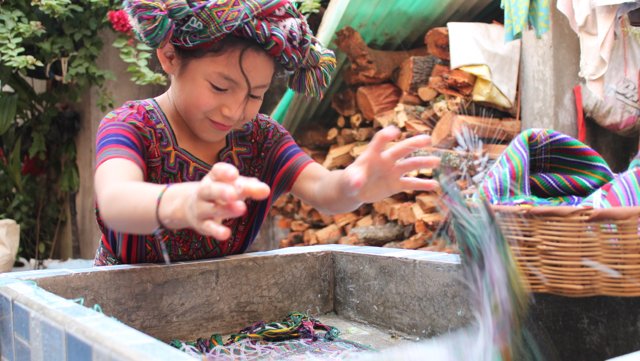 Sept. 5, 2014
Returned Peace Corps Volunteer (RPCV) Jeremy Wustner-Brown has gone from teaching English in rural Romania as a Peace Corps Volunteer (PCV) to working to preserve Mayan culture in his newest project.
We asked some questions about his work and his views on why it is important to have intercultural dialogues.
Q: Why did you become a Peace Corps Volunteer?
A: One of my favorite authors, Viktor Frankl, puts forward in his book "Man's Search for Meaning" that as human beings we thrive best when we have meaningful purpose in our lives and in the work we do. Although I have been very fortunate to collaborate with some exceptional companies over the years, I felt that there was an opportunity to have a greater, and more meaningful, impact through service. For me, becoming a Peace Corps Volunteer has been the best way to begin that search.
Q: How did you become involved in the preservation of the Mayan culture?

A: Serendipity. During my last year of service, Coulter Stout, an RPCV and KSU Peace Corps Fellow, brought a group of MBA students to my site for a chance to see village life, meet my students and to help out at the high school. By the time he left, Coulter had convinced me that KSU should be part of my post-service plans. After being accepted to the university, I was fortunate enough to be selected by Dr. Alan LeBaron to work as his Peace Corps Fellow on Maya heritage.
Q: In your own words, what is the Maya Heritage Community Project?
A: The MHCP is an organization that collaborates with Maya leaders in the U.S. to identify and address challenges in their communities. This has included the formation of a network of Maya interpreters, the creation of a Maya health toolkit for medical providers and video documentary services for cultural preservation. It has been the latter where I have been able to contribute the most, culminating in the documentary that we are filming with Maya this August in Nebaj, Guatemala.
Q: How do you decide what aspects of Mayan culture to focus on?
A: Similar to Peace Corps Participatory Analysis for Community Action (PACA) methodology, the Maya Heritage Community Project partners with Maya community leaders to determine how best to help.  Much of my work has been driven by a native Maya, Sheba Velasco. During an early video interview that I held with Sheba, she indicated that cultural traditions such as weaving, language and social values were most in danger of being lost to future generations.
Q: What is the most interesting aspect of Mayan culture to you?
A: The most interesting aspect of Mayan culture for me is their perseverance. The Maya date back nearly 4,000 years and have survived a number of hardships, including the historical plights of imperial conquest and more recent persecution during the Guatemalan Civil War. Yet my interactions with the Maya people have shown them to be an optimistic, proud and generous people.
Q: Why do you think it is important to preserve other cultures?
A: It's important to preserve cultures because it is upon this heritage that our modern lives are built, and to better understand these origins is to better understand who we, and our neighbors, are today. The study of other cultures is important because on any given day, we see in the news a number of intercultural conflicts, and although these originate for a myriad of different reasons, I would argue that one solution to preventing such discord is through greater intercultural exchange and understanding.  One program that I recently participated in that promotes this idea (besides the Peace Corps) is Soliya, a program that facilitates meaningful dialog between students in the West and the Middle East; it turns out that in many ways we are not so different.
Q: Are there any similarities between Romanian and Mayan culture?
A: One of the main similarities that I have noticed between Romanian and Maya culture is their mutual emphasis on family. It is not uncommon for multiple generations of either group to live in close proximity. Often this is due to financial necessity, but it goes deeper than that.
Q: What advice do you have for prospective Peace Corps Volunteers?
A: Be aware and present during your service, listen and keep a thorough journal of your experiences.  Service goes by quickly so make the most of it and do what you can to preserve and share the memories.