"Nourish the Earth and the Earth will nourish you"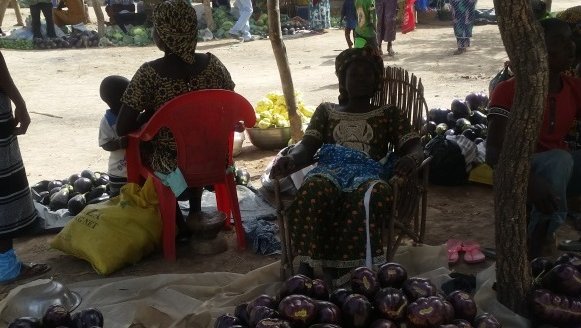 May 4, 2016
Bougui, a village in Burkina Faso of roughly 2,500 people, has a dam that serves as the water source for the many gardens that community members depend on for food and income. 
Due to its proximity to a water source, Bougui has the means of producing large quantities of vegetables, but proper market research, market analysis, and garden upkeep is lacking. As it stands, Bougui supplies more than 70% of the vegetables sold in Fada N'Gourma, its regional capital and the fourth largest city of the country. The problem is that the vegetables being sold are more profitable to the intermediaries, but not so much to the farmers.

In an effort to empower the farmers, a Peace Corps Volunteer and his partners created an association called "Tinga Finditi" which translates into "nourish the earth and the earth will nourish you." With the support of the West Africa Food Security Program, they organized a vegetable fair. After months of building stands and hangars, planning, marketing, and undergoing seven trainings ranging from gardening techniques to selling strategies, they held the fair in December 2015.
An opportunity to increase revenue and connect with new partners
Mr. Koadima is a farmer who participated in the fair. The first day of the fair, he showed up with a sack of spring onions. He laid out his plastic tarp, sat down with his spring onions, and placed them in piles to be sold. Within 45 minutes, he had sold the sack for 8000 FCFA ($16). Mr. Koadima sold 10 sacks on the first day, eight on the second, and 12 on the last day. In total, he earned over $400. If he had sold the same quantity in a neighboring town, he would have only earned around $300.
This project not only gave a new image to the village of Bougui as a vegetable producer par excellence in the area, but it also drew in new partners. An organization called VALPAPE has already committed to improving the water retention capacity of the local dam. Having water through May or June will greatly increase the production potential of the village and bring about further economic growth.
Farmers in Bougui like Mr. Koadima continue to realize great potential to increase their production and sale of vegetables, and thereby increase food security in their communities.
This story was contributed by PC/Burkina Faso. Photos by Aicha Pitroipa.
The West Africa Food Security Partnership (WAFSP) is a regional partnership between USAID and Peace Corps initiated in 2012 under the USAID/Peace Corps Global Food Security Agreement. The goal of the WAFSP is to enable Peace Corps Volunteers to build grassroots capacity in order to reduce food insecurity in West Africa through multiple interventions concerning improved natural resource management, agroforestry, improved agricultural production, gardening, small animal husbandry, nutrition education, economic development projects, food processing and conservation, income-generating activities, and climate change adaptation.