Not Retiring Any Time Soon: Our Service in Guatemala and Peru
In 2016, my husband Clint and I left our jobs and our home of almost 25 years behind in California to serve for the first time as Peace Corps Volunteers in Guatemala.
After two terms as a city council member and a stint as mayor in Novato, California, I felt it was time for a new community service experience, this time an international one. We had enjoyed travel together in Latin America—Guatemala and Peru—and we both spoke Spanish. In addition, we had experience with, and interest in, working with indigenous populations and were eager to carry on that work internationally. We were ready for an adventure and not too concerned about what we might do after completing 27 months of service. We would figure it out.
Little did we know that we would be assigned to one of the highest elevation sites in Guatemala, a Maya community at 10,000 feet in the Western Highlands. The climate was cool, and our two-room dwelling in a family compound had neither heat nor running water. We shared a sink, toilet, and shower with six other people. Washing dishes on those freezing cold nights was uncomfortable, to say the least. The first language spoken in our town was K'iche' (although many also knew Spanish), so we learned some basic words in K'iche' during our service.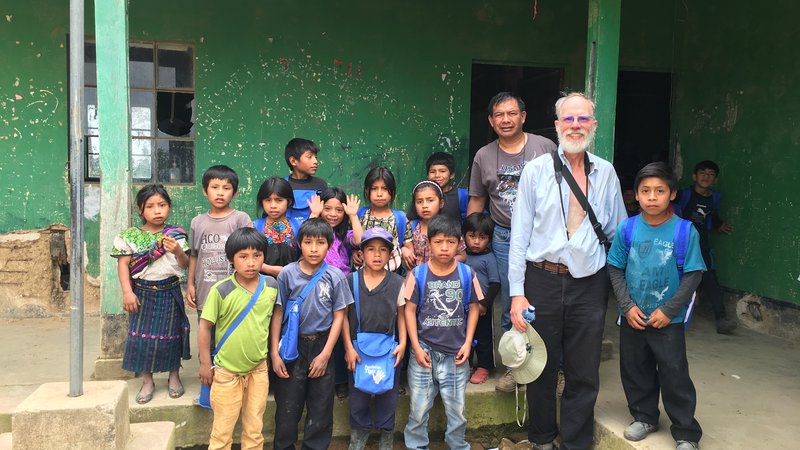 Clint was a Youth Development Volunteer, educating middle school youth in life skills (self-esteem, critical thinking, sexual education) and helping teachers incorporate the program into their curriculum. I worked as a Healthy Schools Volunteer at the primary level, helping teachers, parents, and students improve the health of their community. In collaboration with the agencies and local people, I focused on the community's biggest concern: high levels of chronic child malnutrition. To help improve food security, I teamed up with the rural schools to plant vegetable gardens.
Beyond the day-to-day work, we each developed secondary projects that drew on our individual interests and backgrounds. Clint used his skills as a biologist to help a nonprofit develop a nature trail so their property could become an eco-tourism and cultural destination. I connected local women weavers to nonprofits that could help them hone their marketing and small business skills.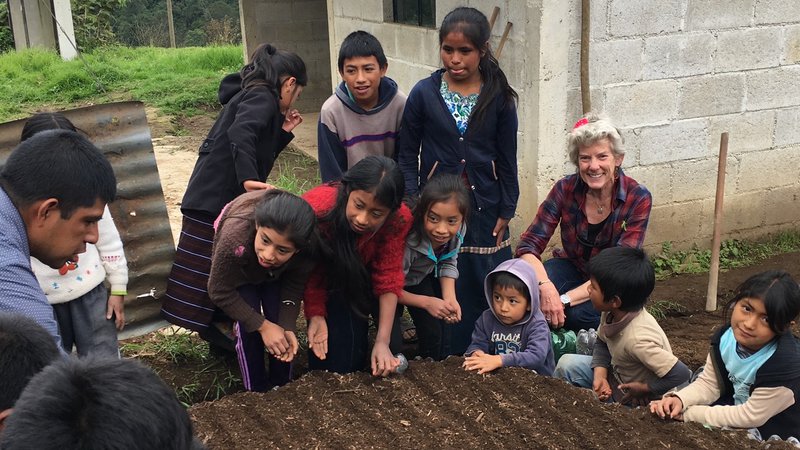 Being older than the average Peace Corps Volunteer—we both began our service at 63—had its benefits. Serving in a culture where older people are respected gave us credibility. We established strong relationships with other Peace Corps Volunteers in our training cohort, exchanging expertise and perspectives that helped make everyone's service richer. Those bonds made in service still run strong today, almost two years later.
Our biggest challenge was managing our expectations about the different ways local host country nationals approached time, planning, and communication. We had to learn not to take it personally when someone forgot to send information about a meeting or event. The biggest rewards were seeing the primary schools initiate replanting their gardens in the second year of our service and the middle school teachers integrate the life skills training into their coursework.
Serving as a couple gave us mutual support to navigate the culture and work and helped us keep perspective on our service. During our free time, we enjoyed exploring other communities and natural areas in Guatemala, which broadened our knowledge and understanding of the country's diversity.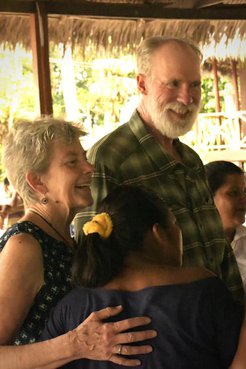 After completing service in Guatemala at the end of 2018, we returned to the United States and began to explore "what's next?" We wanted to continue serving internationally, preferably in Latin America so, in January of 2020, we began service as Peace Corps Response Volunteers in the Peruvian Amazon. In Peru, Clint and I worked together with a non-profit that trains women health promoters and adolescents in leadership, health, conservation, sustainable forestry, and to manufacture artisanal products. I helped strengthen the training program and Clint helped develop their tourism program, which educates tourists about efforts to help Amazon communities. After two months of service, we were evacuated due to the COVID-19 pandemic. However, we have been able to continue to support the nonprofit from our home in California.
Between services and post-evacuation, we have given over a dozen presentations about our service, and we continue to participate in forums to attract and recruit people later in their careers. Neither one of us has plans to retire any time soon!