Namesake: a defining moment in my Peace Corps service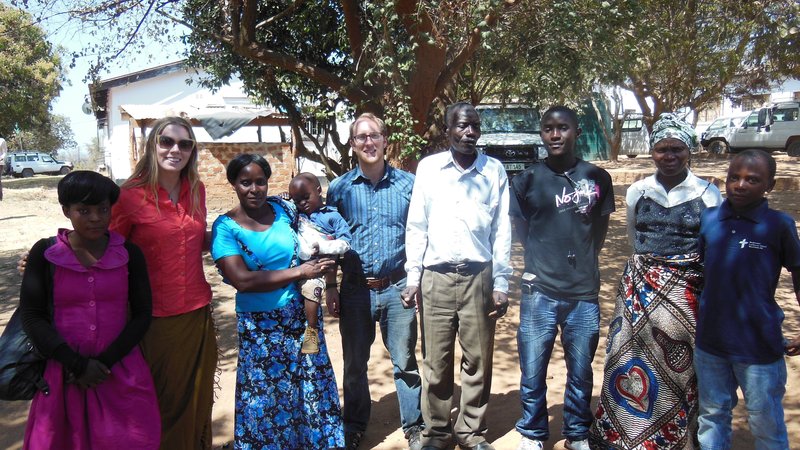 Feb. 11, 2015
A year ago, that statement would have seemed utterly cliché to me but after becoming a Volunteer, my experiences working with Saving Mothers, Giving Life (SMGL) have given me a perspective on courage, perseverance and sacrifice that makes that sentiment wholly and undeniably true.

The early months of my service were spent getting to understand Zambia's health system and Kalomo District where I serve. As a result, I spent a great deal of time accompanying mentors from various partner organizations as they traveled the district mentoring clinic staff on obstetric care. In response to the need for hands-on learning, these mentors often attend deliveries at the clinic in order to counsel clinic level staff on referral, infant resuscitation and emergency drills.
About a month into my service, I found myself at Sipatunyana Rural Health Center as part of a regularly scheduled trip to mentor the clinic staff. On this particular day, I was talking outside the labor ward with a male Safe Motherhood Action Group (SMAG) member who brought in a woman, Gertrude Katyaba, for delivery. "This is her fourth child," he explained. "She had her first two children at home but after coming to our community meetings, she wanted to be at the clinic." As we talked, one of the mentors rushed out to tell us that Gertrude's time had come.
"You will see this! Come, we will show you," the senior mentor stated matter-of-factly. Up until that point, I had never witnessed childbirth and I was not sure I ever wanted to but, at the family's insistence, I was ushered into the room.
As a westerner, I was struck by two things, the first being the lack of a "coach" or supportive partner in the room and the second being the unnerving silence that seemed to be smothering me. Most women in the rural areas believe that showing pain or making noise will demonstrate to others that you are not a strong mother or, in some extreme lines of thought, cause their babies to die. Not a grunt. Not a whimper passed her lips. Only slow, silent tears ran down her face as she pushed a baby girl out into the now-cramped delivery room. I stood in wide-eyed silence as they attempted to make the baby breathe. Before the roll out of SMGL, 39 of every 1000 babies born would not make it long after delivery. With that threat in mind, the mentors quickly went to work coaching the nurse on the skills she knew and instructing her on things she didn't. After a few anxious moments, the baby let out a screaming breath and the tension in the room subsided. Thanks to the work of mentors like these and the increase of life-saving trainings throughout the country, not only was this baby breathing but the aforementioned statistic has been reduced by 14 percent in just one year.
After some tear-filled congratulations, I was tasked with telling the family the good news. So, I gathered what was left of my bearings and walked outside. I spoke a bit of broken Tonga, which thoroughly surprised them, and smiles broke out on the old women's faces. They asked my name and I told them "Carrie," which they repeated with long, toothy grins.
Within 20 minutes of delivery, Gertrude was dressed, sitting straight up, breast-feeding. She smiled serenely as her family gathered her things in preparation for 15-kilometer walk back home. As I reviewed registry questions with the nurse, the family handed me the Under 5 Card that read "Carrie Katyaba." I stared blankly -- they named the baby after me? An entire network of community volunteers, nurses and mentors were the true heroes of the day, not to mention the humble and stalwart Gertrude. I felt shamefully privileged and unworthy, but secretly I was thrilled to have a lasting connection with this baby and this defining moment in my service.
I thought about all the concepts I had of childbirth in the U.S. -- the sterile environment of a multi-story hospital, surrounded by loving partners, screams of pain, heavy breathing, epidurals and drama. I found none of it. I wanted to shout! I wanted to sing the praises of this heroine for her courage and sheer ruggedness, but to everyone else at the clinic that day, this was womanhood. A necessary and unsanctimonious rite of passage. Zambian women are tough but, thanks to the tireless work of mentors, SMAGs and clinic staff, they no longer have to sacrifice the care they deserve. That day I was filled with a great deal of pride and optimism that my namesake would continue to reap the benefits of SMGL's progress in Zambia.
Saving Mothers, Giving Life is a public-private partnership committed to saving women's lives from complications of pregnancy and childbirth. Using evidence-based interventions, Saving Mothers is strengthening district health networks in Zambia and Uganda by addressing the three delays that lead to maternal mortality: delay in seeking services, delay in reaching services and delay in receiving quality care. These interventions are focused primarily on the critical period of labor, delivery and the first 48 hours postpartum, when most maternal deaths and approximately half of newborn deaths occur.  The partnership has delivered real results, including a 35% reduction of institutional maternal mortality in target districts in Uganda and Zambia.  Peace Corps/Zambia joined Saving Mothers at its inception in 2011 and continues to play an integral role in the partnership, lending its community- level capacity to support community mobilization and demand generation efforts in the target districts.