My host families in the Dominican Republic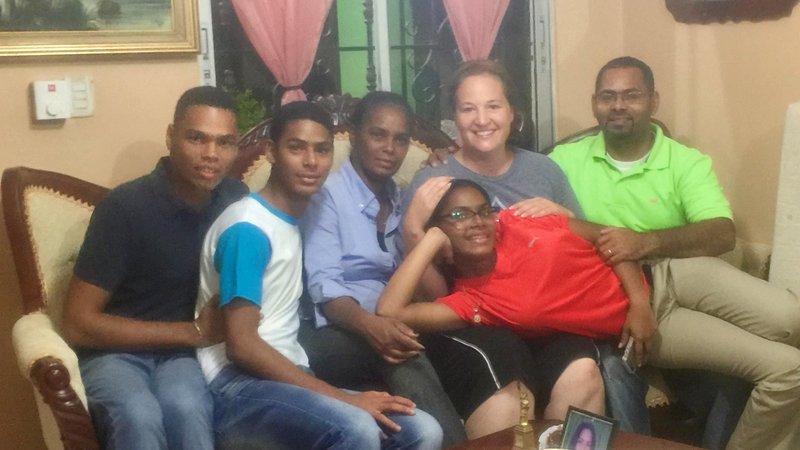 Aug. 3, 2020
Living with a host family during a one-year student exchange program in high school was my first experience of being welcomed as a daughter by a family in a foreign land.
Fast-forward 28 years, I am standing under a mango tree in Santo Domingo, the capital of the Dominican Republic, with 30 other Peace Corps Volunteers as we await the arrival of our host families. Though we are still adjusting to our new surroundings, there is excitement in the air. What will our new homes be like? Will there be lots of children? Perhaps they have pets! What will the parents be like? At 45, I wonder if I will be older than my host parents.
In the Dominican Republic, Peace Corps Volunteers live with two different host families as part of their initial training. My first host family lived near the training center in the capital, where our 10 weeks of pre-service training began. My family, which included two working parents and their three teenage children, had hosted several Volunteers over the years and were experts at understanding my broken Spanish and curiosity about cultural differences. After two weeks of training in Peace Corps policies and Dominican culture, my group of education Volunteers left to embark on our technical training.
After a 90-minute bus ride through stunning landscapes dotted with plantain trees, horses, and uniformed children on their way to school, we arrived. It was about 90 degrees as I stepped off the bus and into the welcome shade of another large mango tree. It stood in front of the community center that became our training site for the next six weeks. Rows of community members welcomed us, smiling from ear to ear. After a warm welcome speech, we were called up one by one and introduced to our awaiting families, followed by cheers and hugs.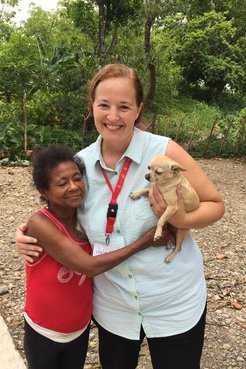 My second host family lived in a rural area in a home with chickens, ducks and abundant fruit trees. As I met the parents, their four children, and neighbors, I was reminded of the small-town hospitality that greeted me when I used to visit my grandparents in Minnesota. On day two, after a day of training, my host sister led me by the hand to introduce me to the pigs behind the house and showed me the cinnamon tree. She was excited to have a big sister.
My host parents were younger than me by a few years. My host mother and I shared parenting and childhood stories, and bonded like sisters. The six weeks flew by and tears were shed as we Volunteers returned to Santo Domingo to complete our training. We exchanged contact information in order to stay in touch. My young host sister handed me a home-made card with my name written inside a big red heart.
After completing training, I traveled to the community I would call home for the next two years. As I was introduced to my third host family, neighbors stopped by to get a glimpse of the long-awaited Americana. My host father was the community math teacher and my host mother was expecting their second child in just over a month. I discovered that my host mother was the same age as my son, which made me smile. That very day my host father invited me on a walk in my new community where I was presented to over 300 people in the course of three hours.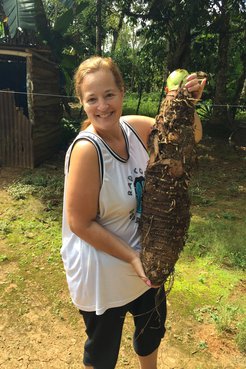 The community of my third host family was much different than urban Santo Domingo and the peaceful rural region where my second host family lived; there were noticeable disparities in housing and infrastructure. My host father helped me learn Haitian Creole to better communicate with some of my elderly neighbors who emigrated from Haiti to work the sugarcane fields. Over the next four months, my host family helped me learn about navigating daily life in my new community. I watched my host mother negotiate to get better quality produce and a fair price. I learned how to extract coconut milk while grating coconut and where to find wild cilantro. When a relative passed away, I participated in the nine-day mourning process as a family member. With the birth of a new baby, we celebrated as a family.
The experience of living in a community far from home, with a different culture and language, feels more comfortable when living with a family that calls you their own. Being accepted as a new family member, even if you have only just met, surrounds you with care and love. Though each of my host family experiences were very different, I treasure the connections I made, and look forward to visiting my homes away from home again and again.