Music and technology come together at Kids for Kids
Technology is a fickle thing.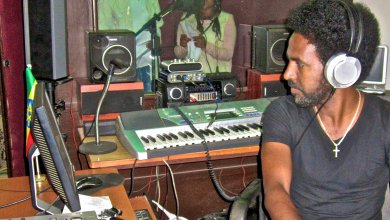 After two years living and working in Ethiopia as a Peace Corps Volunteer, I've become used to power outages, downed cell phone networks, water shortages and an overall harsh environment for electronics.
Despite this, I've worked with my counterpart, Abadi Abreha, to produce 10 music videos as part of a project we call Kids for Kids. We created 10 songs on various topics, including HIV/AIDS, the environment, gender equality and people living with disabilities. This project will be distributed in schools and will target the newest generation of Ethiopians as they prepare to take the reins.
Abadi, a teacher and primary school director, started this project more than four years ago after he caught numerous students cheating and he wanted to address it through music and creativity rather than overlooking it or scolding the children. He paid out of pocket for the first three songs and tried to gain support from non-governmental organizations in town and the local government, but he was unsuccessful in getting any additional support and he stopped working on it.
A few years later I became as the first Peace Corps Volunteer in town. I was eventually introduced to Abadi, who told me about this project and how he wanted to focus on the children of Ethiopia.
I remember watching the hand-washing song with butterflies in my stomach. Here was a man who put his own money into the project, who worked six days a week at the bank and somehow found time to focus on education and prioritize the future of his country. This was exactly the project that any Volunteer would kill to have: community-owned, innovative and educational. It focused on high-priority topics and pressing issues tailored to rural Ethiopia.
I jumped at the chance.
I had no idea what I was doing. I didn't know how we were going to develop the messages, record the songs, film and edit. I didn't know who would sing or how we would train them. I didn't know how expensive it would be or if our project was even eligible for grant money. It was an exciting time, but our future was hazy.
We started with the grant proposal. We spent months meeting with various local organizations and associations to develop community support. After a long process, we submitted the grant and started in on the music itself.
We researched. Abadi was reading books written in Tigrinya and produced by USAID about 10 years ago. I was scouring the Internet for updated material and asking other Volunteers, doctors, professors and former employers for help. I missed having unlimited wireless Internet access, but the Internet that we have here is pretty good considering that we live in rural Ethiopia and we get the Internet through cell phone towers.
After we had all of our content for the songs, Abadi and his brother Yirga wrote the lyrics in Tigrinya. We translated the songs back into English and developed a teacher's guide, which has the lyrics in English and in Tigrinya, as well as a participatory discussion outline for each song. There are pre-video and post-video discussion questions and there is also an advocacy component to the book. This book is designed to inspire students to take charge in their local community and to advocate for the messages from the songs.
One of the most amazing discoveries I made during this project was how Abadi created the music for the songs. Not once have I seen Abadi play a musical instrument. Not once have I seen him write musical notes or convey the notion that he was capable of producing music, but he is one of the most naturally talented musicians I have ever met.
His process begins with leaving town and heading out into rural Ethiopia with one essential tool: a fully-charged mobile phone.
Out there, he asks himself: Does the topic need a fast or a slow tempo? Does this song need to cause excitement, or hone in on the message? Does it need a Tigrinya beat (which sounds like a heartbeat) or a progressive reggae beat? After he decides on the genre of each song, he "sings the music with (his) mouth and records it on (his) mobile."
In other words: he records the tune off the top of his head. No Katy Perry, no Lil Wayne or Led Zeppelin or Pink Floyd. Just Abadi.
Then he goes home and listens to it, writes the lyrics based on our research and discussions and records the lyrics on his mobile phone with the music he created earlier.
After Abadi has the music and the lyrics together on his phone, the singers take his recording home and listen to it. They record themselves on their mobile phones and return to him for additional training. After the singers' mobile recordings and in-person training sessions are up to par, they are recorded by Genet's camera. Genet is Abadi's wife and our camera operator and music video editor. She converts the songs onto a CD and brings it to the recording studio, which is three hours away by public transportation.
The studio makes it into an actual track. This is an amazing skill as well, to be able to compose music based on someone's voice. The singers come into the studio and listen to the music that originated as Abadi's voice and has now developed into an actual recorded track. They then record on top of the new music to create a sample. They take this sample on their mobile phones and listen to it over and over again. They make the necessary adjustments until they are ready to return to the studio to lay the final track. After the final track is recorded, our team is ready to move on to the music video recording.
What a process! This is something that is unique to a developing country and definitely unique to my community. As a Peace Corps Volunteer I have seen a lot of Ethiopian ingenuity, but this was one of the more impressive examples of an Ethiopian genius at work. Though I'm set to finish my service in just a few weeks, I'm proud to say that Kids for Kids was initiated by an Ethiopian before I came and it will be continued by Abadi and his team after I leave.
Thank you to those of you who donated and supported this project, and a gigantic thank you to Abadi Abreha, who has been my best friend, my project partner and who is now my brother. He exemplifies what a Peace Corps counterpart should be, and he showcases raw talent and incredible ingenuity that the beautiful country of Ethiopia possesses.