Move-in day at a Chinese university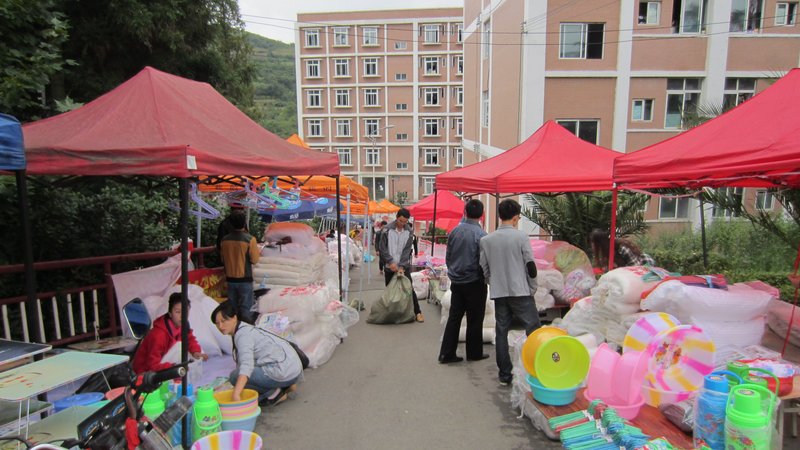 June 19, 2014
I remember moving into my dorm my first day of college. 
After unloading, I made a trip with some other freshmen to a local big-box store to get supplies for our common room. Somehow someone already knew an upperclassman who had a car, so we managed to cadge a ride out to this store to waste money we didn't have on college-y things like shower caddies and soap containers.
It's rather different in China. 
First of all, all the students just have way less stuff. This is partly cultural: Chinese people just seem to have less stuff than we Americans do. When I've gone on overnight trips with my students, at first they're always a bit bewildered by how big my backpack is. Then they proceed to tease me mercilessly.
I invent excuses. "I have to take formal and casual clothes because I'm a teacher!" "I have gifts for people!" "My clothes are bigger!" But really I'm thinking to myself, "I packed lightly so lightly!" Different standards, I suppose.
My students also have less stuff for practical reasons: They have seven roommates; that means eight students in one room. There's just no space for extraneous stuff. Unless you're bringing things you absolutely need (pens, socks. etc.) or something that everyone can use (TV, teapot), you'd better leave it at home.
Another major difference is that at my school you don't have to leave campus to do your back-to-school shopping — the stores come to campus in the form of dozens of young student businesspeople raising a little extra money for the upcoming term. Upperclassmen buy sheets, pillows, blankets, washbasins, umbrellas — everything a fresh new undergrad might need — and then set up shop all over campus (photo above), offering convenience and competitive, or not-so-competitive, rates to new students.
My student Lucy is a budding entrepreneur. She's a preschool education major, but after she described to me how she made a few hundred Yuan (about $50) over the past few days selling sheets and umbrellas, I told her she belongs in business school. I have no doubt I'm witnessing the birth of the next generation of Chinese businesswomen.