Like mother, like daughter: Peace Corps inspired this family to give back
Christine Tyler always told her daughters to put their best foot forward and never let anyone tell them who they are. 
"Stay focused and keep your eye on the prize," she would chant at every obstacle life threw their way. It was a motto that uplifted her family, Christine included, who weathered many storms as a single mother on Chicago's South Side. When Christine's daughter, Latosha Tyler, ran into financial problems during college, she had to return home empty-handed.
But it was their faith that saw them through.
"I pushed through thanks to encouragement and kept moving forward," said Latosha, who recently completed her Peace Corps service in Ghana. "I am truly grateful for the support systems I have comprised of close friends and family members. They are the ones who keep me grounded and focused on my goals."
Christine and Latosha worked with churches, community groups and the university to find need-based scholarships and in time, Latosha secured the funding she needed to earn her degree.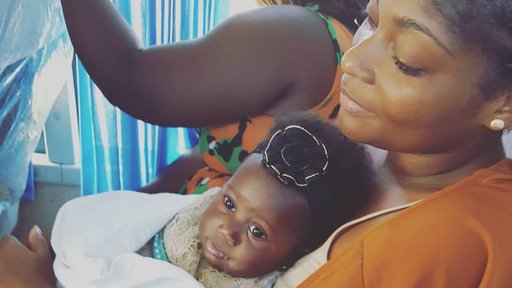 But the experience was defining, one that inspired Christine to form The Rise Foundation, an organization dedicated to preparing other single-parent households in Chicago for college.

"The Rise Foundation provides both students, starting in high school, and parents with helpful mentoring in financial aid (FAFSA) and computer literacy," Christine said. "Every parent wants to see their child succeed, but as a working parent it can be very difficult to coordinate and assist your child with numerous lengthy college applications, while simultaneously trying to figure out how to receive adequate financial aid."
Without Christine's persistence supporting her daughter's education, Latosha might not have had the opportunity to receive a degree from Spelman College, a prestigious historically black college that she had always dreamed of attending. It was at a recruitment event there that she learned about Peace Corps service, which inspired her to serve in Ghana as a health Volunteer.
"My service has helped shape me into becoming a global change agent," Latosha said. "I have always been engaged in community service programs such as Girl Scouts, but serving as a Peace Corps Volunteer has given me the confirmation that global health and development is my passion."
In Ghana, Latosha developed health and empowerment trainings for young girls and exposed her students to other parts of the country, taking many outside of their communities for the first time.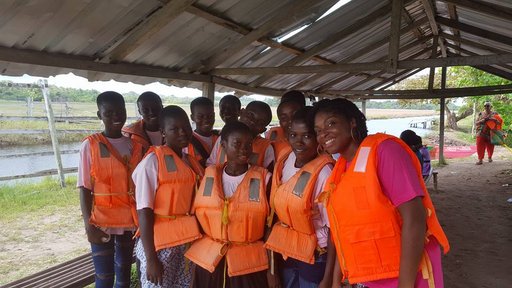 "I was not only able to provide the students with a wider lens of the world around them but also help change the narrative of how Ghana is portrayed by Western viewers via my social media accounts," she said. "Although countries in Africa are usually portrayed as impoverished, there are so many rich elements across the continent."

It was a reality that Latosha could relate to. She still recalls the moment she told members of her community in Chicago that she would be departing to serve a community abroad with the Peace Corps.
"At first they were shocked and asked me things like, 'Why do you have to go all the way to Africa to help people that you can help here?' but eventually they were supportive," she said. "While most of my community members in Englewood, Chicago, are aware of the social and political disadvantages/injustices both nationally and internationally, they are usually not presented with the opportunity or have access to information regarding international development programs like Peace Corps."

Since returning home, Latosha's service has resonated with members of her community and her mother. Christine supported Latosha's pursuits even though it was a relatively new phenomenon to their family and friends. Her service even motivated Christine to continue her own advocacy work.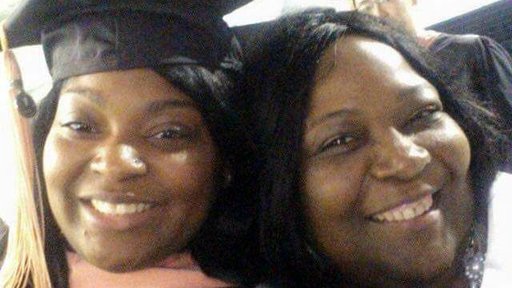 Last month, Christine invited two returned Peace Corps Volunteers to a resource event fair, where they discussed education and the value of international service with their local community.
"Since Latosha's service in the Peace Corps, I have gained a tremendous amount of knowledge and respect for what the Peace Corps stands for, which is why I want to begin planting the seed of service to the young girls in The Rise Foundation and encourage them to see the world and all its wonderful opportunities," Christine said.
And Latosha intends to do just that. She hopes to continue to empower other people of color to travel and explore international development opportunities. Even though she just returned home, Christine knows her daughter won't stay in one place for too long.
"I have always told each of my four daughters to reach for the sky and to never allow anyone to tell you that you cannot do something."
---
Learn more about staying in touch with your friends and family during service
Family & Friends