Mishek Kaonga is unlike any Malawian I have ever met. 
When I first arrived in my village, he showed me around by taking me hiking in the surrounding fields identifying local plants and teaching me about their medicinal values. He's a collector of knowledge, and knows a lot.

I chose to take him to the permagardening workshop in Lilongwe last September because of his interest in food security. He quietly sat back during the training and I worried that he was not understanding key concepts and ideas being presented.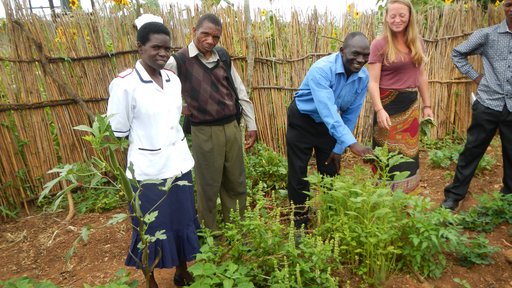 After returning home, however, I was taken aback by how much he absorbed and how the training sparked motivation to start his own permagarden, double digging the hard-packed soil at the driest part of the year.
Since September, the rains came, and his garden is in flourishing. His neighbors come to see, and he always welcomes the impromptu permagardening lessons whenever he can.
I have also been working with a grounds keeper at the local health clinic to jump-start their community garden to increase nutritional food access for waiting mothers or those receiving treatment for HIV/AIDS. I was struggling trying to translate some of the ideas and techniques in the local language and decided it would be more effective to show what a permagarden is by bringing him to see Mishek's home garden.
When I arrived, Mishek was not around, but his wife Nankhonde said we were free to walk through the garden. I was prepared to begin showing him what berms and swales were, and what the various plants were in his garden, when Nankhonde began talking. Keep in mind that culturally women in Malawi tend to be very quiet and reserved, while men take charge. I took a step back, and watched as she walked a well-known and highly regarded male community member through the basic principles of permagardening and its benefits in the local language.
This, I have realized through my two years of Peace Corps service, is what it is all about.
I was not the one teaching. I had, in fact, never once spoken with Nankhonde about permagardening, and here she was, passing the knowledge (and excitement) on. She was passing on the ability for her family and community to become more food secure and healthier and was promoting a sustainable method of development.
- Britney Tonning, Peace Corps/Malawi Volunteer, 2014–2016
Photos by Peter Jensen, Peace Corps Permagarden Training Specialist