Mobilizing Volunteers to support nutrition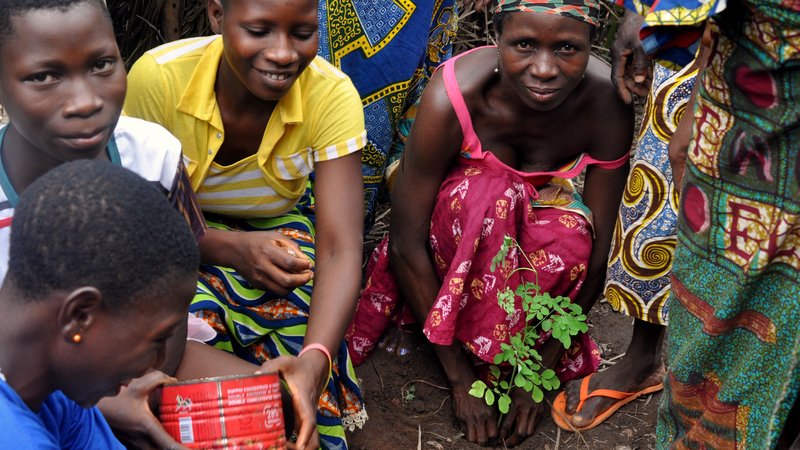 July 14, 2015
One of the most exciting aspects of my role as the West Africa Food Security Coordinator for Peace Corps/Benin is watching new Peace Corps Volunteers discover the West African culture and cuisine. 
For many Volunteers, life in the village is an opportunity to not only enjoy local food for the first time, but also to see firsthand some of the challenges communities face in obtaining access to health and nutrition information. When I began working with Agnès Guyon, a senior nutrition and child health advisor with JSI Research & Training Institute, Inc. (JSI), on a special training package focused on Essential Nutrition and Hygiene Actions, I knew these materials had the potential to make a truly positive health impact. Whatever their sectors of work, many Volunteers find that nutrition is a key concern in their communities but often feel ill-prepared to help. The Essential Nutrition Actions (ENA) training package provides the tools and guidance Volunteers need to confidently discuss nutrition with community members.
In 2013, JSI partnered with Feed the Future and the West Africa Food Security Partnership to roll out these training materials to five Peace Corps countries in West Africa. What makes the ENA training package unique is that even though nutrition is normally considered to be under the purview of a health Volunteer, the training is meant for Volunteers from all sectors (health, agriculture, and community economic development). In many ways, having Volunteers from each sector work together means that nutrition messaging can be incorporated into any activity, with the potential to ultimately reach more people.
Over the past two years working with Feed the Future, JSI, and the Peace Corps, I have seen firsthand the enthusiasm that Volunteers and community members have had for these materials. After our first regional-level training of trainers, I could see that the clear messages and action-oriented training empowered Volunteers and their counterparts to share nutrition messaging with community members.
This past April, I was thrilled to participate in a webinar with Peace Corps and JSI staff to promote these materials because it gave us an opportunity to share how we have been using the ENA package in the field. During this webinar, I emphasized that, for me, the most significant benefit of these materials has been Volunteers' increased commitment to nutrition.
The Volunteers and Peace Corps staff are adapting the tools to their work and the specific needs of their villages. The materials have even been translated into local languages to make them more accessible to community members. I could see from the Peace Corps staff in Ecuador with whom I presented that they, too, saw this as a major benefit.
I am pleased with the success of the ENA training package and grateful to partners USAID, Feed the Future, the Strengthening Partnerships, Results, and Innovations in Nutrition Globally project (SPRING), and JSI Research & Training Institute, Inc., for their contributions. Thanks to this innovative initiative, I truly believe we are making a difference in the health and nutrition of the community members with whom we work.
The story originally appeared on the Agrilinks blog.