Meeting the "Challenge" to improve health and lives in Lesotho
Since June 2011, I've had the honor of serving as a community health and economic development Peace Corps Volunteer and working with Millennium Challenge Account-Lesotho as it implements Millennium Challenge Corporation's five-year, $363 million compact.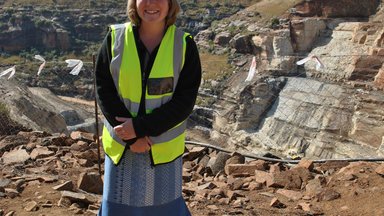 I work under the guidance of and in collaboration with MCA-Lesotho's environmental and social assessment section. My job is to monitor, assess and mitigate the potential social effects of the compact relating to HIV/AIDS, human trafficking and gender. And with my Basotho counterparts, I have helped to build local capacity to empower the community to identify and proactively address such risks.

As I like to say, my job is to focus on the "human" aspect of MCC's projects. And I believe that this partnership between the Peace Corps and MCC is helping create real change in the lives of Basotho families.

I live and work in a typical village in the northern Butha-Buthe district: I fetch my clean water at a nearby standpipe, part of a water system similar to the one MCC has provided to communities in rural areas all across Lesotho. Like most rural Basotho communities, my village has no electricity.
I spend about half my time working with the Department of Rural Water Supply, one of the major parties responsible for oversight and implementation of MCC's rural water and sanitation programs, which have impacted more than 25 different villages across our district. The other half is spent with the local Department of Water Affairs, which supports the compact's Wetlands Restoration and Conservation Activity.
For both projects, I have had the opportunity to travel to many sites and meet local community members, construction workers, contractors, and other stakeholders. With each visit or meeting, my purpose falls under the same broad category— to ensure that we are uplifting the Basotho in every possible way.
I work to ensure all of the parties entrusted with carrying out the MCC-funded projects are paying attention to the seemingly small details that matter a great deal when it comes to the beneficiaries' health and safety. I interview the local men and women employed on the project site, as well as the contractor or his representative on-site, to find out if they are complying with MCC's protocols. For example, are men and women, young and old, being given equal opportunities for employment? Are they being paid on time? Are they provided with all of the appropriate personal safety equipment? Have they been trained on what to do in the event of an emergency or accident, or what to do if they suspect a possible incident of human trafficking?
But my favorite part of the job has also been the most fun, enlightening and at times challenging: getting to stand in front of community members and talking with them about the questions, challenges and fears they face with regard to HIV and AIDS. Nearly one out of every four people in Lesotho is HIV-positive, the third-highest rate in the world. It affects every single community and every single family in Lesotho in one way or another.
Given the stigma and the accompanying fear of even talking about HIV/AIDS, it's extremely rewarding to see community members open up and allow me to guide them in sometimes surprisingly open, honest discussions of these issues. I have to give the Peace Corps a lot of credit for my success on this front.
Because of the Peace Corps' emphasis on local language learning, cultural integration and understanding, I have a definite level of credibility with the communities. Many appear to become much more comfortable when I introduce myself in their native language of Sesotho and explain that I am an American who is living as their neighbor for two years. In addition, Peace Corps' training included in-depth information and background on the HIV epidemic in Lesotho, cultural barriers to behavior change and strategies for dealing with common myths and misconceptions, all of which have informed my work with MCA-Lesotho.
As a true model of cooperation across U.S. Government agencies, Peace Corps' intensive training I received upon arrival and the ongoing support ever since have put me in a stronger position to carry out MCC's mission.
This story first appeared on the Millennium Challenge Corporation Blog.