From the 1960s to today, it's always cool to serve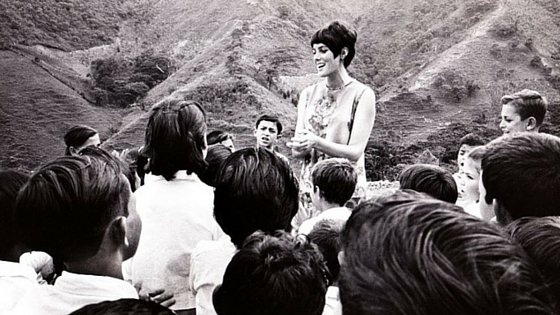 Feb. 5, 2016
My decision to join the Peace Corps at age 20, right off the Berkeley campus, and to go to a place I had never heard of — Medellin, Colombia — gave me the best education I ever got.
In the 1960s, Medellin was known as the "City of Eternal Spring". One Sunday a dramatic posse of five men on horseback dressed in black gaucho hats and traditional wool ruanas galloped up to my door in the barrio. They were leading an extra horse for me. We rode straight up into the mountains for about three miles to meet an isolated community of campesinos in a small community called Aguas Frias. The people were desperate for a school.
Several Sundays later we began with a community work day and formed a human chain to throw rocks down the mountainside to clear the land. A year later there was a brick building that on dedication day bore a crude hand-lettered sign that was a happy surprise to me: Escuela Marina Orth. We had two classrooms and 35 students.
There were many years that I could not visit Medellin (at one point the notorious narco Pablo Escobar was actually hiding out right down the road from the school) but the people there I never forgot. In my first visit back in many years, in 1995, a second story had been added to the school and the community showered me not only with lilies and birds of paradise and lemons from their gardens, but with a five-hour homage of songs, poetry, dances, a serenade, a lunch, and a mass!
They did it again in 2004 when then-Colombian Ambassador Luis Alberto Moreno stopped by the ceremony. The next day I was summoned into the new Secretary of Education's office. "Marina," the Secretary told me, "these kids cannot hope to compete in the 21st century without knowing technology and English. Will you please help us make your school the first public bi-lingual school?"
I had no idea how I would achieve this request for help, but I was an investigative reporter, after all. And the biggest lesson I had learned in the Peace Corps was that God does not discriminate when He hands out brains, guts, or the ability to have fun. It's only the opportunities that are restricted. I immediately began the process of establishing a non-profit foundation, the Marina Orth Foundation, in 2005. In 2007, we also established a Colombian non-profit, Fundación Marina Orth, so funds could be sent foundation-to-foundation.
When we started, the teachers did not even know how to use email. But through public private partnerships, Intel and Chevron gave me my first donations of computers and Seagate Technology gave restored models; later General Mills and Proctor and Gamble, HP and Coca-Cola also helped, and thanks to Motorola, my old Peace Corps site became the first Wi-Fi village in Colombia and the first to have families on Facebook!
Today, teachers give homework assignments via email and microblog. Colombian entities and non-profits are my biggest donors. In our eight  schools with 4200 kids, my greatest thrill is to see the smiles and the potential unleashed in all these beautiful children as they pick up their new computers and start learning. When we didn't have the funds to repair and maintain our computers, we taught the kids how to take them apart and put them back together from age 7, and the most proficient kids how to do the repair and maintenance themselves. Now we have a growing consultancy business to set up platforms for other schools and entities that want to learn with computers.
We have kids learning how to program from fourth grade on. Our champion robotics club is entirely coed. We are also running a program now that Microsoft is sponsoring to train 250 young people who are school drop outs and unemployed to learn computer skills they can use to go back to school or get a job.
And now that Colombia is about to announce a historic peace agreement with the FARC guerrillas to end a more than 50-year civil war, my foundation is in a great position to help be part of the peace process by setting up more of these training centers for former fighters — both soldiers and guerrillas. Medellin still suffers in some pockets with a bad rap on its image, but today it is thriving, with a lower crime rate than some American cities. In 2013 Medellin was named "the most innovative city in the world" by the Wall Street Journal. Since 2008, when the foundation stated welcoming U.S. and European volunteers, nothing of crime or danger has ever happened to them. They have been instrumental in opening up the world to these kids. With savvy in both English and tech, we want our students to be models of how the Peace Corps, from the old school phrase I learned in training, works itself out of a job!
My foundation work has not only been a way to answer the question "What am I here for?" But it's also a path to follow — in my mind, and in my soul, and in my heart — away from the darkness of the subject matter that I am so often assigned to cover in journalism — as well as the darkness of my own personal losses– toward the light of those shining little faces that I get to see in their joy of learning.