Marin's cultural ambassador from Japan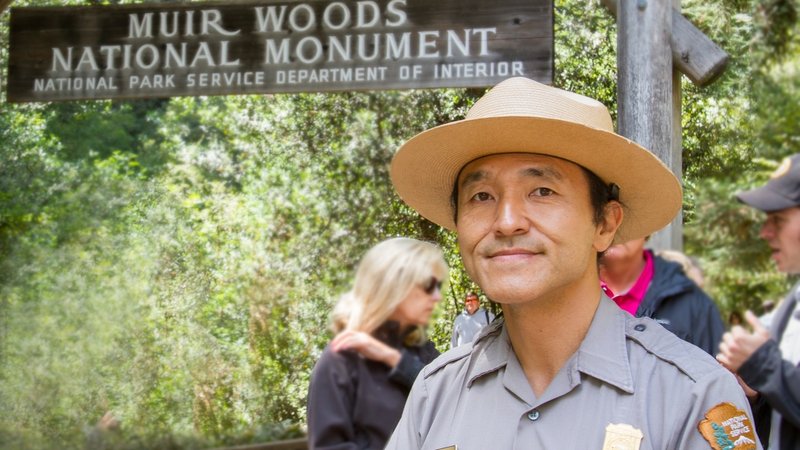 May 13, 2016
Marin County resident and National Park Service ranger Todd Hisaichi has always been curious about other cultures.
 Originally from Osaka, the second largest city in Japan, he's not one to stay put. Hisaichi left Japan at the first opportunity to attend college in Oregon.
"I came to this country to go to school," Hisaichi said. "It was kind of an excuse because I wanted to see the bigger world."
Unable to find a job in his field of social work after graduating, Hisaichi moved to Las Vegas and began working as a visitor guide in the city and at several national parks in the Southwest.
"I was inspired by the concept of a national park," Hisaichi remembered. "I started to aspire to be a park ranger in order to represent those magnificent places to visitors from all over the world."
After an internship at Chiricahua National Monument in Arizona, Hisaichi became so passionate about national parks that he decided to seek U.S. citizenship to qualify and work as a national park ranger.
Within a year, Hisaichi was sworn in as an American citizen and became a seasonal ranger at Chiricahua. But his curiosity and desire to visit other parts of the globe remained strong. In 2005, he became a Peace Corps Volunteer and began service in the West African county of Senegal.
In the village of Yang Yang, Hisaichi served as an environmental education extension Volunteer. He created a community garden for the few hundred people living there with the goal of providing access to fresh produce and improving community health.
"We also used the garden as a place for people to socialize, learn about the environment and receive elementary lessons in math and business," Hisaichi said.
Hisaichi organized an environmental education club for kids at the garden, and eventually took members on field trips.
"For the first time students were able to see a city and the ocean," Hisaichi said. "It was life-changing for them!"
It wasn't easy for Hisaichi to introduce new ideas into the isolated community, but his programs eventually took off.
"Gaining trust doesn't happen overnight," Hisaichi commented.
After completing his two-year Peace Corps service, Hisaichi returned to the U.S. and achieved his dream of working as a full-time national park ranger in Arizona. Since then, he's worked in five other national parks before landing in Muir Woods National Monument a year ago.
Hisaichi sees a lot of connections between his work as a Peace Corps Volunteer and his career as a national park ranger. His skill in developing community-based projects for his Senegalese village has translated into new outreach programs for the park service.
"I have been implementing the same grassroots principles I applied during Peace Corps, such as leading by example, bridge-building, facilitating and bottom-up instead of top-down," Hisaichi said. "I have also been trying to bring more underserved populations into the national parks."
Hisaichi is currently developing a Native Conservation Corps program, modeled on earlier programs he created in Arizona and New Mexico, for national parks in Marin County. The program will bring Native American youth into the parks, expose them to career opportunities, and also allow them to share their cultural heritage with park visitors.
From Peace Corps Volunteer to park ranger, Hisaichi thrives in his role as cultural ambassador.
"It has been a great honor to serve my adopted country," he said. "I feel like I can represent Asians and other minority members in the park service. It's been a great journey."