Making handwashing a habit — today and every day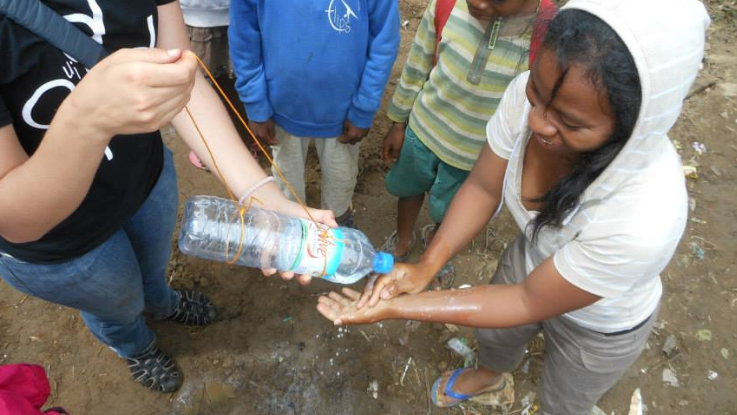 Oct. 14, 2016
The sun was directly overhead when I reached my neighbor Vola's home.  
She stepped out of her kitchen, wiping her hands with a towel. "You are just in time — the rice is cooked!"
I unbuckled my bicycle helmet and perched it on the handlebars. Before I could accept a plate and mihinam-bary — literally "to eat rice" in Malagasy, to have a meal — Vola held up a pitcher of water. "Don't you want to wash your hands first?" I snuck a glimpse at my palms. To be sure, they were sweaty and covered in dust after biking from the health clinic. I gratefully accepted the water and a bar of soap.
In Madagascar, 22 percent of deaths of children under 5 are directly caused by diarrheal diseases. Worldwide, 1.7 million children die from preventable diarrheal diseases — more than 5,000 children each day. Diarrhea is the third leading cause of child mortality worldwide. The most effective method of prevention is regular, habitual handwashing with soap. That's why this year, the theme for Global Handwashing Day on October 15 is make handwashing a habit.
Parents and children alike in my village wash their hands regularly. When I led cooking classes, everyone would wash their hands before touching the food and again before they ate. Gardening lessons were the same: we finished every afternoon of digging in the dirt with soap and a bucket of clean water.  I reminded my friends and neighbors to wash their hands regularly, especially before touching their children or after using the latrine. By incorporating handwashing with soap into other activities, we made it a part of our routines. We made it a habit.
Both in Madagascar and around the world, Peace Corps Volunteers engage in with their communities to promote handwashing through meaningful, constructive activities. Some of these Volunteers have:
Installed handwashing stations at local schools and health clinics to make handwashing with soap more convenient.

Led youth groups by instructing them on the importance of handwashing with soap, then organizing educational skits for kids to perform in their communities.

Incorporated handwashing education into care groups for pregnant and breastfeeding mothers so that they build healthy habits for themselves and their families.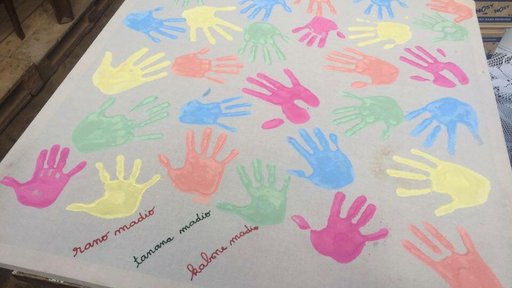 Since leaving the village where I served my first two years, I extended my service as a Peace Corps Response Volunteer with Madagascar's branch of Population Services International (PSI). Recently, PSI/Madagascar launched an initiative to make drinking water and hygiene more accessible to elementary students. I accompanied PSI on a mission to install handwashing stations and promote handwashing curriculum in classes. As part of the event, we challenged these students to make handwashing a habit. They created a handprint banner to show their pledge to wash their hands with soap every day.

I recently visited the village where I had served for my first two years, and had the chance to eat rice once more with Vola and her family. Just as she always does, she made sure we all washed our hands before we eat. All around the world, communities work with Peace Corps Volunteers to advocate for handwashing with soap as a way to prevent disease. This Global Handwashing Day, let's make handwashing a habit — and remember to keep it that way.