Making a difference, one word at a time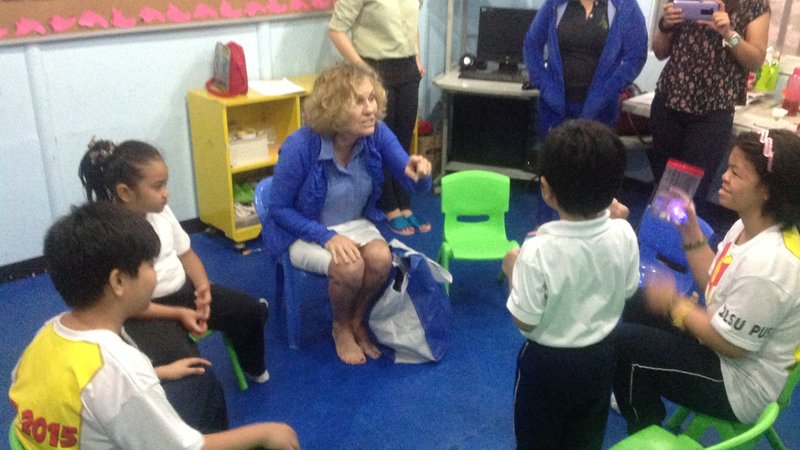 May 19, 2015
Making a difference, one word at a time. That is our superpower." – A quote from one of my first speech and language pathologist interns from the University of Santo Tomas here in the Philippines.
I am a speech pathologist and autism resource specialist with over 20 years of experience who came to the Philippines as a Peace Corps Response Volunteer to supervise and train interns. What a perfect match it has been. The Peace Corps saying "the hardest job you'll ever love" is certainly true. I retired and thought I would take it easy – not here. I can't believe how hard I have worked and I have loved every minute of it. I am 65 and my interns are 20, and we have a great partnership. They are keeping me young and I am keeping them challenged to learn more.
The Center for Excellence in Special Education in the Philippines (Stepping Stone) is a school with 35 special needs students and an additional 35 clients seen on an outpatient basis for speech and language and occupational therapy. Ninety percent of the children have a medical diagnosis of autism and 50 percent of them are nonverbal or echolalic.
During my time here I was able to double our space to accommodate four speech pathology interns. My interns came with knowledge of theory but limited ability and experience level to work with the challenging behaviors that often accompany people with autism. I have been able to train the interns in the use of Picture Exchange Communication System (a communication system for nonverbal children), visual supports, using music, social skills and behavior management.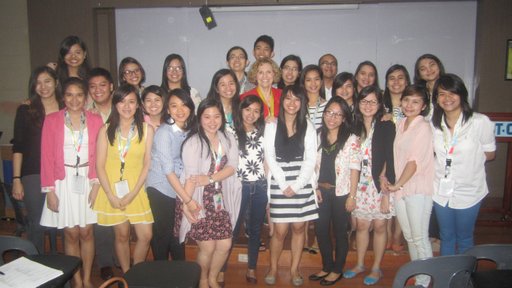 When I came to Stepping Stone, there was a set of 8-year-old twin boys who had a reputation among the clinicians for being "twin tornados." Every clinician was in dread of them being assigned to his or her caseload, and no one wanted to work with them. The boys would not sit for two minutes and were often running around the room or up on top of the therapy table, pulling down their pants. These young boys struck fear in the hearts of my interns.
Eight months later, the boys are much improved. They are beginning to vocalize a few words and have a communication system to get their wants and needs met in a more appropriate way. They can sit, focus and have learned many new skills. Are they perfect? No, but now my interns enjoy working with them and go back to tell their classmates about the progress they are making. Oh yes, and having the boys wear tighter belts helped stop the pulling down of their pants.
One of the things I feel has had a big impact on my interns is that at the end of their rotation, I am required to do an evaluation of their work. My evaluation is always filled with many things I see them doing well. I sit down with them and talk mostly about their strengths. I also list areas to improve on, but mostly give them positive reinforcement. I have had several young women in tears as they were so unsure of themselves and what they were doing. It seems that no one has taken the time to encourage them. Many of these young men and woman will be going back to their provinces, where they will be the only speech pathologist in the region. I hope to give them encouragement that they will make a difference "one word at a time." Use their superpower.
The Peace Corps Response program here in the Philippines has been amazing. The training was great and the support has been excellent. My program coordinator and his assistant were always there to support me. They came to a workshop at University of Santo Tomas at which I was the guest speaker. The new country director and the director for program and training have been out to visit my site and made a second visit for our Christmas party. Now, that's special. 
As I see it, Peace Corps Philippines is a well-run, caring organization. Thank you for this incredible experience.