Love, marriage and the Peace Corps
The village where I served as a Peace Corps Volunteer in Tanzania was poor by every standard. But oh my, did they know how to throw a great party.
For these celebrations — mainly weddings — we would eat and dance long into the night. Even strangers were welcomed and fed. Today, the heart and generosity of spirit that sustained my community continues to influence the way I celebrate special occasions. 
Like many Peace Corps Volunteers, the commercialization of holidays and big life events often leaves me nostalgic for those good old-fashioned village fiestas. 
With Valentine's Day — and a tidal wave of all things pink, chocolate and teddy-bear-shaped upon us — I knew I could count on Peace Corps Volunteers to help reclaim the real meaning of the day. Here, several returned Peace Corps Volunteers share how they incorporated their host communities into one of the biggest love fests of their lives— their wedding!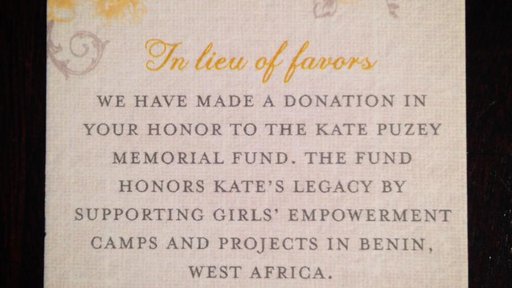 In lieu of wedding favors, Angelina and Eric donated to the Kate Puzey Memorial Fund and sponsored a week-long girls' empowerment camp in Benin. 
"We put a small place card on each guest's place setting that described the 'favor' and had some background info on the fund. Guests were extremely impressed. I can't tell you how many of them commented to me, 'What a great idea, I always hate cheap little wedding favors anyway.' Many of them were also inspired to read up on the fund and give their own donations."–Angelina Feldman, RPCV Benin (2008-10) 
Katelyn and Brandon created a charitable wedding registry that helped build a health clinic in Katelyn's Peace Corps village.
"Wangama village gave me all of the love possible during my time in Peace Corps and we wanted to reciprocate. People living with HIV/AIDS in Wangama will finally be able to access the treatment they deserve at home instead of making the long trek to the closest clinic. Our guests were thrilled to donate to the clinic building project as they know it means so much to us.–Katelyn Lowery, RPCV Tanzania (2008-10)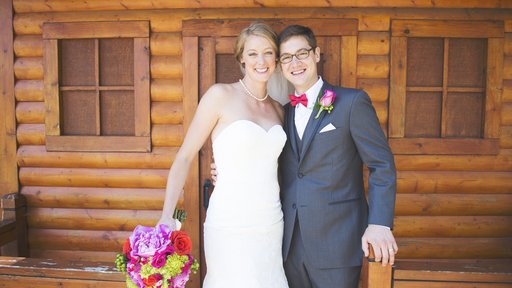 Danielle and Alec also created a charitable registry to support the people of Senegal with a clean cookstove campaign that benefitted hundreds of families. 
"I continue to care deeply about the people of Senegal and wanted to be able to share my passion for service and for Senegal through my wedding. Our guests loved being able to learn about my passion for Senegal and support a project as a wedding gift."–Danielle Stoermer Niedermier, RPCV Senegal (2009-13)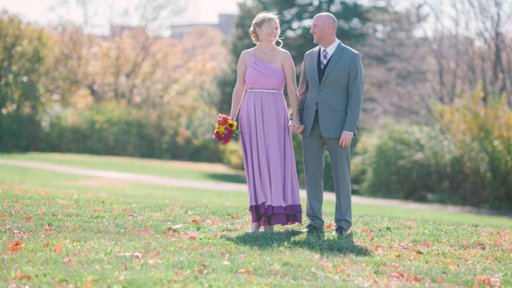 Blythe commissioned a one-of-a-kind wedding dress made by Swazi fashion designer Khulekani Msweli. 
"As I'm sure many PCVs can attest, your host country really sets up shop inside you; it's a piece of you forever. Since we wanted our wedding to really be emblematic of who we are, Swaziland had to be a part of it. This was also a way for us to feel like our Swazi loved ones were present. Our guests thought it was very cool that we were bringing those traditions to them. Everyone was extremely supportive."–Blythe Terrell, RPCV Swaziland (2012-14) 
Some couples really took things to the next level by getting married in their host country! 
Donna and Steve hosted a second wedding in Nicaragua.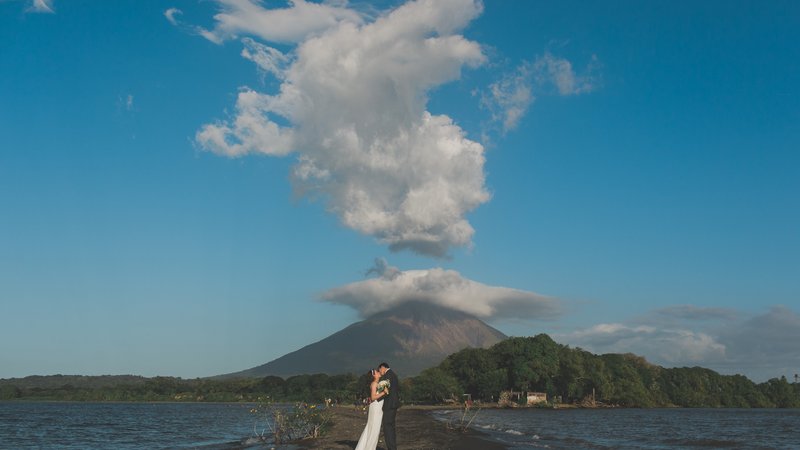 "Nicaragua is not just where we met and fell in love, it is where we lived and worked for over two years.  We both lived with amazing host families during our entire Peace Corps service and became very close to them.  Weddings are about celebrating your love with your friends and family, and we couldn't imagine not being able to celebrate with part of our family.  Our Nica families welcomed us into their homes with no questions asked and took care of us for two years.  We wanted to show them how much we appreciate all they did for us and celebrate with them."–Donna Carpenter, Nicaragua (2009-11)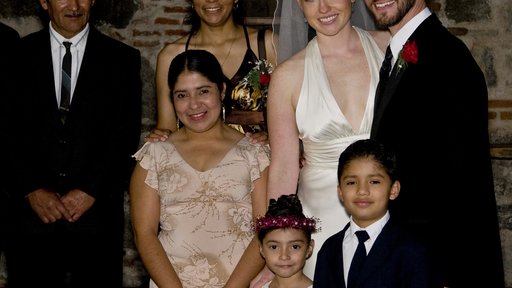 Walter and Stacy were married in Guatemala in front of their American and Guatemalan loved ones. 
"After Peace Corps, I started a foundation to continue the work I had started in Guatemala. Years later, my then-future wife volunteered for my organization (Seeds of Help) and lived with my head of operations, Brenda. It was important for me to have Brenda and her family able to attend my wedding and there was no way we could have gotten them all visas to come to the USA. We were married on November 1, which is All Saints' Day and a big celebration in Guatemala. In the morning we took our wedding guests to one of the large cemeteries in Guatemala and had an amazing cultural experience. We then finished off the evening with our wedding."–Walter Able RPCV Guatemala (1998-2000) 
___________ 
It's a topsy-turvy world out there, but these RPCVs are balancing the scales by sharing the love on their best days. When we unite our communities through love and celebration, we have the power to do amazing things. Did you include or give back to your Peace Corps community with your wedding or other life event? Tell us how in the comments!